THEATER REVIEW: Coriolanus
It's more than just a Tom Hiddleston-shirtless-in-a-shower scene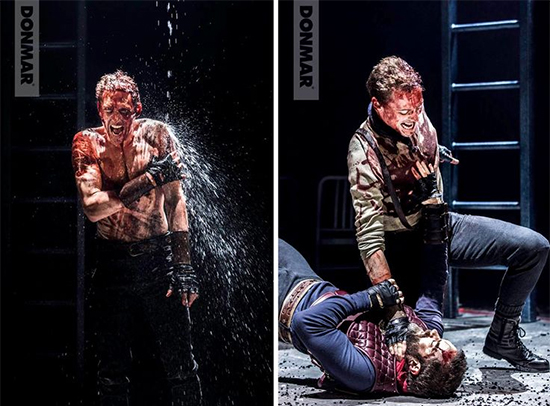 (SPOT.ph) It's a little strange watching a recording of a play. Theater speaks a different language from film and the magnifying effect of close-ups sometimes renders faces a little too expressive. It emphasizes the distance between the audience and Tom Hiddleston's toplessness. Oh well.
If thou doth protest much and chirp "nosebleed!" when'er your ear chances upon dialogue embellished with unfamiliar words-you might want to bring some tissue into the theater. Coriolanus, though staged in a modern and minimalist fashion, is somewhat faithful to Shakespeare's script. We don't have it memorized, so forgive us if we didn't notice the departures from the book.
It's not as exciting (or violent) as the film adaptation starring Ralph Fiennes and Gerald Butler, as that has been tailored to suit more contemporary tastes. Hiddleston isn't a gun-toting general, just a general who has a general disregard for what people think of him. Not an okay position to hold when one is vying for public office.
ADVERTISEMENT - CONTINUE READING BELOW
Bloody it may not be, but the characters in the play are fleshed out cleverly by thespians Mark Gatiss and Deborah Findlay. Gatiss lends charm to Menenius, the consul with a soft spot for the titular character, and his humor makes the play accessible to us plebeians. Debora Findlay as Volumnia, mother to Caius Marcius Coriolanus, is another recognizable personality-the stage mother type, who seems a little too enthusiastic about her son's wounds.
The persistent need to look at Coriolanus' scars borders on creepy. Creepier than Aufidius (Hadley Fraser) smearing his face with Coriolanus' blood. We can understand the need to bathe in thy enemy's bodily fluids...but what business is it of the people to have a peek at this soldier's wounded body?
Or maybe we're just swept away by Hiddleston's delivery. In a brief interview clip shown prior to the screening of the play, Hiddleston confessed that his personal beliefs differ from his character's...which at times made it hard for him to deliver the lines. It's good to know that he does not think that the public are vermin.
ADVERTISEMENT - CONTINUE READING BELOW
The commentary on public perception is the strongest note of the adaptation. Coriolanus' privileged standpoint is not as resonant as in the text or, perhaps, the age we are currently in pleads for some tempering of public perception. This is, after all, the age where blatantly corrupt officials can easily sing and dance accusations away.
The screening could've benefitted from an intermission, but it's wonderful to experience British theater without having to pay a lot. A movie ticket costs much less than a ticket to England, we hear.
Coriolanus is showing in Ayala Cinemas on September 5 and 6.
CONTINUE READING BELOW
Recommended Videos
Share this story with your friends!
---
Help us make Spot.ph better!
Take the short survey
Load More Stories