BALLET REVIEW: Alice Reyes' Cinderella
Treat yourself to Ballet Philippines' magical production this Christmas season.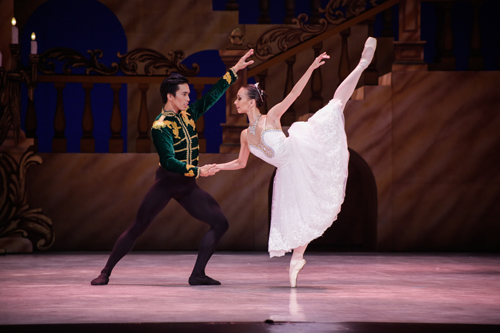 Richardson Yadao as Prince Charming and Denise Parungao as Cinderella
(SPOT.ph) To see ballerinas on stage can be mesmerizing, at times jaw-dropping (how are they able to stay on pointe for that long), but admit it-it's hard not to try and jump that high or raise your arms just as they do after you've seen a performance. Ballet Philippines can have that effect on you, and perhaps Alice Reyes' Cinderella could very well be the show that keeps you on your toes, and all for good reason.
Cinderella first came on stage under National Artist and BP Founder Alice Reyes' inspired choreography in December 1981. While most productions use the music of Russian composer Sergei Prokofiev, Reyes chose works by Pyotr Ilyich Tchaikovsky, including scores from other famous ballets such as Swan Lake, The Sleeping Beauty, and the opera Eugene Onegin. The music in Reyes' version of this beloved fairy tale is celebratory, at times dramatic, and perhaps if there were a live orchestra playing in the pit it would have made the whole performance all the more enchanting.
ADVERTISEMENT - CONTINUE READING BELOW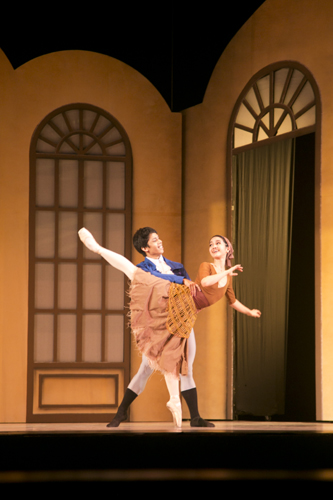 CONTINUE READING BELOW
Recommended Videos
Cinderella (Monica Amanda Gana) with the Dancing Master (Victor Maguad)
On its second gala night on November 29, it was Monica Amanda Gana (her debut role for Ballet Philippines) who played Cinderella, while Earl John Arisola was the night's Prince Charming. Gana literally sparkles as Cinderella (thanks to her transformative ball gown-slash-tutu), only slightly quivering at the very last act but consistently showing how ballerinas have got effortlessness to a tee.
ADVERTISEMENT - CONTINUE READING BELOW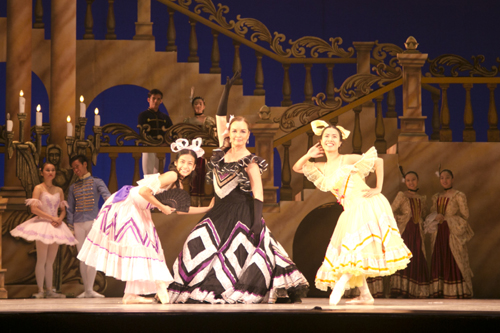 Rita Angela Winder as Prunella, Margie Moran Floirendo as Brunhilda, and Edana Mae Labitoria as Griselda
The other standout performances come from the evil stepsisters, Griselda and Prunella (played by Rita Angela Winder and Edana Mae Labitoria), who manage to look un-ladylike by doing plenty of awkward jumps and exaggerated leg extensions. A perfect foil to Cinderella's graceful movements and glittery outfits, they almost entirely steal the show and have the crowd giggling over their antics. Alongside the two danced current BP President Margie Moran Floirendo who was the night's Brunhilda, the wicked stepmother.
ADVERTISEMENT - CONTINUE READING BELOW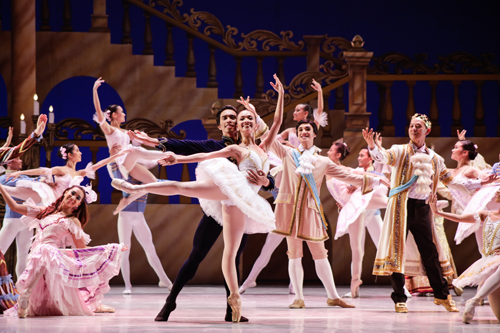 The company in Alice Reyes' Cinderella
Once the characters all come together, it's hard not to hold your breath at every powerful grand jeté and perfect pirouette. Cinderella's journey, after all, from her less-than-perfect home to finally, a happy ending with her Prince, owes its stage design to yet another National Artist: the late Salvador Bernal.
ADVERTISEMENT - CONTINUE READING BELOW
Catch Cinderella on December 5 (3 p.m. and 8 p.m), December 6 (10 a.m. and 6 p.m.), and December 7 (2 p.m. and 6.pm.) at Tanghalang Nicanor Abelardo (CCP Main Theater). For tickets, call 551-1003, 551-7919, 832-3704; or contact TicketWorld at 891-9999.
Photographs by Chris Yuhico and Victor Ursabia (courtesy of Ballet Philippines)
Share this story with your friends!
---
Help us make Spot.ph better!
Take the short survey
Load More Stories