Theater Review: Time Stands Still
Red Turnip explores romance and passion, which are sometimes two very different things.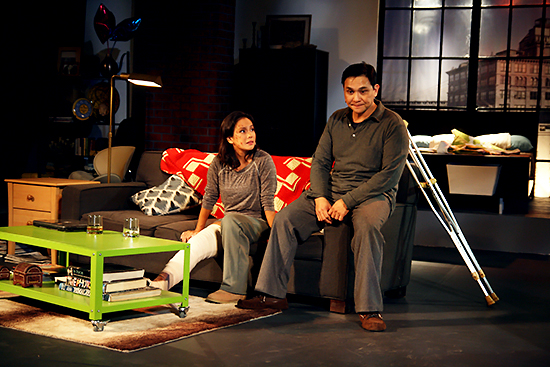 (SPOT.ph) Let's open with some spoilers, because the play is written so cleverly that we'd have to run the entire script for it to be "spoiled" in any meaningful way. Red Turnip premiered their second season with Rabbit Hole, and that ends with lead characters Becca and Howie asking each other what happens next. Time Stands Still plucks that question from the air and we meet another couple trying to find an answer to the very same question. What happens next?
ADVERTISEMENT - CONTINUE READING BELOW
What is next for Sarah, played by Ana Abad Santos, who is recovering from injuries she suffered in Iraq as a photojournalist? If her partner James, Nonie Buencamino, had any say on the matter: babies. Sarah doesn't seem to be the type.
It's delicious, for writers especially, to encounter a piece of literature where details are revealed so naturally. This is clearly something Donald Margulies is brilliant at and we learn more about the couple as they converse.
Director Rem Zamora highlights this in points of conflict, when Sarah and James (and their friend Richard, played by Nor Domingo) become less people, more human-shaped ideologies clashing. Buencamino is superb in his delivery of crucial elements of his character. Whereas we see Sarah's broken leg, Buencamino had to make James' injuries more real to the audience. It isn't in the intensity of his voice, but the hurried way he said a line we recall as "Her brain in my mouth...it was in my mouth!" Like lingering on the words gives it more power. In today's vernacular: The (internal) struggle is real.
ADVERTISEMENT - CONTINUE READING BELOW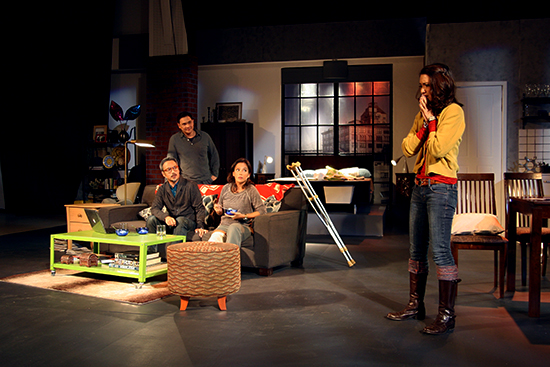 An unexpected delight in the show was Giannina Ocampo's portrayal of the young Mandy, girlfriend to Nor Domingo's Richard. Her character, a 20-something who has the luxury of a cheerful disposition, draws strength from simplemindedness (used here pejoratively). She expresses herself with ease, a testament not to her skills of articulation, but to the narrowness of her views. Not necessarily a bad thing if you want to be happy and satisfied. Ignorance, as they say, is bliss.
ADVERTISEMENT - CONTINUE READING BELOW
Mandy's conviction is cute, but Sarah is a character. No wonder Laura Linney received praise for doing her right. One moment she's questioning the ethics of her work and in the next she's expertly defending its necessity. She's a genuine person: inconsistent, judgmental, insecure, and, at her finest, hungry for the world. Her internal debates are so strong, Zamora decided to literally project images on the set to turn them into a character. Sarah would probably have few friends in life, especially here in the Philippines. She's quite a chore to be with, especially if you don't share her values.
The dynamics between the sexes in this play is the stuff Gender Studies majors delight in, but for the, uh, Mandies of the world, it's also a pleasant, humorous play. And we do think it ended "happily."
Time Stands Still runs until March 8 at Whitespace Manila, Chino Roces Avenue Extension (formerly Pasong Tamo Extension), Makati City. Tickets are available at Ticketworld.
ADVERTISEMENT - CONTINUE READING BELOW
Recommended Videos
Load More Stories