Theater Review: Into the Woods
No special effects, but still pretty special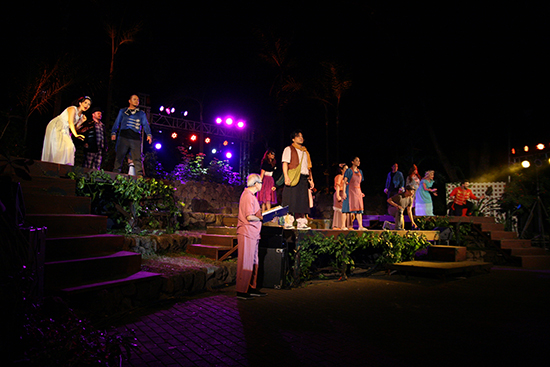 (SPOT.ph) Without a doubt, the trees make all the difference. The set isn't too flashy-save maybe for the bright lights overhead-and even the costumes are quite modest. Into the Woods à la Joel Trinidad at the Kasalikasan Garden in Bonifacio Global City plays on the basics: strong story, strong cast...oh, and the strangest casting choice for Prince Charmings thrown in for kicks. It's a small production and that fact is not disguised but rather, it's used for added humor.
The movie provided the marketing, but it's also a hurdle and comparisons are inevitable. To save time, we'll get right to it: The experience is quite different. As Neil Patrick Harris put it, they don't need close-ups to prove to everyone they're singing live. Characters dash off the raised area to make exits and, at one point, the giant's voice booms from behind-they use the amphitheater quite well.
ADVERTISEMENT - CONTINUE READING BELOW
The ensemble songs, like the prologue and "Two Midnights Gone," are particularly energetic and the number of characters onstage helps the audience appreciate the insane intricacy of weaving all of their stories together. The relationship of their wishes and woes are easier to follow, which makes the unraveling (during the second act) all the more hilarious. Strong performances from the Witch (Rachel Alejandro), Red (Jillian Ita-as), Rapunzel (Charley Magalit), and the baker's wife (Sheila Martinez) also make the show shimmer.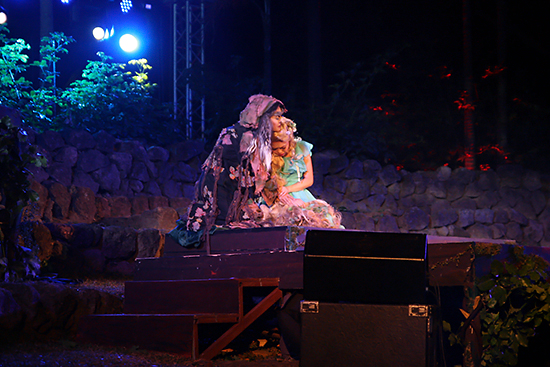 The Witch and Rapunzel, "Stay With Me"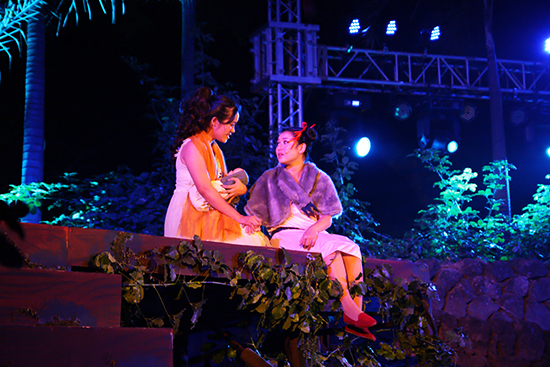 ADVERTISEMENT - CONTINUE READING BELOW
Cinderalla and Red, "No One is Alone"
The live performance holds the audience's attention by keeping the plot's rhythm snappy...and by using the kitschiest props possible. However, "live" also makes it vulnerable to flaws like some technical glitches, a stutter on a line, or a key that sounds a little off.
These flaws nonetheless simply lend character to theater. And trust us, fine weather, the sound of rustling leaves, and Sondheim's music and lyrics are impossible not to enjoy.
Also read:
A witchy Rachel Alejandro is heading Into the Woods
Into the Woods to open in Manila in February 2015
MOVIE REVIEW: Into the Woods
Into the Woods will run on Saturdays and Sundays from February 21 to March 15, 2015 at Kasalikasan Garden, Crescent Park West, Bonifacio Global City. Tickets are available at TicketWorld.
Load More Stories