Theater Review: Arbol de Fuego
A strong cast carries PETA's spin on Chekov to great heights.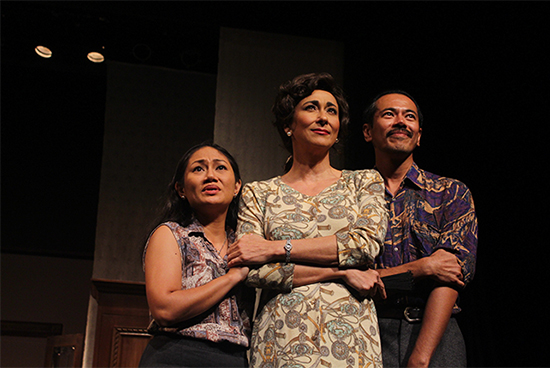 (SPOT.ph) Arbol de Fuego, which translates to Fire Tree, is a story of a wealthy Negrense family on the verge of losing their hacienda and the eponymous fire trees that frame their estate. It is an adaptation of Anton Chekhov's The Cherry Orchard and marks the fourth collaboration between director Loy Arcenas and writer Rody Vera.
ADVERTISEMENT - CONTINUE READING BELOW
Cherie Gil plays Enriquietta Jardeleza-Sofronio or Rica, the tragic and beautiful matriarch, who refuses to accept her family's imminent downfall by maintaining their aristocratic lifestyle. Angeli Bayani is Charito, Rica's adopted daughter, who runs their hacienda, a sugar plantation. She desperately tries to keep the family and their wits together. Jake Macapagal is Adjie, Rica's brother, a religious fanatic who ultimately fails to pay their debts. Raffy R. Tejada plays Nonoy Tiking, a former servant of the Jardelezas who became a millionaire by virtue of hard work. Bembol Roco is the aged manservant Ikong, a stalwart of tradition who can't keep up with the changing times.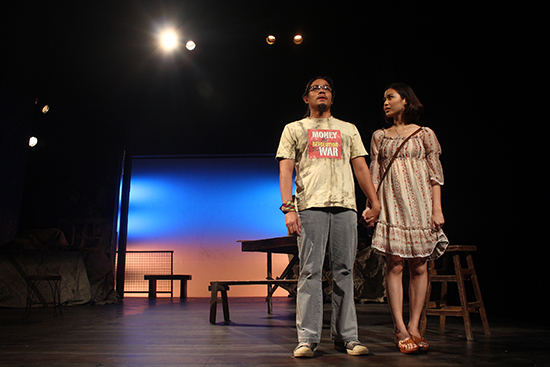 ADVERTISEMENT - CONTINUE READING BELOW
Dante (Riki Benedicto) and Nina (Anna Luna) talk about their future together and both agree that there is no future in Hacienda Carmen.
While Chekhov originally intended for it to be a farce, most stage interpretations have pegged it as a tragedy due to the social unrest facing the characters. This duality of the work-comedy versus tragedy is just one of the elements that pit opposing ideologies against each other in the story: heritage versus progress, tradition versus modernity, ideas versus action, rich versus poor. This was the challenge for the production. How can it be both funny and sad? How can it teach without being blatantly preachy? Did the play make a stand about capitalism and modernity, given its Filipino context? In this, the play heavily relied on symbolism and how well the characters represented these elements.
The actors and actresses' interpretation of their roles were compelling enough to pull the audience in and actively asks them to participate: Whose side are they on? Should they side with the Jardelezas who can't let go of impractical traditions yet protects history and heritage? Or should they side with Nonoy Tiking and the servants who embrace change and opportunities, even if it means destroying the arbol de fuegos and building a subdivision over them? For this, the actors and actresses have to be convincing to pull audiences on their side.
ADVERTISEMENT - CONTINUE READING BELOW
The true strength of the production is this ensemble who gave an undeniable energy and life to Chekhov's work. Vera made sure the script catered to the Pinoy taste without losing the essence of the story. Arcenas, the director, who also took on the challenge of also being the production and costume designer, made for a cohesive image and mood throughout the play. And that mood stayed true to the dual nature of the work.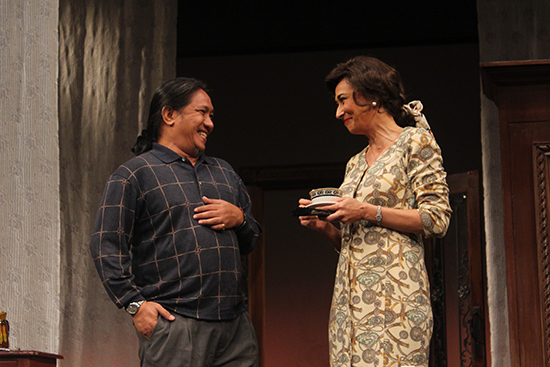 ADVERTISEMENT - CONTINUE READING BELOW
Former servant Nonoy Tiking (Raffy R. Tejada) welcomes Rica (Cherie Gil) back to Hacienda Carmen after five years in Madrid
Gil is magnanimous as Rica and her versatility shone through fast-changing scenes. She will be making a snappy remark one minute, and the next, she is dancing and making the audience laugh. Immediately after, she is stoic in her dignified sadness. Macapagal as the flamboyant Adjie steals the scene with his funny antics, even as he is praying. Bayani is in her natural element onstage. Even her small gestures and expressions, especially when she was heartbroken when Nonoy Tiking didn't propose to her, didn't fail to pierce through the heart.
Tejada's Nonoy Tiking and his triumph over poverty and inherited servitude also strike a chord with the malcontent mood of the times. Baento wins over listeners with her life story and magic tricks. And Benedicto's Dante, the armchair activist and awkward intellectual, not only endured Gil's trademark scathing taunts but managed to chastise Gil convincingly.
ADVERTISEMENT - CONTINUE READING BELOW
In the end, even if the Jaredeleza family was not able to save their hacienda, the ensemble and their superb acting triumphed to make Arbol de Fuego a success-especially with the comedic love triangle of Aucina, Rodriguez, and Falcon.
Arbol de Fuego runs from February 22 to March 15, Saturdays and Sundays, with a show at 3 p.m. and another at 8 p.m. It is stage at the PETA Theater Center, 5 Eymard Drive, New Manila, Quezon City. For inquiries or reservations, contact 725-6244 or email petatheater@gmail.com. You can also buy tickets at TicketWorld.com.ph and avail of their 4+1 promo.
Also read: PETA's Arbol de Fuego takes Anton Chekov's Masterpiece to Negros
Recommended Videos
Load More Stories