Theater Review: Manhid: The Pinoy Superhero Musical
Staging this musical required no less than heroic effort.
(SPOT.ph) Putting on a musical based on heroes of local myth and legend sets up a lot of challenges. We have to bear this in mind when watching Manhid: The Pinoy Superhero Musical. As a Filipino heroic narrative, it has so many epic stories to choose from. As a musical, it needs songs and leitmotifs that embody each character while driving the action. As a dance, it requires choreography that evokes character, complements the song, and presents conflict as a superhero-style comic book dance-off. Staging this musical required no less than heroic effort.
On February 20, Manhid opened at the CCP Main Theater amid optimism for Ballet Philippines' participation, nostalgia for the 1991 performance, and some unfortunate technical difficulties.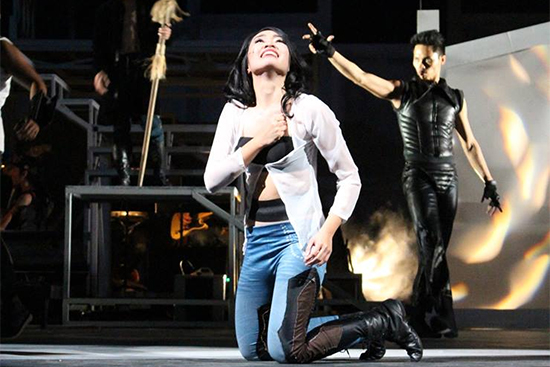 ADVERTISEMENT - CONTINUE READING BELOW
The story takes place in three acts, in a Philippines where there was no 1986 People Power Revolution, one that instead witnessed a Masaker ng Taong Bayan euphemized as the Solution of Eternal Peace. The Minister of Humanity, Mamalahim-ma, takes over the country in a rule of exploitation that leaves the people apathetic, selfish, and cynical. Except for 99 children, all are born after the massacre and named in protest after the heroes of local myth and legend, children who grew up inheriting the powers and abilities of the beings they were named after.
Mamalahim-ma leads the Tulisan ng Bayan in a bid to cement her stranglehold on the country and spread the epidemic of kamanhiran. Her efforts are challenged by the Maragtas, the rest of the scattered children of protest, led by Lam-Ang Panganiban (note the portents in the surname's root word).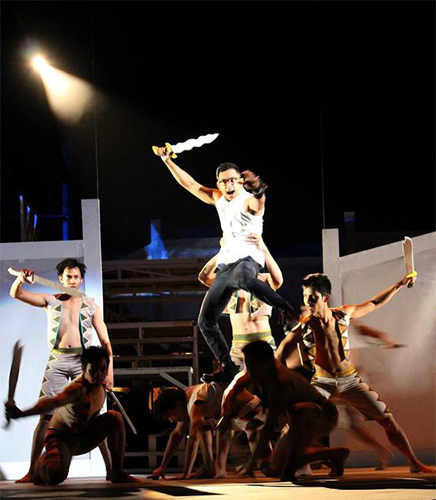 ADVERTISEMENT - CONTINUE READING BELOW
It is notable that the Maragtas characters sing the most among the cast. Their voices tell a story of the many faces of indifference and suffering. Sandino Martin's Bantugan stumbles between the hard realities of writing for a tabloid and the luminous dreams that visit him in sleep. The living martyr Lagrimas, played by Ronah Rostata, suffers her father's whip and scorn, crying tears that ironically cure any and all ailments. Allunsina, far from the hidden goddess of Panay myth, takes center stage as a streetwise, knife-wielding Amazon with curses that cut skin and break bone-actress Kim Molina's recent stint as Ailene in Rak of Aegis serves her well in this tough-as-nails role. KL Dizon sings Urduja's part like moonlight in a hidden grove in her show-stealing scene with Fredison Lo's Radia Indarapatra.
But it is Dilim's songs that resonate throughout the musical. Jean Judith Javier's operatic voice makes each song a tropical gothic dirge, a plaintive aria against their oppressors. Dilim sings to shroud her surroundings in darkness, a physical expression of her emotional reality. So when she is overcome by frustration and rage in Act Three, well, let's just say she brings about a Pyrrhic victory. Taken together, what binds the Maragtas together is their willingness to feel and to risk getting hurt in their quest for a better world.
ADVERTISEMENT - CONTINUE READING BELOW
Where the Maragtas sing and relate their sorrows in words and music, the Tulisan ng Bayan spare no time for discussion. They act-or in this case, dance. Even their costumes, with streamlined cuts and sleek pleather, offer a stark contrast to the motley rags of the Maragtas. When they move, they move with speed, efficiency, and coordination. Earl John Arisola as the shadow-puppeteer Malyari and Katherine Trofeo as the psychic vampire Gonongleda embody this with deliberate movements and unblinking sadism. Rita Angela Winder's Rasagadang comes as a creeping, arachnid mangkukulam, contorting her body with each hex.
The Tulisan ng Bayan also have comparatively fewer speaking lines, and even then those few lines bear some significance. Spear-wielding Apolaki, played by Richardson Yadao, speaks only in English but with an affected accent, as if he were channeling a latter-day Donya Victorina-a linguistic form of kamanhiran.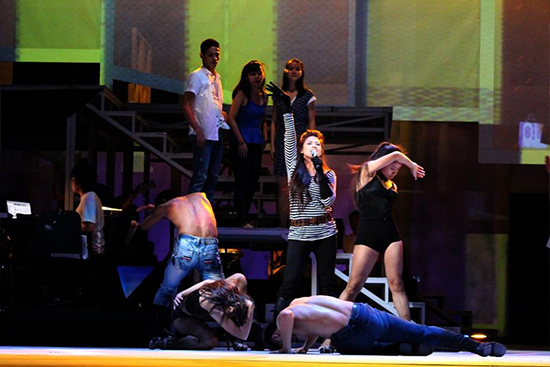 ADVERTISEMENT - CONTINUE READING BELOW
Radia Indarapatra paints another portrait of kamanhiran; in giving others their hearts' desires, he furthers his own selfish ends and plays along with Mamalahim-ma's schemes until encountering Urduja on a secret mission awakens a more selfless part of him. Sometimes, an antagonist's redemption can steal the show from the story of liberation.
The musical isn't without its weak spots. We must remember that Kanakan-Balintagos (formerly Auraeus Solito) wrote this around 24 years ago, and his youth shines through the script. The leaders of the respective camps are more concepts than characters; Mamalahim-ma's Faustian bargain has about the same depth as Lam-Ang's single-minded protest. The musical doesn't fully develop the foundations of kamanhiran, which means the happy ending it offers comes too easily.
However, we do find authenticity in the sufferings of the Maragtas: the torture of Bantugan, the government-sanctioned abductions and deaths of several characters, the petty privations and miseries of the common folk, frustration and anger all culminating in Urduja's final rampage and Dilim's devouring dirge. In an interview with the press after the opening performance, Kanakan-Balintagos said that each of the characters represents an aspect of the Filipino people, and that much can be seen.
ADVERTISEMENT - CONTINUE READING BELOW
The works that will follow-whether a dance, a musical, a play, a graphic novel-may do well to extend Manhid's questions, to flesh out the apathy that inspired the musical's creation, and to discover a cure for it.
Manhid: The Pinoy Superhero Musical will run on all weekends from February 28 to March 8, 2015, at the CCP Main Theater. Manhid is written by Kanakan-Balintagos and Paul Alexander Morales; the libretto by Carina Evangelista and Kanakan-Balintagos; original music composed by Vincent de Jesus, Kanakan-Balintagos, and the Eraserheads, choreography by Alden Lugnasin and Paul Alexander Morales; and musical direction by Francis de Veyra and music performed by the Radioactive Sago Project.
Photos from Ballet Philippines' official Facebook page.
Load More Stories