Theater Review: Kung Paano Ako Naging Leading Lady
Have you ever seen yourself as a villain?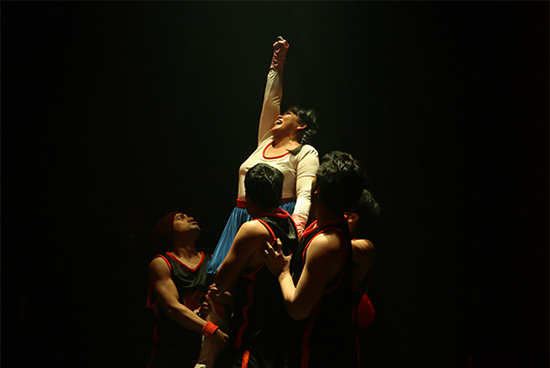 (SPOT.ph) It is with haste that we must discuss the near-perfect technicals of Kung Paano Ako Naging Leading Lady, because there's no point in dallying with grandiloquence when there's so much about the Carlo Vergara-written play turned musical (with the help of Vincent De Jesus) that must be recognized. Also, it's best to hand out the praise early before we get distracted by the brilliant, brilliant way that a surprising amount of themes unfolded onstage.
ADVERTISEMENT - CONTINUE READING BELOW
The set, at first, seems unremarkable—a modestly sized amphitheater-styled platform with a non-descript screen background. And then the colors dance and John Batalla's name is immediately given space in your memory for his understanding of why the dynamics between shadows and light matter.
We are then introduced to a number of characters, all wearing costumes that hint at their personality. And oh, what personalities they have. Carlo Vergara continues to grow as a storyteller and writer, and we the audience can only sit and marvel at his genius at work. We make no exaggerations here. Chris Martinez had his work cut out for him and his own skill as a director became evident as the lives of the characters progressed and they developed into people you root for—super villains included.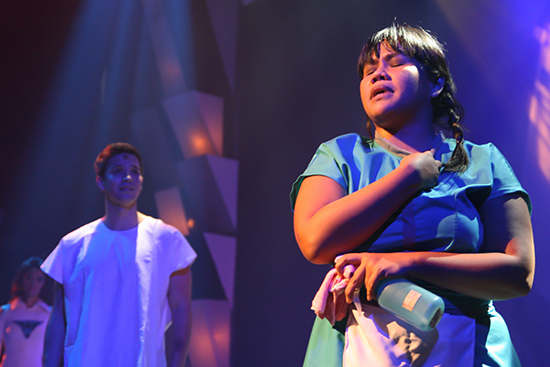 ADVERTISEMENT - CONTINUE READING BELOW
Mely, maid to Superhero-slash-Celebs Fuerza Filipinas. (Left corner, the blur that is Nena Babushka. You might relate to her feels.)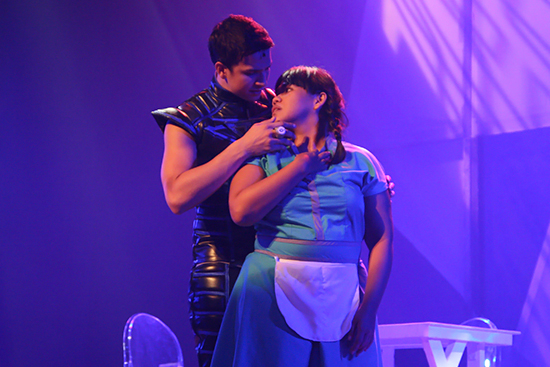 Mely and Leading Man? Parang Kathniel? Jadine? P-Noy and...whoever?
Stripped to the bare minimum, the story is fairly simple: A maid, Mely (Bituin Escalante, alternating with Frenchy Dy), is employed by a group of superheroes and, like something out of a Precious Hearts Romance book, one of her bosses slowly develops feelings for her. She is plain—a little on the broad side—but Vergara bestows upon her admirable traits, making it nothing else but believable that a guy like Markki Stroem (alternating with Hans Eckstein as Leading Man) can fall for her. Also whisked into her being is a feature we as a nation tend to celebrate: martyrdom. It is her burden and though there's a bit of good old-fashioned romanticizing, watching her move away from it is strangely exhilarating. Perhaps because we know the feeling all too well.
ADVERTISEMENT - CONTINUE READING BELOW
However, Leading Lady is far from just being a melodrama. It expertly uses humor not to punctuate details, but to highlight it and underline things about the Filipino culture that we either fail to see or deliberately ignore.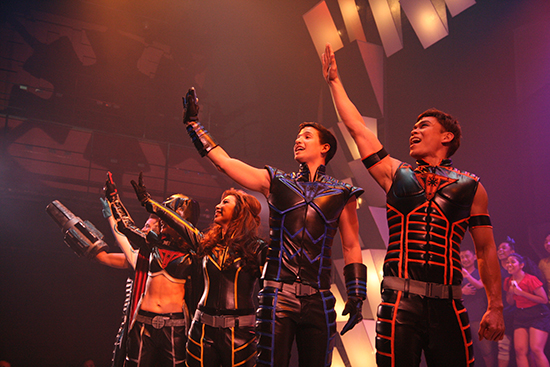 The rather swanky Fuerza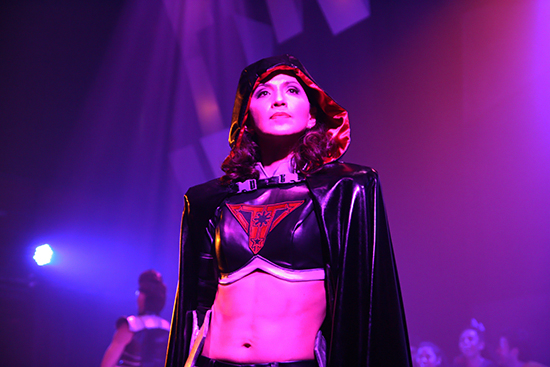 ADVERTISEMENT - CONTINUE READING BELOW
Madre de Dios has abs as additional powers.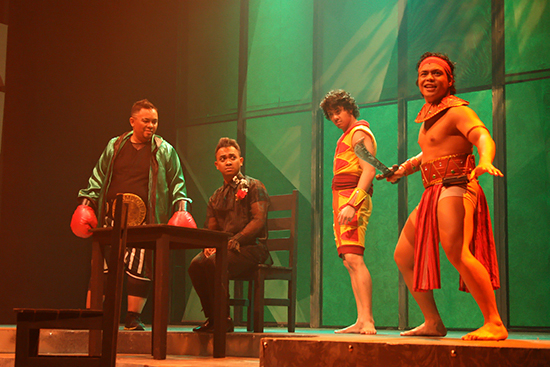 Kayumanggilas, represent!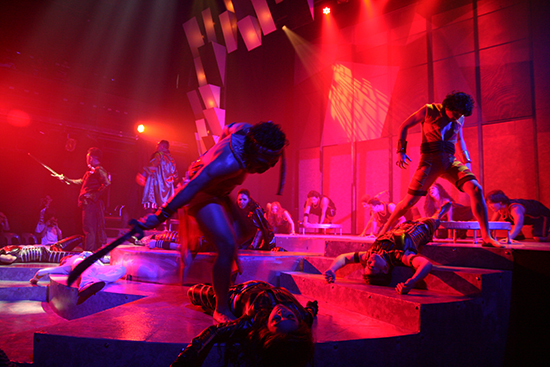 ADVERTISEMENT - CONTINUE READING BELOW
What we mean when we say astounding lighting
Language plays an important role in the script and it's very striking that English is given such a blinding spotlight. Fuerza Filipinas, led by Menchu Lauchengco Yulo as Madre de Dios, displays an expert command of it and the Kayumanggilas…well, they're going to ask for a lot of patience. Hold on to your seat, because you might fall off when they start singing their theme song. Nar Cabico as their leader Senyor Blanco will have the audience roaring with guffaws for sure as he completely butchers English. Oh, how we laugh at his verbosity and many, many grammatical faux pas. 
Deeper than that, we laugh at his "trying hard" attitude—reminiscent of moments when we secretly LOL at people who use such phrases as "The true hurts" or "They are always making fun on me!" It makes him look like a buffoon and it takes very little effort to understand what Vergara is trying to achieve. It is not because he writes simply (as in the opposite of complex), but because his intentions are sharp and clear. 
ADVERTISEMENT - CONTINUE READING BELOW
The story is more than foreign against local, which is what it seems on the surface. Instead, as you look more closely, it asks the audience to see people for what they are, which could be momentarily villainous. Fuerza Filipinas often describes itself as great and respectable, yet they cannot even care for themselves and each other. Kayumanggilas, on the other hand, reeks of #PinoyPride. Pride, as we know, is a sin. Especially when it manifests in ways that are laughable. Yes, you will laugh. We are a nation that thrives on jokes and joy.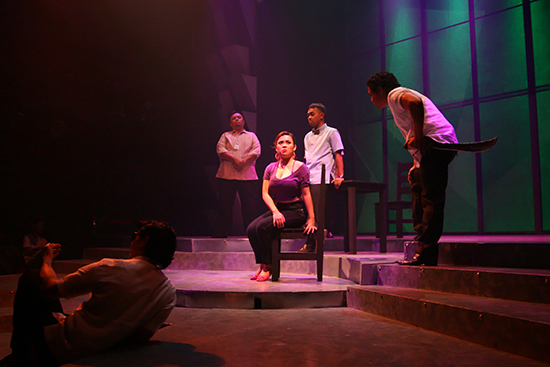 ADVERTISEMENT - CONTINUE READING BELOW
Viva, Viva. What are you getting yourself into?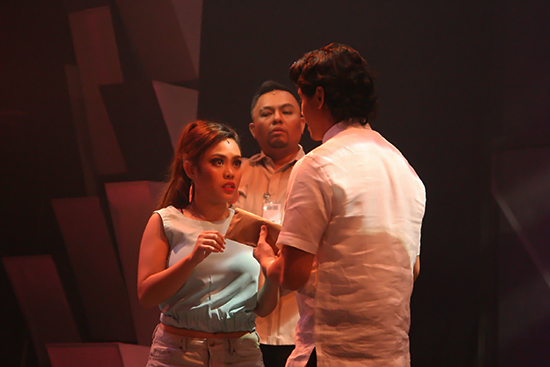 The power of the barong and brown envelopes
Mely, of course, will roll her eyes at this. She takes life seriously and she wishes her sister Viva (Kim Molina, alternating with Natasha Cabrera) would do the same. We've prattled on long enough and spoiled a bit of the play's themes, so we shall say with thrift that Viva knows your 2 a.m. thoughts and her piece of the pie (that is the play) will bring you comfort. Hers is the story that ultimately explores what we mean when we say hero. We all have struggles, as most of the characters in the musical will show (and sing, exquisitely). Pero kaya ng powers mo. Laban lang.
ADVERTISEMENT - CONTINUE READING BELOW
Heavy as that all may seem, the play is casual and entertaining. The entire cast sings the songs with such crisp enthusiasm that you realize why there's so much premium on live performance. There's an abundance of talent on and off the stage, aided stunningly by Dalanghita Productions. Leading Lady sets a standard for what Philippine theater is now. This is our story. We watch ourselves, we laugh at ourselves, and it feels like home. 
Kung Paano Ako Naging Leading Lady runs until June 7 at the PETA Theater Center, presented by Dalanghita Productions. For ticket inquiries, call TicketWorld at 891-9999. Photos by Aya Tantiangco.
Recommended Videos
Load More Stories