Theater Review: Bituing Walang Ningning: The Musical
Oh, it sparkles. It is very sparkly.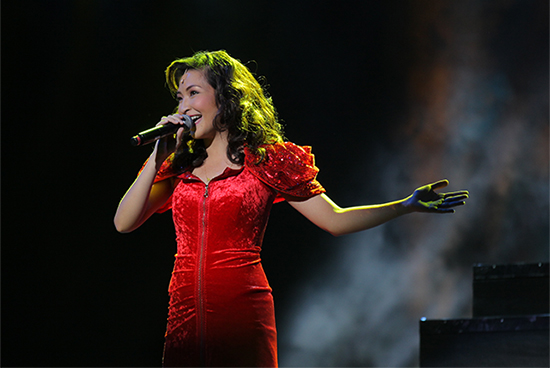 (SPOT.ph) The line for which this movie is famous has been quoted so many times that we don't even need to say it…although, spoilers, Cris Villonco as Lavinia Arguelles will deliver it. You will gasp, because all the scenes before that are so giddy and gay, thanks to newcomer Monica Cuenco's unmasked excitement to be Dorina Pineda.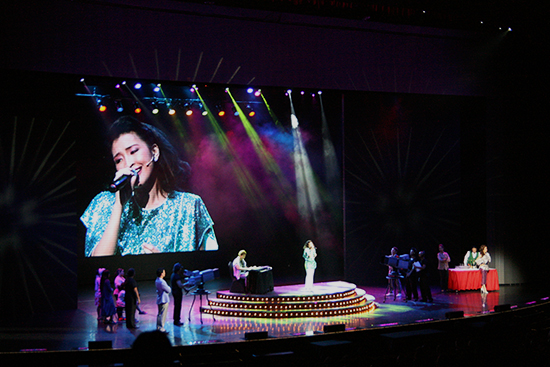 The rise of Dorina Pineda
Cuenco actually met the original Dorina, Sharon Cuneta, when she joined Star Power: Sharon Search For the Next Female Superstar. She didn't win that competition, but here she is now, a star in her own right. It's hard not to be charmed by her bright smile and even harder not to marvel at the clarity of her voice. No birits, just high notes hit right. She was particularly charming when she sang a Visayan ballad with Auntie (skillfully played by Jon Santos) and we're thrilled that they incorporated her Cebuana identity in this version of Dorina.  
ADVERTISEMENT - CONTINUE READING BELOW
Together with Mark Bautista as Nico Escobar and Ronny Liang as Gary Diaz, Villonco and Cuenco make the adaptation of Bituing Walang Ningning sound beautiful. The way their voices blend is a definite highlight, with sparkly sequined costumes a close second.
The adaptation may have gaps in telling the story, but most of us are familiar with the trajectory of the plot. A bumpkin who spends her time nearly obsessing over a popstar is thrust into the spotlight and she shines brighter than anyone. You don't even have to have watched movie to appreciate the musical…but you would have to like the '80s to enjoy some of the jokes. In today's parlance, some of them are strictly for Titas who experienced the technological marvel that is the Compact Disc.
CONTINUE READING BELOW
Recommended Videos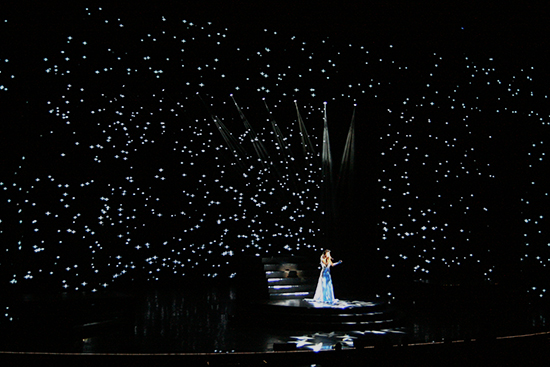 A intensely pretty scene, with Cuenco at the heart of it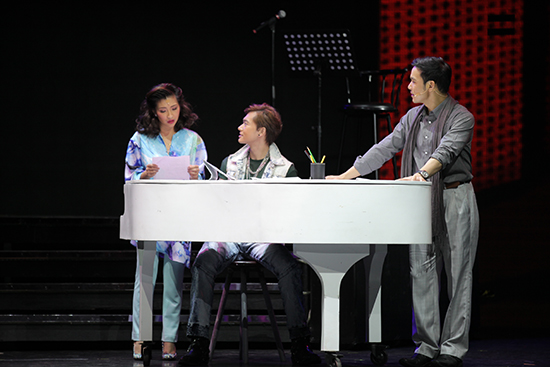 ADVERTISEMENT - CONTINUE READING BELOW
What's kwentong Pinoy with a love triangle?
It's a shame that the conflict between Lavinia and Nico wasn't fully realized, because both Villonco and Bautista were finding the perfect balance between hamming it up and doing their characters justice. Villonco in particular looked like she was enjoying every second of it—heavy makeup, bouffant wig, shiny one-shoulder top and all. To be fair, everyone looked liked they were having a blast and the energy could infect you if you let it. Menchu Lauchengco-Yulo, who plays Edith ("Not e-dit! I-deeth!") will push you in the right direction. 
Bituing Walang Ningning, in its best moments, commits to camp. Videos, projection, a chismis-oriented program, strange English translations of Tagalog words—the works! Gary even quips, "Ang baduy, kumikita." The subtitle for that on the projected live video, for the benefit of people on the farther seats, is "Hokey sells."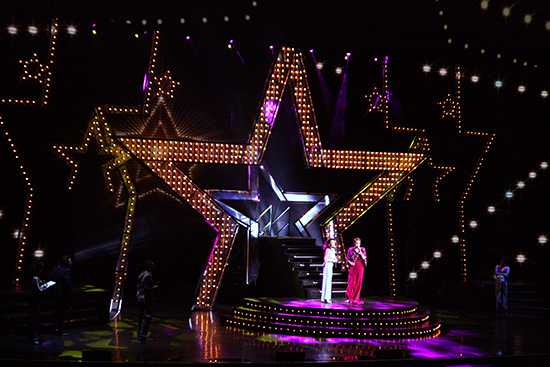 ADVERTISEMENT - CONTINUE READING BELOW
They didn't go easy with the star imagery—and we love it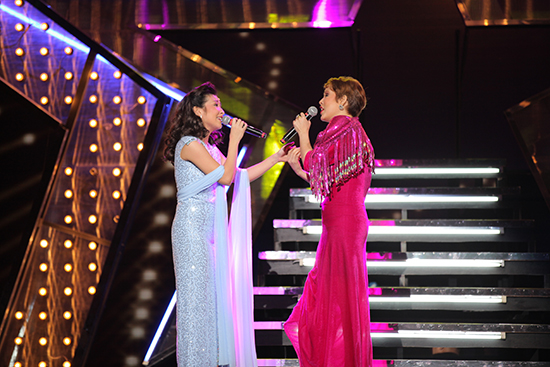 Cuenco and Villonco, blending so well
When we realized that they were going to go full '80s, we were half-expecting a more jukebox type of musical and held our breath for a rendition of "Total Eclipse of the Heart" from Cuenco. Alas, they couldn't insert more songs. Still, we lapped it all up, especially in a couple of numbers with stunning production design. When they finally sing "Bituing Walang Ningning," you will gasp again. 
Bituing Walang Ningning runs from June 17 to July 15 at the Newport Performing Arts Theater in Resorts World Manila. For tickets, visit Resorts World Manila's official website.
---
Help us make Spot.ph better!
Take the short survey
Load More Stories