10 Things You Didn't Know About American Idiot
The musical opens on June 24.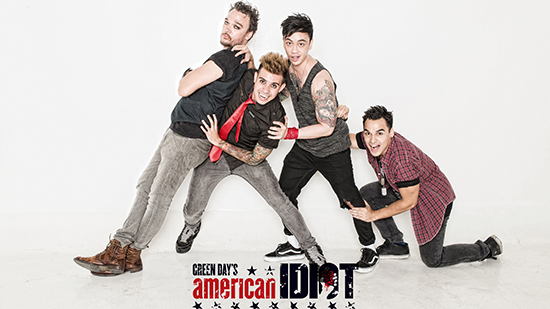 (SPOT.ph) So many people are excited about the Philippine staging of the punk rock musical American Idiot, premiering on June 24 at the new Globe Iconic Store in Bonifacio Global City. Set in post-9/11 America, it follows the journey of three young men—Johnny , Will, and Tunny—as they face the harsh realities of the world around them.
ADVERTISEMENT - CONTINUE READING BELOW
CONTINUE READING BELOW
Recommended Videos
But before opening night, here are some fun facts we dug up about the show.
American Idiot's venue is an open-air stage.
The premiere of the rock opera is the launch of the Globe Iconic Store as a brand new entertainment venue. The open-air stage features two separate stores on opposite buildings connected by a glass bridge. The bridge flanked by two massive LED screens is part of the multi-level performance space with a state-of-the-art lighting system. We don't know about you, but that sounds pretty cool.
See ya, guys! #Globe9WTAmericanIdiot starts 6/24 at the new outdoor theater of Globe Iconic Store. Get your tix now! pic.twitter.com/9WiDzrF311

— Globe Telecom (@enjoyGLOBE) June 18, 2016
Jason Fernandez calls the role he plays as part of the "sige-sige gang."
Former Rivermaya vocalist Jason Fernandez plays the role of Johnny, a risk-taker, "sige lang nang sige." He shared, "Naging si Johnny ako dati." They both have aspirations, they both want change in their lives, and they are both determined to achieve their dreams through hard work and passion.
Wolfgang rock star Basti Artadi is part of the cast.
ADVERTISEMENT - CONTINUE READING BELOW
Basti Artadi plays the sinister St. Jimmy who taunts Johnny into making bad decisions. "When the role came up, [Santi Santamaria] had me in mind already," he shared. He didn't have to audition for the role, for which he's grateful. "Because I will suck at it."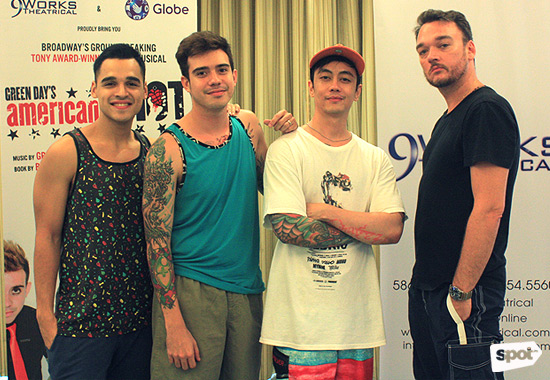 (From left to right) Nel Gomez, Jason Fernandez, Miggy Chavez, and Basta Artadi
ADVERTISEMENT - CONTINUE READING BELOW
Miggy Chavez and his character are very much alike.
Chicosci frontman Miggy Chavez admitted that he's very much like Will in the musical. He's steady and chill, loves the couch, and still has a long way to go when it comes to acting his age.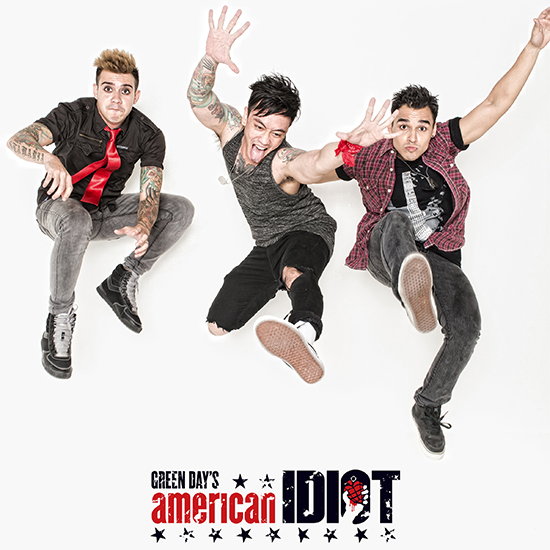 Two of the cast members have a cute pre-show ritual.
ADVERTISEMENT - CONTINUE READING BELOW
American Idiot is the third production shared by real-life couple Nel Gomez (as Tunny) and Sarah Facuri. They put their relationship on pause 30 minutes before a production so that they can each focus on their roles and lines. Their pause word is "chewy chocolate" and the unpause code is "unicorn."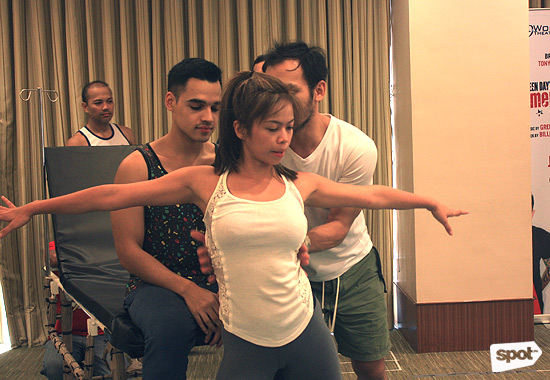 ADVERTISEMENT - CONTINUE READING BELOW
Choregrapher PJ Rebullida helps Ela Lisondra and Nel Gomez with their routine
There will be "an ultimate Beyonce number."
Despite her background as a UP dance major, Ela Lisondra (as Extraordinary Girl) still finds her number for American Idiot challenging. "As a dancer, you're very squared. For example, classically trained, meron ka nang movement that's very specific. But when it comes to musical theater, I had to break that." To make things more interesting, it's a really tough song-and-dance combo.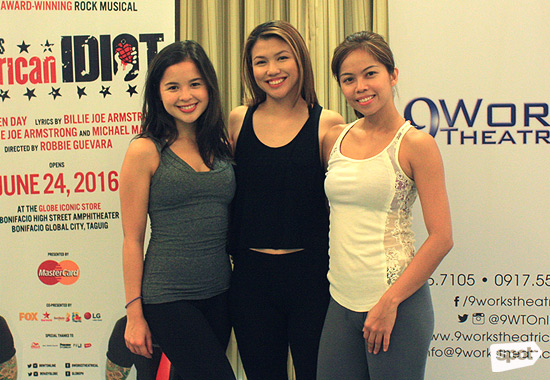 ADVERTISEMENT - CONTINUE READING BELOW
(From left to right) Alex Godinez, Yanah Laurel, and Ela Lisondra
Alex Godinez and Yanah Laurel started out in theater at the age of nine.
Alex Godinez (as Heather) took part in Trumpets' acting workshops at nine years old. She was also under the tutelage of theater greats such as Menchu Lauchengco-Yulo and Audie Gemora, both of Repertory Philippines. Yanah Laurel (as Whatsername) also started early. "I feel like it's in my blood. I was surrounded by theater growing up because my family is very much a part of the theater industry. What I love about theater is how acting allows you to step into different characters and different roles, and to be able to relive that. And it's a privilege to have the opportunity to live multiple lives in one lifetime and that's what I really enjoy about it," she shared.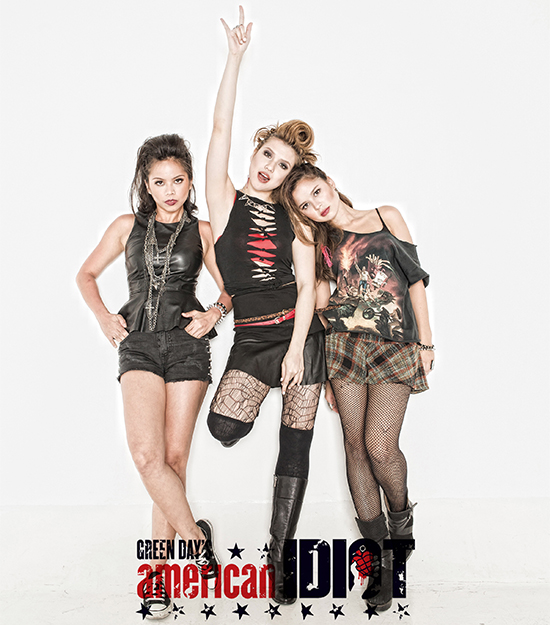 ADVERTISEMENT - CONTINUE READING BELOW
Obtaining the rights to produce American Idiot in the Philippines wasn't a walk in the park.
It was in May 2010 when one of 9 Works Theatrical's partners Toff de Venecia saw the musical on Broadway. Director Robbie Guevara narrates de Venecia's reaction after watching it: "It's okay. Kind of weird 'yong choreo." He watched it again a year later and, for some reason, was impressed. De Venecia then told his team that they should get the rights for it. In early 2012, Guevara scoured the Internet for contact details of the musical's producers as it wasn't available yet through the usual channels. He got in touch with the marketing team, who gave him the details of one of the minor producers, who endorsed him to the major producer. As American Idiot was still being staged in New York at the time, there were no plans to take it outside the U.S. It took a few more email exchanges in February 2013, and again in August 2013, before American Idiot was finally made available to the international market in 2015.
ADVERTISEMENT - CONTINUE READING BELOW
American Idiot features 17 Green Day songs.
Robbie Guevara admitted that he wasn't a Green Day fan when the band's album first came out. When asked how it would be relatable to those unfamiliar with the songs, he explained that playwright Michael Mayer and Green Day frontman Billie Joe Armstrong have done a great job in weaving together all the content-rich songs so viewers who don't know the music by heart could still follow the storyline. The album and the musical are totally different experiences.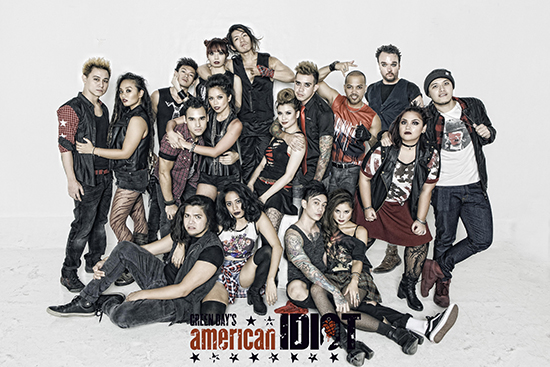 ADVERTISEMENT - CONTINUE READING BELOW
It was nominated for 2010 Tony Award for Best Original Score but was deemed ineligible.
Since American Idiot is mostly based on the songs and albums of Green Day, less than 50% of the score was written for the Broadway production. This made it ineligible for the Best Original Score category. Nonetheless, it bagged the Tony Awards for Best Scenic Design of a Musical and Best Lighting Design of a Musical.
American Idiot is produced by 9 Works Theatrical and Globe Telecom. It will have a total of nine 8 p.m. shows from June 24 to July 10 at the Globe Iconic Store, Bonifacio High Street Amphitheater, Bonifacio Global City. Tickets are priced at P2,090, available through Ticketworld.
Also read:
Pinoy rock stars to light up Broadway hit American Idiot
Load More Stories