5 Plays and a Wedding Proposal at Virgin Labfest 2016
We pick the plays we'd want to see again.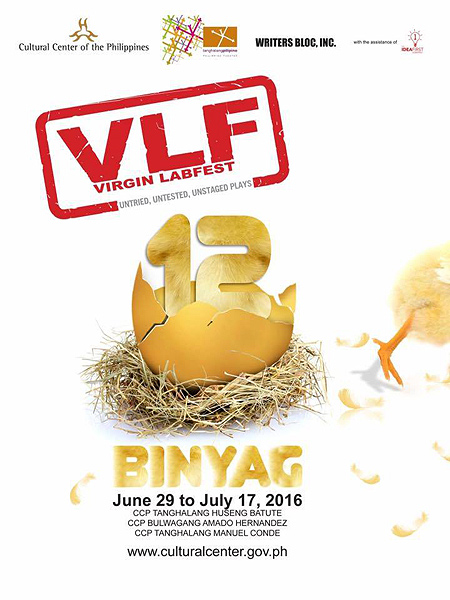 (SPOT.ph) Since its inception in 2005, the Cultural Center of the Philippines' annual Virgin Labfest has been known to showcase "untried, untested, unstaged plays." It puts the spotlight on playwrights' works by staying faithful, as much as possible, to the script on hand sans the spectacle of too many lights and sounds, or a director's heavy hand. 
For this year's roster of 12 one-act plays (compressed into four sets), it was hit-and-miss. Some scripts could have benefited from another revision, another writer's perspective, or even completely different subject matter. Some have gone beyond what's expected and deserve another restaging at the Tanghalang Huseng Batute of the Cultural Center of the Philippines—and they will, in next year's "Revisited" lineup (a.k.a. Set E).

Some were bad, some were good, but maybe that's the point. It is, after all, a test run, and it's up to the theater companies to pick up the plays. As Nikki Torres, Virgin Labfest (VLF) Production Manager, said on her Facebook page, "The Labfest plays have been tried and tested! Now come and get them! Stage them in your own venues. Put your own spin on each!"
Here are our picks from this year's VLF plays that deserve a second look: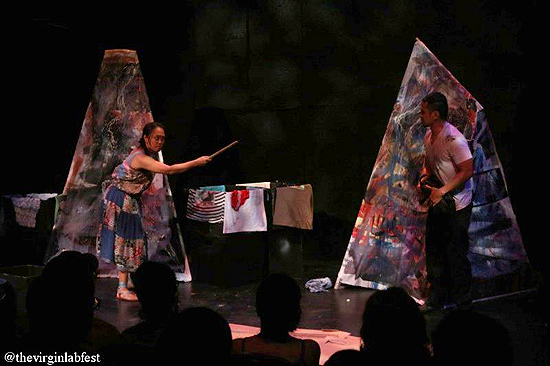 ADVERTISEMENT - CONTINUE READING BELOW
Bahay-Bahayan, Tagu-Taguan by Herlyn Alegre
Herlyn Alegre made her VLF debut in 2013 as the playwright of Imbisibol, which was restaged in 2014 and adapted into a movie in 2015. Bahay-Bahayan, Tagu-Taguan's theme isn't far from her first VLF play and still tackles the dilemma of finding home and a community in a strange land. It follows the story of four refugees—Eben (Chrome Cosio), Fatima (Doray Dayao) and her son Sami (Rence Aviles), and Dan (Sky Abundo)—who escape the raging civil war in Puting Bato and find themselves in a tent city after crossing the border. Ricardo Magno directed the structurally sound script, which took pride in interspersing a childhood game with matters of life and death.
CONTINUE READING BELOW
Recommended Videos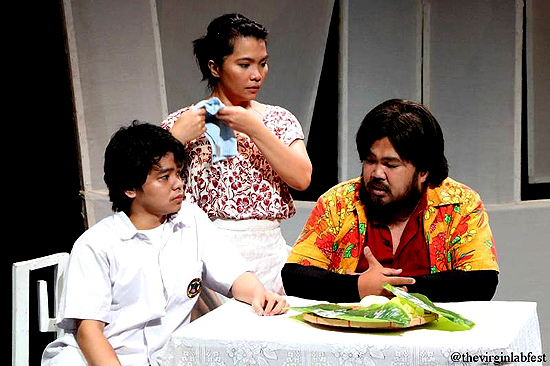 Mula sa Kulimliman by Carlo Vergara
A Carlo Vergara play isn't a Carlo Vergara play without superheroes and supernatural creatures, and Mula sa Kulimliman directed by Hazel Gutierrez did not disappoint. The tragicomedy straddles two dimensions—the reality of a housewife (Mayen Estañero) dealing with the struggles of raising her son (Timothy Castillo) while her husband (Tad Tadioan) is away, and the supernatural and menacing world of Kulimliman. Such absurdity can only be told with a straight face by a seasoned actor like Tadioan, but the play's backbone is Estañero's convincing portrayal of a mother and wife who's utterly confused as she comes to terms with the truth.
ADVERTISEMENT - CONTINUE READING BELOW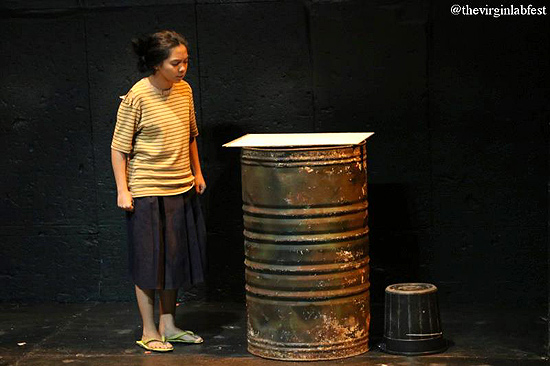 Ang Bata sa Drum by Dominique La Victoria
True to the title, Dominique La Victoria's play is about a little boy (Ron Alos) placed inside a drum as his father's form of punishment. He's just there the entire play, by the way, and Director Dudz Terana pulled it off. The child finds comfort in conversing with his older sister (Raven Relavo) after school as they both make sense of their father's alcohol problem, the absence of their mother who's working in the city, and their rural life. The script is written in Bisaya and Tagalog but even a non-native can easily understand the looming sadness, thanks to the carefully placed silences and segues in the script and both actors' body language (even from inside the drum).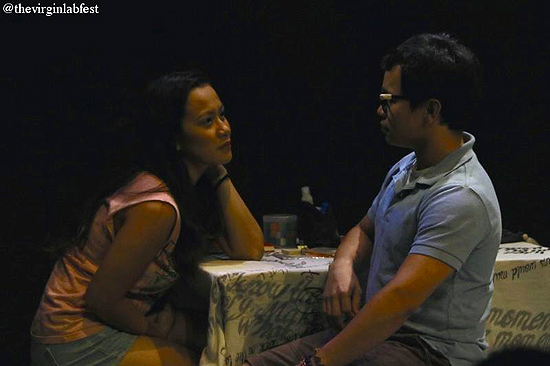 ADVERTISEMENT - CONTINUE READING BELOW
Ang Mga Bisita ni Jean by Ma. Cecilia de la Rosa
Poet Ma. Cecilia "Maki" de la Rosa successfully delves into theater with her play Ang Mga Bisita ni Jean, a story that looks into the struggles of one who left the communist movement to live a "normal" life in the city. The play opens with Jean (Sheenly Vee Gener) as she gets an unexpected visit by the ghosts of her fallen comrades (Aldo Glenn Vencilao and Randy Villarama). Their conversation slowly reveals the dilemma of the protagonist—falling in and out of love with husband Brad, joining and leaving the kilusan, and even choosing what she now wants to do with her life. Gener's portrayal successfully takes the audience inside Jean's head, complete with the bittersweet memories of the movement. Adding to the somber mood of the play is the repetition of Cynthia Alexander's song "Comfort in Your Strangeness."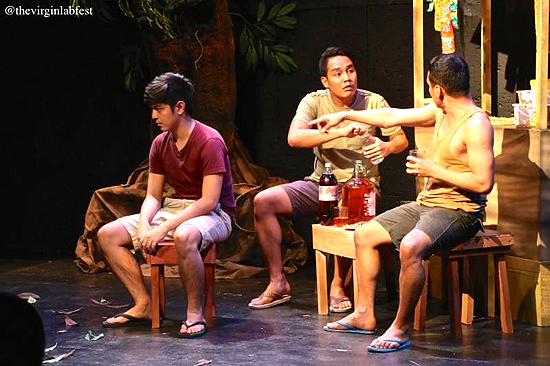 ADVERTISEMENT - CONTINUE READING BELOW
Ang Sugilanon ng Kabiguan ni Epefenia by Alexandra May Cardoso
Ang Sugilanon ng Kabiguan ni Epefenia may remind you of VLF 2015's Si Maria Isabella at ang Guryon ng mga Tala, as both stories dabble in the fantastic and Philippine myths and legends. Inspired by Ian Rosales Casocot's short story The Sugilanon of Epefenia's Heartbreak, Cardoso's play opens with a group of drunken men (Ross Pesigan, Bong Cabrera, and JV Ibesate) describing the tale of Epefenia, a girl with a foolish heart and a tinge of magic. The reality beautifully coincides with the folklore through Charles Yee's direction and Cabrera and Ibesate's well-coordinated narration, with a bit of choreography. But at the heart of Ang Sugilanon is the stirring performance of Blanche Buhia as Epefenia, who chants her Hiligaynon lines flawlessly, hinting at the pain of a girl broken by love.
Bonus: The last night of the Virgin Labfest is almost always the best one, if only for the last bow of the whole cast and crew of the festival. After announcing which three plays would be part of the next year's Revisited roster (Mula sa Kulimliman, Ang Bata sa Drum, Ang Sugilanon ng Kabiguan ni Epefenia), VLF Festival Director Tuxqs Rutaquio called onstage Hapagkainan actress Adriana Agcaoili for a surprise we all witnessed: a wedding proposal, right at center stage of Tanghalang Huseng Batute.
ADVERTISEMENT - CONTINUE READING BELOW
All photos from the Virgin Labfest Official Facebook Page, video from Cinema Bravo Facebook Page
Erratum: An earlier version of this article cited Ariel Yonzon as Ang Sugilanon's director. Yonzon directed Ang Mga Bisita ni Jean while Charles Yee directed Ang Sugilanon. The article has been corrected.
---
Help us make Spot.ph better!
Take the short survey
Load More Stories