Nick Pichay's new plays look at happily-ever-afters, a Filipina robot, and more
Kabilang Ibayo runs from August 4 to 6.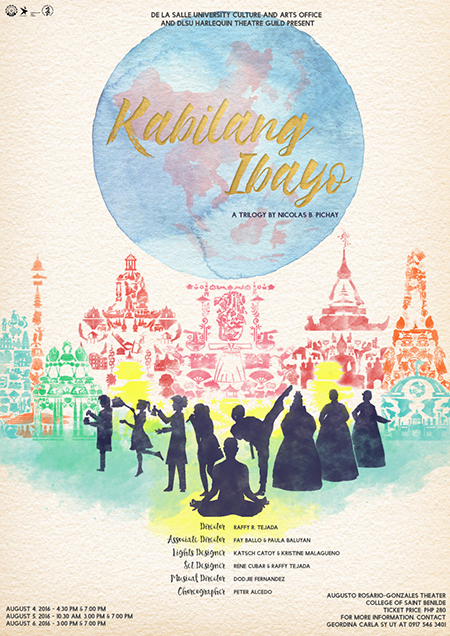 (SPOT.ph) Amid territorial disputes and challenges of the Association of Southeast Asian Nations integration, the Harlequin Theater Guild of De La Salle University-Manila presents three one-act plays—Mysteryland, Robot, and Ahjumma—by 20th Palanca Hall of Fame Awardee and renowned playwright Nicholas Pichay on August 5 at the Augusto-Rosario Gonzalez Theater in De La Salle's College of St. Benilde. It is directed by the Guild's Artistic Director Romualdo "Raffy" Tejada. Collectively titled Kabilang Ibayo, the trilogy portrays the ASEAN's continuing struggle to unite despite cultural and political differences.
ADVERTISEMENT - CONTINUE READING BELOW
CONTINUE READING BELOW
Recommended Videos
Mysteryland
Most of us grew up with stories of princes and princesses, rags-to-riches tales, and sweet narratives of driving off into the sunset with your one true love. We wistfully look at the night sky after closing these storybooks of hopes and dreams. But what would you do if you found out that this "Disneyfied" world is not all the rainbows, butteflies, and dancing teacups it seems to be? In Mysteryland, three young people from China, Vietnam, and Laos audition for the production cast of a local movie theme park. They later discover the reality behind this imagined world. Will they stop believing in happily ever after?
Robot
In this age of humans being shipped off to Mars and huge telescopes discovering extra planets, it should no longer come as a surprise if we end up meeting "aliens" one day. But what is an alien? In Robot, two scientists from Singapore and Malaysia are dead-set on creating the perfect robot patterned after a Filipina maid. Unbeknownst to them, they are the ones who are actually alien to each other, mistrustful of a comrade who's from another country and has a different culture. 
ADVERTISEMENT - CONTINUE READING BELOW
Ahjumma
Eunchae, a Korean senior citizen, is set to marry the very person who abused her best friend Minjoo, a comfort woman during World War II. Ahjumma looks at the shocking revelations of the war that broke many nations and continues to haunt people to this day. Will Eunchae's plans for her wedding come to a halt or will forgiveness set them free?
Kabilang Ibayo runs on August 4, 4:30 p.m. and 7 p.m.; August 5, 10:30 a.m., 3 p.m. and 7 p.m.; and August 6, 3 p.m. at the Augusto-Rosario Gonzalez Theater, De La Salle-College of Saint Benilde, Taft Avenue, Malate, Manila. Tickets are priced at P280. For more inquries, contact Geordina Carla Uy at 0917-546-3401 or visit DLSU Harlequin Theater Guild on Facebook.
Load More Stories