Catch 30 different 10-minute plays at Circuit Makati this month
Hate sitting through a two-hour show? Short + Sweet Theater is perfect for you.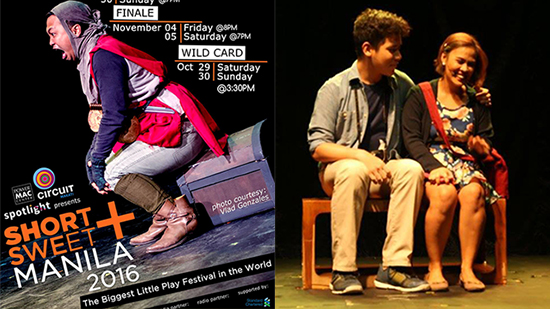 (SPOT.ph) Full-length plays not your thing? Then the biggest short play festival in the world may just be what you're looking for.
Short + Sweet Theater, a festival of 10-minute plays, runs for the third time in Manila at a brand new venue, the Power Mac Center Spotlight at Circuit Makati, from October 21 to November 5. It features 30 short theater pieces, 30 directors, and over 100 actors, all divided in three sets.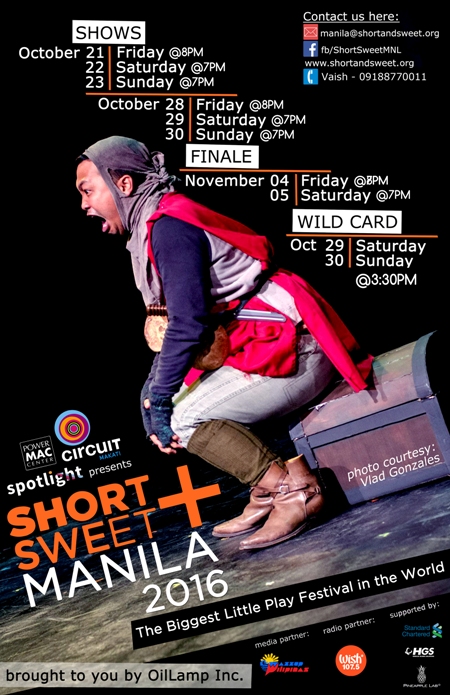 This theatrical initiative began as a small festival in Sydney, Australia and slowly gained international attention through partners all over the world. It now runs annually in culture hubs in Los Angeles, New Delhi, Singapore, Kuala Lumpur, Dubai, and Penang, and many more locations. Interested playwrights who submit their 10-minute piece to one Short + Sweet (S+S) leg have the option to be considered in other countries, an interesting way to showcase Philippine talent in other parts of the planet and vice versa. All S+S seasons are guaranteed to have high-quality 10-minute pieces that are selected through "a vigorous, merit-based process, employing an open call for material, auditions, and artist interviews."
ADVERTISEMENT - CONTINUE READING BELOW
The festival dates and lineup of plays are as follows:
WEEK 1:
October 21, 8 p.m.; October 22, 7 p.m.; October 23, 7 p.m.
The Assignment by Greg Gould
Waiting for Go by Elspeth Tilley
Objectum Sexuality by Ron Burch
The Search by Michael Panes
Stargazers by Greg Gould
Press Pray by Seth Freeman
Transferring Kyle by Jonathan Cook
Bob Gets Cast Out of Hell by Robert O' Connell
Lady and the Tyger or William Blake's…
WEEK 2:
October 28, 8 p.m.; October 29, 7 p.m.; October 30, 7 p.m.
Wheelchair by Scott Mullen
Enjoy! by Pamela Western
Alexander the Great by James Ferguson
Procrastination
The Office of Threats to Western Civilization by Kate Jaimet
Simulationship by David Straus
Red Wire, Blue Wire by Gregory Crafts
How Violet Met Watson
CONTINUE READING BELOW
Recommended Videos
WILDCARD SHOWS:
October 29 and 30, 3:30 p.m.
It Doesn't by George Smart
Perspective by James McLindon
The Proposal
Sandbox by Scott Mullen
It's All the Rage by Carl J. Sorheim
Narating Ko ang Langit
Crime Fiction by Rachel le Rossignol
Dead Giveaway by Daniel Guyton
War/Kiss by Alex Broun
Crisis Line
Honey by Dona Parise
FINALE:
November 4, 8 p.m.; November 5, 7 p.m.
Winners for Short + Sweet Manila 2015 include Voicing Up the Marriage by Bruno Starrs (Best Overall Production), Alphonzo Alegrado for Thank You, Mr. Pongpat and Katreen Dela Cruz for Decisions, Decisions (Best Directors), and Vladimeir Gonzales for Si Nelson, ang Nanay, ang Pancit Canton (Best Playwright).
Short + Sweet Manila runs from October 21 to November 5 at Power Mac Center Spotlight, Circuit Lane, Circuit Makati, Makati. Tickets, priced at P420 to P550, can be availed prior to the show. For more information, visit Short + Sweet Manila on Facebook.
ADVERTISEMENT - CONTINUE READING BELOW
Share this story with your friends!
---
Help us make Spot.ph better!
Take the short survey
Load More Stories