10 Fun and Free Things to Do at CCP's Performatura 2017
It's a big celebration of stories and verses!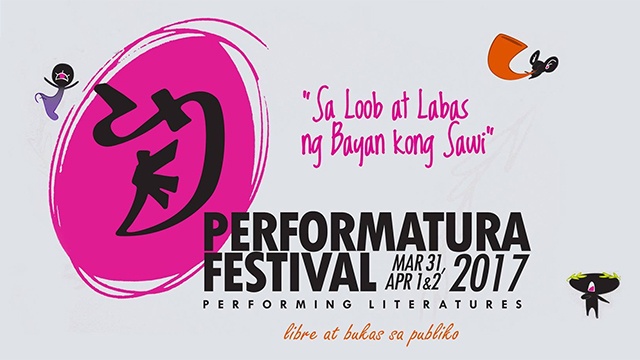 (SPOT.ph) In celebration of Francisco Balagtas' (a.k.a. Francisco Baltazar) birth anniversary on April 2, the Cultural Center of the Philippines presents Performatura 2017: Performance Literature Festival. The three-day festivity, slated to happen on March 31 to April 2, promotes the rich history of Philippine literature, both the written word and oral traditions. Performatura is a portmanteau of performance and orature (or oral literature).
True to the mission of the Cultural Center of the Philippines (CCP) to bring arts and culture closer to the masses, entrance to the festival is free. You just have to donate a book as your admission pass, and this goes to the center's partner libraries all over the Philippines.
We round up some Performatura events that you shouldn't miss!
Pay tribute to Francisco Balagtas through Filipino poetry.
April 2, from 7:30 p.m. to 9:30 p.m.
ASEAN Park of CCP
With the theme "Kay Ka Kiko," writers promoting the Filipino language will perform for the Park Poetry @ Sev's Cafe series. Included in the roster are regulars of Happy Mondays, a poetry reading session that started in now defunct Mag:Net Katipunan in 2007; The Makatas, a trio of young poets trying to revive the art of Balagtasan; Voltes ViM, a collective delivering monologues using the strict form of the villanelle; and LIRA (Linangan sa Imahen, Retorika, at Anyo), an organization of poets writing in Filipino founded in 1985 by National Artist for Literature Virgilio S. Almario.
Learn filmmaking from the best.
March 31 to April 2, every 2 p.m.
ADVERTISEMENT - CONTINUE READING BELOW
Tanghalang Manuel Conde
Filmmakers Sari Dalena (Ang Kababaihan ng Malolos), Giancarlo Abrahan (Dagitab), and Jim Libiran (Tribu) will talk about the art of writing and making films during the Peliteratura segments.
Attend literature classes.
March 31 to April 2, every 10:30 a.m.
Tanghalang Huseng Batute
For the Literaturo segment, classes include "Poetry is our Second Language," "Bukanegan" (after Pedro Bucaneg, the Father of Ilocano Literature), and "Sarsuwelang Sangang Nangabali."
Listen to a feels-fest.
April 1, from 6 p.m. to 7 p.m.
Tanghalang Huseng Batute
Ampalaya Monologues, which has been around for more than year, will go to CCP for Performatura 2017. This episodic play with short monologues is written by Mark Ghosn and is performed by actors from Theater in Alternative Platforms.
CONTINUE READING BELOW
Recommended Videos
Travel back in time through the works of Balagtas.
March 31 to April 2, every 1 p.m.
CCP Promenade
Various groups will have oral readings of Balagtas' masterpieces. Community children from Dagdag Dunong Reading Center will hold a reading marathon of La India Elegante y el Negrito Amante on April 1, Pinoy Reads Pinoy Books Club will present Orosman at Zafira on April 2, and students from the Philippine National School for the Blind will read Florante at Laura.
Marvel at the artworks of Cesar Legaspi.
April 2, 6 p.m.
Silangan Hall
National Artist for Visual Arts Cesar Legaspi was one of the pioneers of modern art in the Philippines. He was known for his use of geometric shapes in paintings that present social commentaries. His exhibit is a part of the centennial celebration of his birth.
ADVERTISEMENT - CONTINUE READING BELOW
Listen to beautiful chants from the regions.
March 31 to April 2, every 3 p.m.
Tanghalang Huseng Batute and Silangan Hall
In Orature Overture, various groups will perform their native chants, folksongs, and other forms of oral literature. There will be a Balitaw performance from Cebu on April 1, T'boli chant from South Cotabato on April 2, and Rajji presentation from Batanes on April 3.
Celebrate literature from Luzon, Visayas, and Mindanao.
April 1, from 7:30 p.m. to 9:30 p.m.
ASEAN Park of CCP
In another segment of Park Poetry @ Sev's Cafe called "From North To South," writers from various Philippine provinces will present literature pieces in their own language. Groups that will be performing are the Baguio Writers Guild, Bukambibig, GUMIL, Nagkahiusang Magsusulaat Sa Cagayan De Oro, and The Little Boy Productions from Cebu.
Be amazed at beatboxing.
March 31, from 6 p.m. to 7 p.m.
Tanghalang Huseng Batute
Jann Altea, a beatboxer from Zamboanga City, will showcase her talent at Performatura 2017. She's also a vocalist and dancer, giving a different texture to Philippine literature.
Join the Franciscosplay and get a chance to win P5,000.
April 2, from 1:30 p.m. to 4 p.m.
Tanghalang Aurelio Tolentino
You heard it right! In Franciscosplay, participants will dress up as characters from Balagtas' masterpiece Florante at Laura. Of course, you have to memorize at least three stanzas from the literary work and deliver them with pride to complete your character. Watching this fun contest is free of charge, too. To be a contestant, contact Mark Aserit at 551-5959.
ADVERTISEMENT - CONTINUE READING BELOW
Performatura 2017 is from March 31 to April 2 at the Cultural Center of the Philippines, Roxas Boulevard, Pasay City. For more information, visit Performatura Festival 2017 on Facebook.
Share this story with your friends!
---
Help us make Spot.ph better!
Take the short survey
Load More Stories