10 Local Spoken Word Pieces We All Need to Hear Right Now
These are not your usual hugot.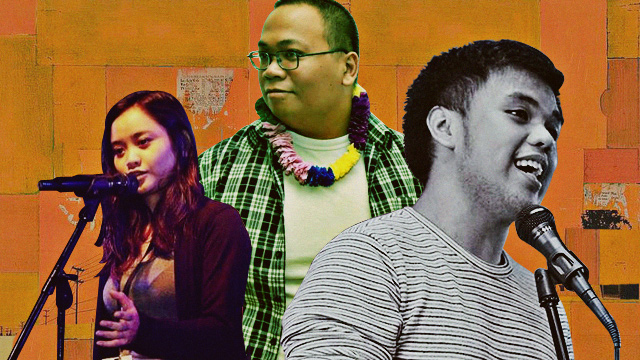 (SPOT.ph) Art may not be as practical as economics or science when it comes to saving the world, delivering progress, or curing cancer, but it does what it can. For spoken word artists, it's about creating the most powerful piece, may it be a wake-up call against climate change or a cry for help for the desaparesidos. In each mouthed word, there is hope that—yes, art can save the world.
ADVERTISEMENT - CONTINUE READING BELOW
CONTINUE READING BELOW
Recommended Videos
We round up some relevant spoken word pieces performed by Filipino artists in various parts of the Metro, from the now-defunct Sev's Café to a makeshift stage in Intramuros.
"Pacific Salt" by Eunice Andrada
Filipino-Australian poet Eunice Andrada has graced international stages including the 2015 United Nations Climate Change Conference in Paris. She performed "Pacific Salt" live in front of diplomats and global leaders. The piece calls on the whole world to stop turning a blind eye to climate change, unless we want more people to die because of natural disasters.
Most relevant lines: "Let us not say there is nothing we could have done. Let this be the beginning of us rising."
"Desaps" by Jake Habitan
UP graduate Jake Habitan cries out for a beloved who has been gone for two years in this heart-wrenching performance. But it's not just any other hugot piece, because "Desaps" remembers the desaparesidos, those who were abducted, tortured, and killed by the military for criticizing the government.
ADVERTISEMENT - CONTINUE READING BELOW
Most relevant line: "...mga katawang hindi mahanap, nilibing ng mga sariling salita ng pag-asa, nilamon ng sistema, itinago para sa paglaya."
"Bathing in Self-Worth" by Carla Nicoyco
"Bathing in Self-Worth" narrates in extraordinary detail how the persona of the piece takes a shower, from being naked to dousing the vagina. But the punch line is in realizing our society's twisted and patriarchal perspective of body-shaming, slut-shaming, sexuality, and "virginity."
Most relevant line: "My vagina's a major part of me, but it's not all of me."
"As the Murder Descends to the Killing Fields" by John Berida
John Berida's stirring piece tackles two tragic events in Philippine history: the Mamasapano clash in 2015 and the Battle of Tirad Pass in December 1899. These tales that spilled blood on our soil still continue to haunt us.
Most relevant line: "Keep your head towards the sky."
"This is the Hustle" by Carla Nicoyco
What's more relevant than the annoying traffic in Manila? Carla Nicoyco shares the daily horror stories that commuters have to live through and injects these with the funniest remarks (i.e. "Ilang istasyon mong naririnig ang boses ni Darth Vader sa PA"). She also infuses lines from William Blake's "The Tyger" and Ezra Pound's "In a Station of the Metro."
ADVERTISEMENT - CONTINUE READING BELOW
Most relevant line: "Kahit saan ka man nanggaling, pagdating sa kalsada, pantay-pantay tayong nadadali ng traffic."
"Hardin ni Adan" by Dzeli Del Mundo
Dzeli Del Mundo comments on the practice of victim-blaming especially in the context of acts of lewdness and rape. She calls out all men who forget that the women they often fantasize about have the same body as their mothers. Warning: This piece doesn't shy away from strong language.
Most relevant line: "Ito ang lipunang sumisigaw ng 'put**g ina' na hanggang sa mura, si Eba pa rin ang put*."
"The Myth of the Diwata" by Toni Flores
Toni Flores alludes to the Filipino mythological creature diwata, and retells the story that "a diwata can love a diwata, too." She speaks of fairies kissing fairies, nymphs touching nymphs, and so on. But is it just all that? Knock knock, heteronormativity.
Most relevant lines: "I'm sorry if they skip our names through oral tradition. We are the part of history untold."
ADVERTISEMENT - CONTINUE READING BELOW
"DadBod" by Justin Ayran
Justin Ayran questions the trending "dad-bod," a male body type described as softly round. He looks at this as a double standard especially when compared to frequent body-shaming against women.
Most relevant line: "There should be a YourBod movement because this is my truth: You are beautiful."
"Woman" by Cheryl Salvador
Cheryl Salvador performs a piece in honor of all women. It may have been recorded in 2014 but we can still definitely use its words today when chauvinists are in power and catcalling happens in almost every corner.
Most relevant lines: "You are a woman. You matter. Never forget that."
"Motto Stella" by Patti Ramos
Motto Stella, Latin for "guiding star," was the original name of the Rizal Monument designed by Swiss sculptor Richard Kissling. Patti Ramos recounts Pepe's last moments in the hands of a Filipino firing squad. But it's not just all about the past. Somewhere along the way, she talks about the 46-storey building that now "looms against Pepe's horizon."
ADVERTISEMENT - CONTINUE READING BELOW
Most relevant line: "We study these things over and over so you will see how little sense you make when you unwittingly take history out of context."
Are you sure you want to delete this list?

Load More Stories