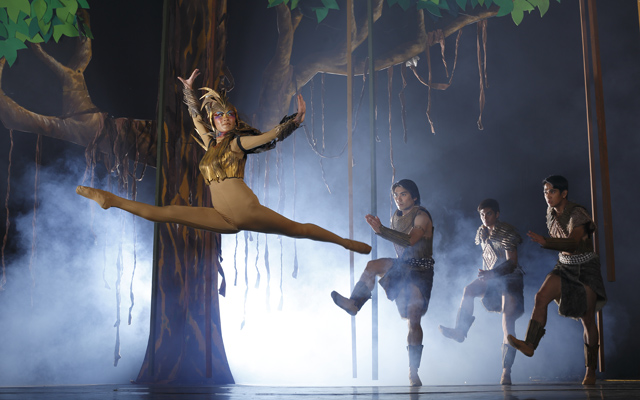 (SPOT.ph) Most of us read Ibong Adarna as freshmen students in high school, so we all know of the tale of the mythical bird with a magical voice. It was probably a not-so-fun experience especially if Filipino classics aren't exactly your cup of tea. Well, Ballet Manila gives a different spin on it as the dance company opens its 22nd performance season with Gerardo Franscisco's Ibong Adarna on August 26 at Aliw Theater in Pasay.
Ibong Adarna, the familiar tale as we know it, is about three princes' journey to find the elusive bird whose singing abilities can heal the sick. This classic story of adventure, fantasy, and honor is given new life with Ballet Manila's rendition of the show through never-before-seen choreographies, as well as an all original set and musical score.
Before the world premiere, we sat down with Ballet Manila's CEO and Artistic Director Lisa Macuja-Elizalde, choreographer Gerardo Francisco, composer Diwa De Leon, and Gia Macuja-Atchison as the voice of Ibong Adarna.
ADVERTISEMENT - CONTINUE READING BELOW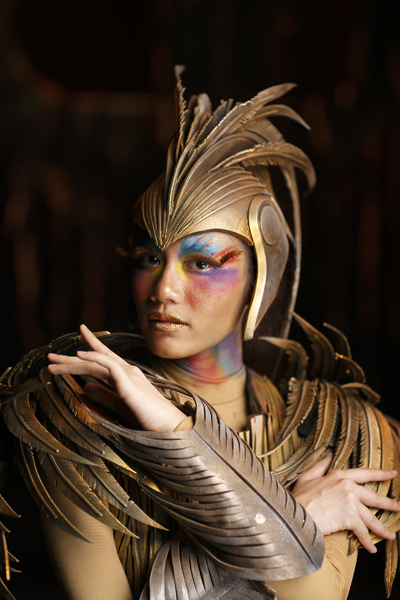 SPOT.ph: Who do you think is the target audience for Ibong Adarna?
Lisa Macuja-Elizalde: We missed our target audience. Why? Because our target audience really, were the high school students that take up Ibong Adarna in school—and we missed them. The school openings were all delayed this year. I mean, not all, but a lot of the schools were delayed. So most of them wanted to go to Ibong Adarna, but they could only organize the kids to go in October or November, and that was too late for our run. Our run naman was targeted for August, because August is Buwan ng Wika and I think it was just very appropriate that we'd open with Ibong Adarna. But you know, lessons learned. We'll probably do a repeat run, specifically for our target market. Right now, our target audience is the Filipino family. From lola and lolo to the grandson and the granddaughter that's in the elementary.
ADVERTISEMENT - CONTINUE READING BELOW
Recommended Videos
You picked this over Florante at Laura. What was Ibong Adarna's edge over Florante?
Macuja-Elizalde: Personally kasi, I would have done Florante at Laura, because it's a love story. And usually love stories, click na click 'yan sa mga Pilipino. And also, it's because it has all those exciting battle scenes. Florante at Laura would have a really nice battle scene to parang climax the whole thing. But the choreographer chose Ibong Adarna. Why? He identified with the ibon.
(To Gerardo Francisco) How so?
Diwa De Leon: Sige, while [Francisco is] collecting his thoughts. We've worked together three times ni Gerardo. And most of the time, 'yong mga pinipili niyang choreography, it's a full package of adventure, humor, light playfulness, and light comedy. And [between] Ibong Adarna and Florante at Laura, Ibong Adarna has more of those qualities—which is really more of his style. As the composer din, parang mas marami rin akong inspired ideas na pumasok sa'kin because I can switch a bit of iba't ibang types of mood—iba't ibang klaseng genre, mostly it's Filipino music mixed with classical orchestra. Filipino kulintang, mga ganun. Pero 'yon nga, dahil nga sa playfulness ng story source mismo, ang daming possibilities na pwedeng gawin. Hindi lang pure drama, hindi lang pure serious melodrama. It's a full package, a complete package, which is really geared towards the Filipino family. Families, in general. General public of all ages.
How did you capture the dynamics of the mythical Ibong Adarna through movement and music?
ADVERTISEMENT - CONTINUE READING BELOW
Gerardo Francisco: Actually ako, ginamit ko talaga kung ano meron tayo. So I researched indigenous tribes' movements, different folk dances. And then, na-find out ko na ang dami mo palang makikita dito na puwede mong gamitin doon sa sariling atin. It's very Filipino. 'Yong mga hand movement, it's really based on folk dance pero stylized na siya—meron nang contemporary approach. Meron na siyang kaunting ballet na style, but nandoon pa rin 'yong touch ng Filipino, ng style natin na parang kapag nakita natin, "Oh, it's really ours!"
De Leon: In terms of music, I took a lot of inspiration from Filipino traditional and South East Asian music. For Filipino music for example, we have very rhythmic powerful dance, which is the singkil na talagang napakamacho kumbaga. Napakamacho ng sayaw na 'to. But then we also have super freely flowing melodies from Maguindanao music, Maguindanao kulintang music na if you listen to it carefully, it's like you're imagining a flowing river, a peaceful river. So ang daming iba't-ibang types of moods just in Filipino traditional music alone.
And then I also used elements of Balinese Gamelan music, para sa'kin personally, since the setting is about a royal family, Balinese Gamelan music sounds very royal. Parang napaka-royalty music na 'to kapag napakinggan mo siya. So I used that, at the same time, since classical music and ballet is very much tied together historically, hindi mawawala 'yong elements of classical music.
And since I'm a film composer by trade/profession, nagagamit ko 'yong grand majestic styles of cinematic music ala-Lord of the Rings, siguro mala-Braveheart. For example, napakaganda nung Braveheart—it's like a fusion of traditional Scottish music and classical cinematic music. Parang ganun 'yong approach na ginamit ko, pero instead of bagpipes and thin whistles lang ng Celtic music, we have the bungkaka or kubing or kulintang that is backed up by a symphonic orchestra.
ADVERTISEMENT - CONTINUE READING BELOW
'Yong coordination namin ni Gerardo, since sanay na kami sa isa't isa, napaka-simple instructions na lang. Parang, "Pareng Diwa, ito 'yong gagawin o. Ito mangyayari sa Scene 1. Papasok 'yong reyna, sasayaw na lang 'yong mga tao, magpapasikat 'yong mga prinsipe," Tapos!" Okay, with those simple instructions, simple descriptive words, one-liners nga e per sequence, dahil binibigyan ako ni Gerardo ng freedom to express in my own style, with very little restrictions, talagang it's an inspired moment. Parang "Sige, ito 'yong ginawa ko. Okay ba?" "Lagyan natin ng onting ganyan" "O sige, good!" Parang napakasimple kasi sanay na kami. Parang 'yong work dynamic namin, 'yong friendship namin, at tsaka 'yong past work history namin, parang it comes full circle with Ibong Adarna. 
How do you plan to use Ibong Adarna as a vessel to spread Filipino culture to the rest of the world?
Macuja-Elizalde: One performance at a time. First, in Aliw Theater, then all over the world.
De Leon: There are invitations na nga from other countries to perform the ballet.
(To Gia Macuja-Atchison) How does it feel like working with your sister?
Gia Macuja-Atchison: I always enjoy working with [her]. Aside from the fact that we communicate very well together as artists, of course she does dance and I sing, but I guess, just the general attitude and level of commitment required, is something that we relate to very well. So, we enjoy talking about everything involved with the show, whether it's about the dancing or the actor or the music or how the elements come together—it's something that we really enjoy talking about. Even when we watch a show together, we always have this forum afterwards. So it's always a privilege to perform together with my sister.
ADVERTISEMENT - CONTINUE READING BELOW
How did you prepare for this role?
Macuja-Atchison: A musical actress has to always morph depending on the material that's given to her, and the bulk of my work in the West End has been more sort of musical theater singing like Miss Saigon and Lion King. Here it's sort of more the belting kind of singing and I knew from the beginning a year ago when Lisa said that "we're thinking of doing Ibong Adarna," straightaway I said that it can only be classical singing, otherwise she wouldn't have asked me to do it. She'd ask, you know, the others! But yeah, it's sort of going back to my roots, which is the classical voice, which I had to sort of remind myself how to do in several months into preparing the music being given to me. I started vocalizing already, the classical bird-like quality of a voice. Tapos siyempre, I knew that it was going to be in Tagalog or Filipino, which was something very refreshing for me to do kasi nga lahat ng work ko [in] English, from South African...It was nice to be able to sing in Filipino again and to be able to come home.
Did it also feel like going back to your roots, like reconnecting to your heritage?
Macuja-Atchison: Oh yes, definitely. In fact, my first singing teacher is coming to see the show. She's 80 years old now. I even told her, "but you'll like this Maestra kasi I'll be singing classical." "Ay, ya I'm coming!" "I'm not doing Miss Saigon, don't worry," I said. "I'm singing classical." So she's bringing her whole family to come, and that's like really full circle for me, because she also knows the type of singing I've been doing obviously as work, and now to come back to this and to see me, now that she's 80 plus, and she started teaching me when I was 12? If not for her, I wouldn't even be where I am now. It's fantastic that she could come and watch that show.
ADVERTISEMENT - CONTINUE READING BELOW
Did you impart any knowledge to your co-performers?
Macuja-Atchison: If anything, I think Ballet Manila functions in a very professional level anyway. Just in terms of what is demanded of any actor or dancer, the rehearsal process, knowing your material before you even step in the rehearsal hall, understanding that a rehearsal is a rehearsal. It doesn't need to be perfect, it's a way of getting to know what is required so that you reach the end product. It's the process involved. I think one of the first things I said was I had to meet Diwa in person before I even step foot in the rehearsal hall with the dancers. I need to know, you know. Obviously, we've been communicating online, you know it's different. And to work with the original composer of a work is always such a privilege kasi nga you can put your own take on the material given to you and to have their suggestions on how they want it to sound like what was your vision when you wrote this music. It's such a joy to work with original pieces so yeah, it was just really lovely to be able to do that.
(To Francisco) So what are your favorite segments or sequences?
Franscico: I think 'yong scene ng third prince tsaka nung Adarna kasi doon 'yong part na nagtse-change ng color everytime na kakanta si Gia. Dapat 'yon ang abangan ng tao. 'Yon 'yong favorite ko.
Did you make special choreography for this one? Something that Ballet Manila has never done before.
ADVERTISEMENT - CONTINUE READING BELOW
Macuja-Elizalde: The whole ballet has never been done before. For me, the idea of every dancer as a feather? That's an amazing idea. I choreograph too, so when you have this brilliant idea of how to tell the story and when Gerardo told me about how each dancer is going to be a feather and change color with every flap of the wing. I was like, "Wow." And then I was like, "Oh my God, how am I gonna do my Snow White?"
Another highlight I like that they have to look out for is the effects of the firefly, the kingdom of the fireflies with the lights in the tips of their fingers. The monkeys, I'm sure every little kid will remember the monkeys. The monkey scene, because it's just funny and witty. It's very witty choreography and the dancers do it so well. Bagay na bagay sa kanila maging unggoy.
Macuja-Atchison: Also, that kind of choreography, I think only Filipinos can do it that way. If you ask English people to do it, it's completely different. If Filipinos do it, it's so funny.
Macuja-Elizalde: And then, I think another highlight would be the fight scene. It's really strong and really well done, the way these three men and hitting each other and jumping and leaping. It's just very well done, very musical as well.
Ibong Adarna is on August 26 and September 2 at 6 p.m. and August 27 and September 3 at 3 p.m. at Aliw Theater, Cultural Center of the Philippines Complex, Vicente Sotto Street, Pasay City. Tickets, priced from P500 to P1,500, are available through Ticketworld.
ADVERTISEMENT - CONTINUE READING BELOW
Share this story with your friends!
---
Help us make Spot.ph better!
Take the short survey
Load More Stories