Filipino Artists Want You to Turn Off Your Phone in the Theater
That's just common courtesy.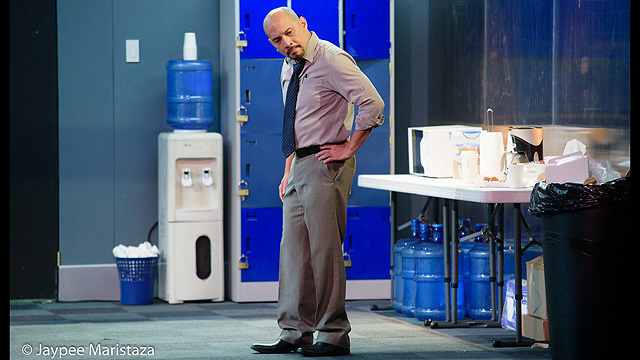 (SPOT.ph) With more than 10 shows happening all over the Metro (and beyond) every month, it's safe to say that the Philippine theater scene is as vibrant as ever in the last couple of years. Theater goers have all sorts of performances to choose from, including a set of 10-minute plays or an experimental musical. But we may have to remember our theater ethics, as expressed by actor Bart Guingona on his Facebook account on September 3, if we want to keep on watching.
"Despite repeated pleas before the show, we've had one phone go off every single performance so far. WTF?!" He was talking about the current run of Blackbird, an award-winning play by David Harrower, at the Carlos P. Romulo Auditorium in Makati. Guingona stars in the show as Ray, a 55-year-old man entangled in a complex love story with 27-year-old woman Una (Mikkie Bradsaw-Volante). It touches on themes of child abuse, statutory rape, and their eventual romantic relationship. You can only imagine how much internalization goes into portraying their roles that it's hard when a phone disturbs the silence in the middle of a performance. "It happened last night in my most emotionally fraught moment. And I lost it. Ugh," added Guingona.
ADVERTISEMENT - CONTINUE READING BELOW
Other theater fans also weighed in on this growing problem and suggested that theaters put out policies in big bold black letters or go even as far as confiscating phones. Artist Lea Salonga blames it on the feelings of apathy and entitlement of some theater goers.
Theater etiquette seems to be disappearing. Not all Philippine theater companies enforce it, which makes things even worse.

— Lea Salonga (@MsLeaSalonga) November 28, 2016
It seems we cannot rely on people to act decently, despite pre-show warnings and announcements. Might be time to confiscate at the entrance.

— Lea Salonga (@MsLeaSalonga) November 26, 2016
Really, woman in front row that took a photo of the copyrighted set and actors? Really? What is wrong with you? Seriously? Shame!

— Lea Salonga (@MsLeaSalonga) November 27, 2016
It can be remembered that Salonga made headlines when she posted a series of tweets about rude audience members of Fun Home, which had a local run in November 2016. There's a whole list of problems, from phones going off to taking photos of the copyrighted set and actors (if you're not from the press, at least).
It's basic manners. Common sense. Respect for your neighbors and the performers. That's really not a lot to ask for, is it?

— Lea Salonga (@MsLeaSalonga) November 28, 2016
It's not that hard, really. Like what Salonga previously pointed out, "It's basic manners. Common sense."
Blackbird runs until September 10 at Carlos P. Romulo Auditorium, 4/F RCBC Plaza, Makati City. Tickets, priced from P500 to P1,200, are available through Ticketworld.
Load More Stories