Theater in Manila: Shows to Watch This November
It's time to dream like a child once again!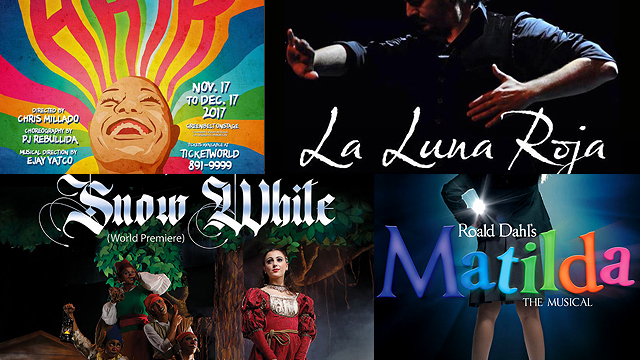 (SPOT.ph) For the month of November, we're treated to a number of musicals and plays that remind us of the beauty and challenges of childhood. We have the misunderstood girl Matilda, high school students of a performing arts school, and the 20-something hippies of Hair to reveal to us the power of dreams and optimism that we may have forgotten.
It's only a month before a fun-filled December and this seems to be the perfect time that we remember how exciting it is to be a child again.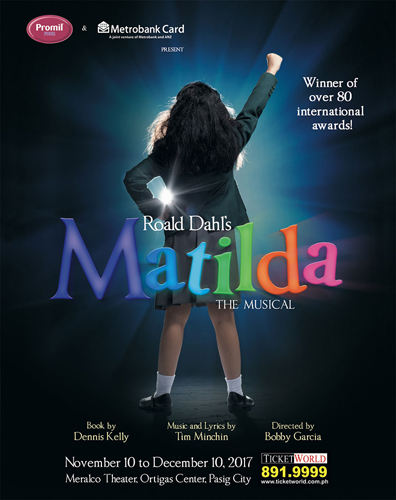 Matilda
You may have first heard of Matilda from the 1996 children's fantasy comedy film of the same title, which was based on Roald Dahl's novel published in 1988. The Tony Award-winning musical follows the story of a little girl with amazing intelligence and telekinetic powers. Despite her lovable nature, Matilda is often ignored and, most of the time, misunderstood. The Philippine production stars Felicity Kyle Napuli, Uma Martin, and Telesa "Esang" de Torres alternating for the lead role. It is directed by Bobby Garcia.
Matilda, The Musical runs until December 10 at Meralco Theater, Ortigas Avenue corner Meralco Avenue, Ortigas Center, Pasig City. Tickets, priced from P1,500 to P4,000, are available through Ticketworld.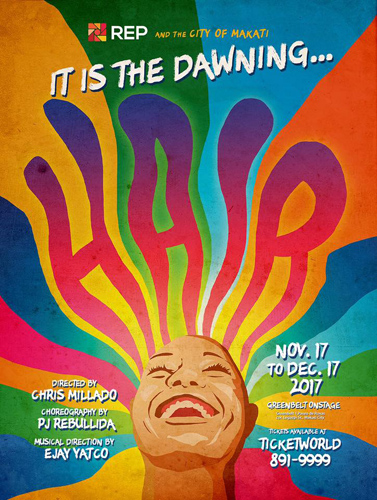 Hair
We often associate long hair, flowy dresses, flowers, and hallucinogenic drugs with the hippies generation of the 1960s. Repertory Philippines tries to portray the deeper meaning of this counterculture through the tribal rock musical Hair. It follows the life of 20-somethings in New York City who band together to form a tribe as a cry of protest against the Vietnam war and promote love, peace, and freedom.
Hair runs from November 17 to December 17 at Onstage Theater, Greenbelt 1, Makati City. Tickets, priced from P800 to P1,500, are available through Ticketworld.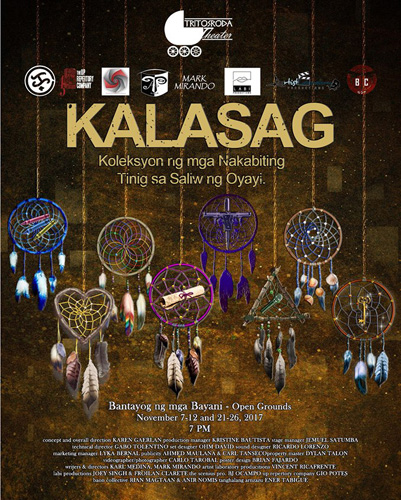 Kalasag
Kalasag: Mga Nakabiting Tinig sa Saliw ng Oyayi, directed by Karen Gaerlan, ponders the social construct that the Filipino dream is, more often than not, the American dream. It presents eight segments, all following the so-called life cycle of a dream from birth to death: pangarap, panaginip, bangungot, ilusyon, imahinasyon, hiraya, handuraw-an, and mahika realistika. The full-length musical hopes to rekindle passion of every Filipino dreamer as his/her own identity.
Kalasag runs from November 7 to 12 and from November 21 to 26 at Bantayog ng mga Bayani Amphitheater, Bantayog Road, Diliman, Quezon City. Tickets, priced at P350, are available through 0926-701-6291.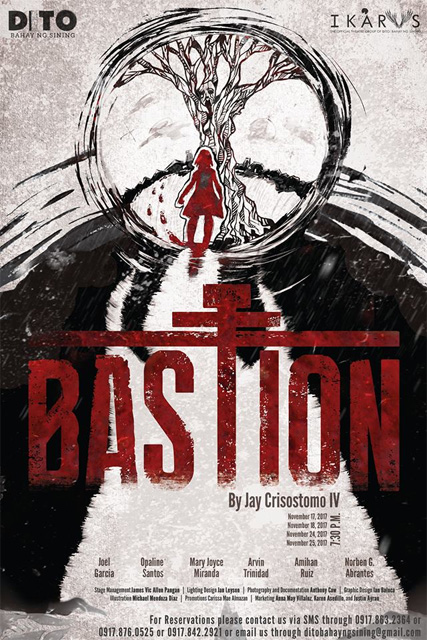 Bastion
Penned by Jay Crisostomo, Bastion reveals to us a dystopic world that has fallen into the grip of Forever Winter, a plague that killed all food sources. As desperation reigns, humanity tries to find the goodness in every one even when being good impedes survival.
ADVERTISEMENT - CONTINUE READING BELOW
Bastion runs from November 17 to 26 at DITO: Bahay ng Sining, J. Molina Street, Concepcion Uno, Marikina City. Tickets, priced at P370, are available through 0917-863-2364.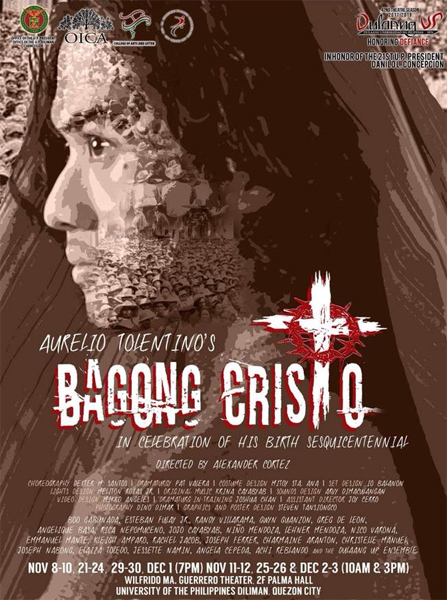 Bagong Cristo
Aurelio Tolentino's Bagong Cristo, set in 1907, follows the story of Jesus Gatbiaya (Boo Gabunada). He is a labor union leader whose words and teachings inspired his fellow laborers to seek social justice and equality. The proletarian reinterpretation of the story of Jesus Christ is directed by Dulaang UP's former artistic director, Alexander Cortez.
Bagong Cristo runs until December 3 at Wilfrido Ma. Guerrero Theater, 2/F Palma Hall, University of the Philippines – Diliman, Quezon City. Tickets, priced at P500, are available through 0917-823-9531.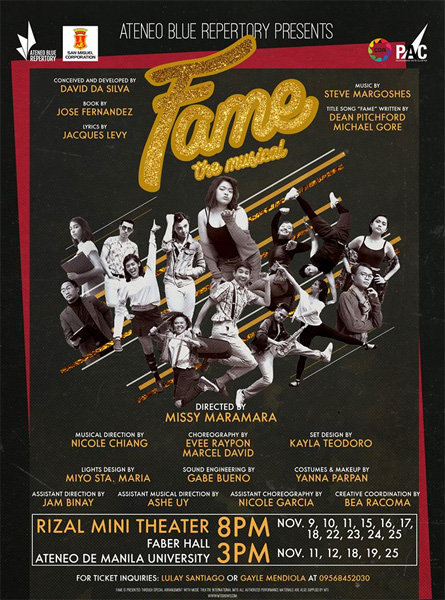 Fame
You may be familiar with the 2006 American film High School Musical or the 2009 TV series Glee, but when it comes to portraying the life story of high school students who sing and dance, the 1980 film Fame (and 1988 stage musical of the same name) has beaten them to the punch. Ateneo Blue Repertory's newest production follows the story of several students who attend New York City's High School of Performing Students—among them are determined actor Nick, ambitious actress Serena, and more.
Fame runs until November 25 at the Rizal Mini Theater, Ateneo de Manila University, Katipunan Avenue, Quezon City. Tickets, priced at P300, are available through 0956-845-2030.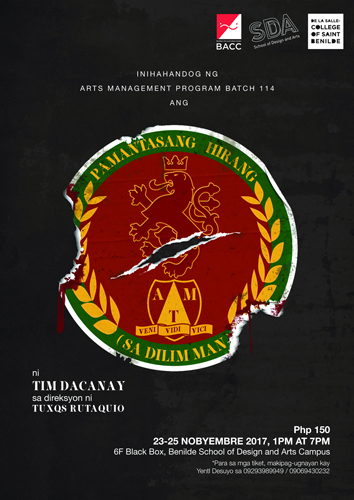 Pamantasang Hirang
Now more relevant as ever, Tim Dacanay's Pamantasang Hirang (Sa Dilim Man) is a satirical one-act play that focuses on brotherhood and coercion expressed in the story of a fictional fraternity at the University of the Philippines. It follows Dan, an ex-frat member; his roommate Raji who's about to be pledged into the group; and his old college friend Chok who will be regulating the initiation.
Pamantasang Hirang (Sa Dilim Man) runs from November 23 to 25 at Black Box Theater, College of St. Benilde - School of Design and Arts, Malate, Manila. Tickets, priced at P150, are available through 0929-398-9949.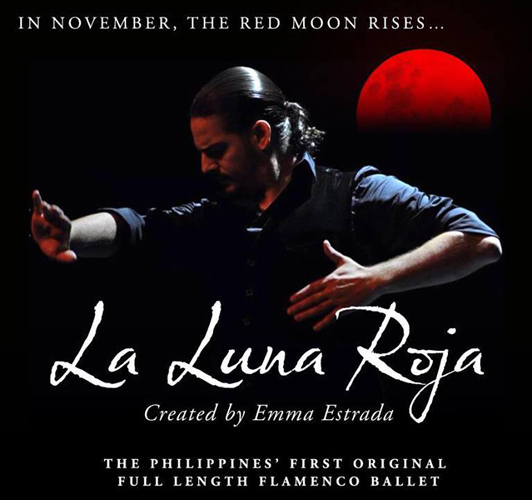 La Luna Roja
Emma Estrada's La Luna Roja is the Philippines' first original full-length flamenco ballet. It tells the tale of a village put under the curse of the red moon and, as most passionate love stories go, only true love can break the spell.
La Luna Roja runs from November 25 to 26 at Carlos P. Romulo Auditorium, 4/F RCBC Plaza, Ayala Avenue corner Gil Puyat Avenue, Makati City. Tickets, priced from P1,000 to P2000, are available through Ticketworld.
ADVERTISEMENT - CONTINUE READING BELOW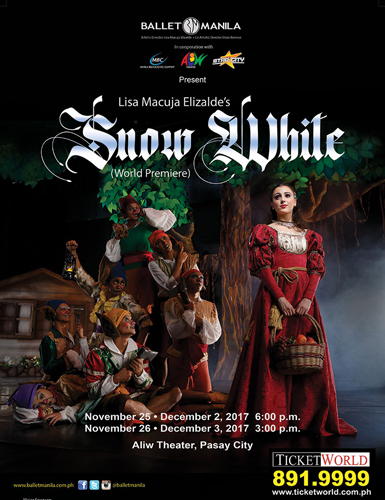 Snow White
Just in time for the holiday season, Ballet Manila stages Lisa Macuja-Elizalde's second full-length choreography work—Snow White. "We are making Snow White a more magical and musical experience for everybody—from toddlers to the lolos and lolas," says the prima ballerina about the upcoming show.
Snow White runs from November 25 to December 3 at Aliw Theater, Cultural Center of the Philippines Complex, Vicente Sotto Street, Pasay City. Tickets, priced from P500 to P1,500, are available through Ticketworld.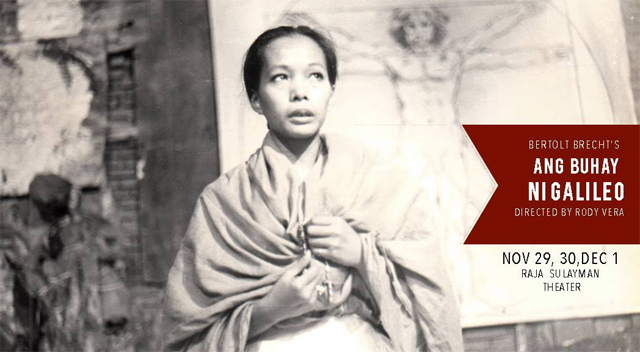 Ang Buhay ni Galileo
The Philippine Educational Theater Association's restaging of Ang Buhay ni Galileo, first produced in the '80s, is a homecoming and return to the local theater company's first home: Rajah Sulayman Theater. It is a translation of German dramatist Bertolt Brecht's play that follows the controversial life and career of the great Italian philosopher Galileo Galilei who was persecuted for defying the Church's claim that the sun revolves around Earth.
Ang Buhay ni Galileo runs from November 29 to December 1 at Rajah Sulayman Theater, Gen. Luna Street corner Sta. Clara Street, Fort Santiago, Intramuros, Manila. Tickets, priced at P600, are available through Ticketworld.
Load More Stories