10 Shows From 2017 That Deserve a Standing Ovation
Our picks from some of the most exceptional shows in theater this year
(SPOT.ph) We often think of protests as mass actions on the streets where people carry placards, stand in picket lines, and shout their concerns through a megaphone. But in 2017—a time of constant political unrest, we see a different way of making a statement in the Philippines: Theater.
We round up 10 shows that were not only exceptional on the technical side of performing arts (directing, acting, and production design), but also proved how art can change the world. Remember how Noli Me Tangere and El Filibusterismo sparked a revolution? We're hoping to see bolder and more daring plays in the months to come (especially since we may need more of that in the next five years).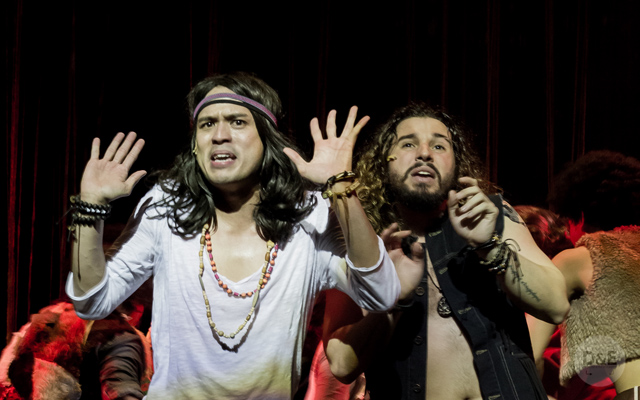 Hair gives us a closer look at the hippie counterculture and sexual revolution of 1960s New York. It was a time when the long-haired 20-somethings came together to protest against the Vietnam War. At the heart of the musical is native Oklahoma farm boy Claude (played alternately by Markki Stroem and Topper Fabregas) who has to make a decision on whether to honor being drafted in the U.S. army or live out a life that promotes love, peace, and freedom. We find out later that he chooses the former, but not before we see how this band of young men and women brings the audience to their senses and highlights the problems of 1960s America (and the world in general): Discrimination, violence, poverty, sexism, and capitalism.
ADVERTISEMENT - CONTINUE READING BELOW
Hair (Repertory Philippines) opened in November at the Onstage Theater in Makati City.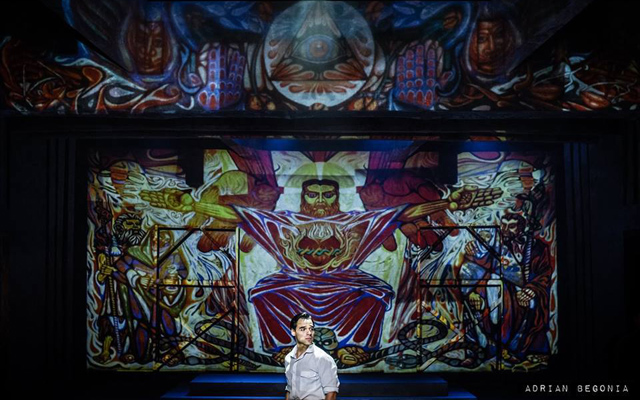 CONTINUE READING BELOW
Recommended Videos
Angry Christ's main story may focus on the life of Filipino-American abstract expressionist artist Alfonso Ossorio (played by Nel Gomez), but plot lines dealing with national identity, discrimination, homosexuality, and oligarchy run in the background. The artist is a haciendero who was commissioned to design the walls of the St. Joseph the Worker Chapel (his family's gift to the sakadas toiling away in their sugar farms) but struggles to decide what to paint for his masterwork. Fictional character Anselmo (convincingly played by Kalil Almonte) adds to the inner conflicts of the muralist—such as his attempt to reconcile his homosexuality with his Catholic upbringing, his own battle against traditional art, his awareness (or lack thereof) of the poverty of the Negrenses despite living in sugar-rich country, and the growing insurgency in the region. One of the most relevant lines is spoken by one of the alleged rebels in the town: "If your art is to mean anything at all to people, it must have the stories of their wounds."
ADVERTISEMENT - CONTINUE READING BELOW
Angry Christ (Dulaang UP) opened in April at Wilfrido Ma. Guerrero Theater in the University of the Philippines - Diliman.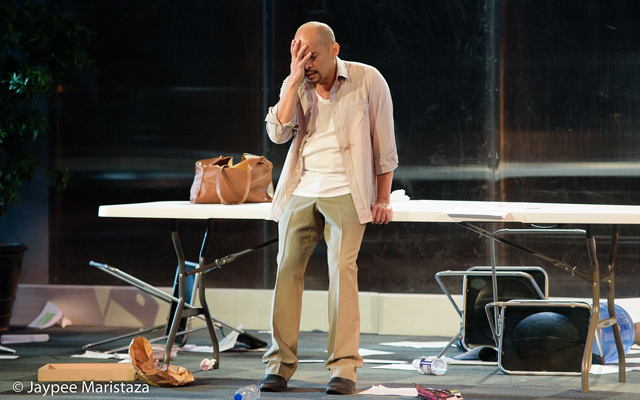 Blackbird follows a complex relationship between 55-year-old Ray (Bart Guingona) and 27-year-old Una (Mikkie Bradshaw-Volante). When she was 12, she had a three-year relationship with then-40-year-old Ray, who was then arrested and imprisoned for statutory rape. Una later tracks him down to make amends and make sense of her past. In a long and difficult confrontation, we find out more about their story and see how important second chances are—something that most people aren't given nowadays.
Blackbird (The Necessary Theater) opened in September at the Carlos P. Romulo Auditorium in Makati City.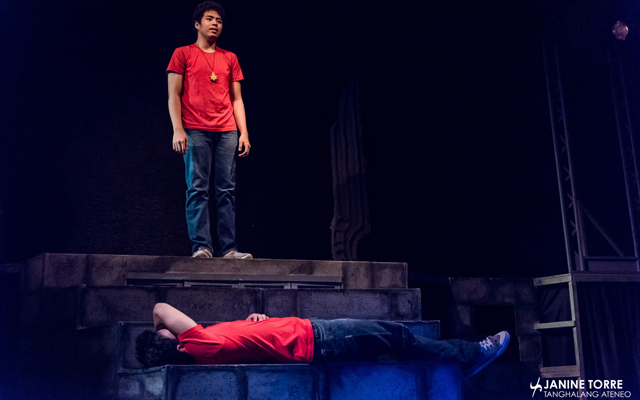 ADVERTISEMENT - CONTINUE READING BELOW
Si Janus Sílang at ang Labanáng Manananggal-Mambabarang
Si Janus Silang at ang Labanang Manananggal-Mambabarang, based on Edgar Calabia Samar's second book in the Janus Silang series, is set in the magical world of Philippine mythology and folklore. For this installation, Director Guelan Luerca employs the fool-proof and classic technique of old-school theater—one that relies heavily on acting rather than the spectacle of the stage—to bring the audience to a parallel universe. We're introduced to the cunning Tiyanak who uses other creatures to spread hate and violence, but at the end of the day, the powerful force of unity among the manananggal, bagani, pusong, anito, and even human beings becomes unstoppable.
Si Janus Sílang at ang Labanáng Manananggal-Mambabarang (Tanghalang Ateneo) opened in September at Black Box Theater in Ateneo de Manila University.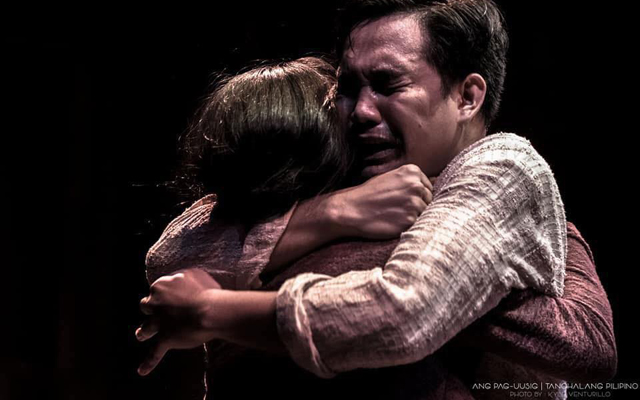 Ang Pag-uusig
Ang Pag-uusig is a translation and adaptation of Arthur Miller's The Crucible, which highlights the Salem witch trials in the Massachusetts Bay Colony in the 1690s. It was written by the American playwright as an allegory for McCarthyism when the U.S. government made the accusation of subversion or treason despite lack of evidence. Put that in the Philippine setting and we all know how spot-on this play's timing is. The witch-hunt becomes the people's device for revenge (Read: Quezon City's Oplan Tokhang Drop Box) while the people in power are hell-bent on punishing rather than finding the truth (Read: Allegations of having a killing quota for the Philippine National Police). It also highlights how society allows all this to happen despite knowing that the people being killed are innocent. Sounds familiar?
ADVERTISEMENT - CONTINUE READING BELOW
Ang Pag-uusig (Tanghalang Pilipino) opened in September at the Cultural Center of the Philippines.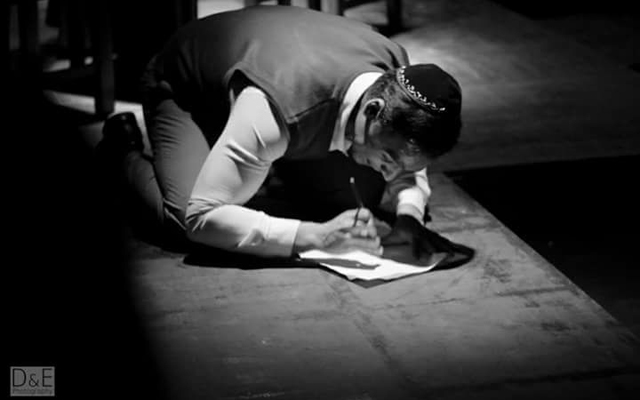 This Aaron Posner play reminds us of the cost of blind faith and the sacrifices that go with reaching for your dreams. It follows the story of Asher Lev (played by Nelsito Gomez who admirably delivered the long monologues the script entailed), a young Hasidic Jew and artist whose strict sect believes art to be a waste of time. Aside from touching on the all-too-familiar story of a painter trying (but failing) to put aside his passion, My Name Is Asher Lev deals with how social norms and cultural barricades destroy harmony in a family.
My Name is Asher Lev (Twin Bill Theater) opened in February at The PARC Foundation in San Juan City.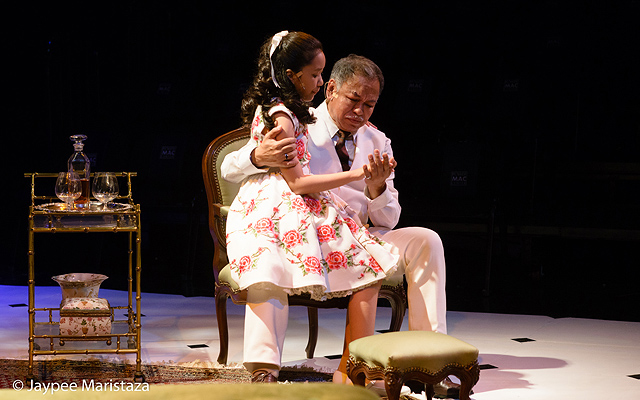 ADVERTISEMENT - CONTINUE READING BELOW
Sci-fi thriller The Nether may be set in the distant future, but it draws haunting similarities to the world we live in. The story follows Detective Morris (played by Jenny Jamora) who exposes the deepest and darkest truth in The Hideaway, a Victorian-themed virtual realm where pedophiles live out their fantasies involving children. In real life, the United Nations Children's Fund reported in 2016 that the Philippines is "the number-one global source of child pornography." One of the major factors that contributes to this is poverty, something that's plagued the nation for decades.
The Nether (Red Turnip Theater) opened in March at the Power Mac Center Spotlight Theater in Makati City.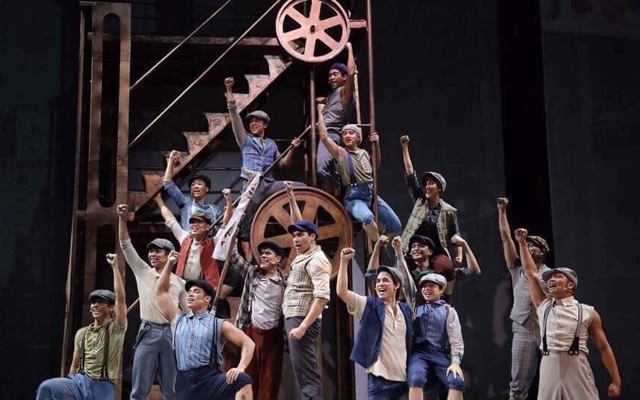 What happens when people come together to overthrow tyranny? Newsies proves that even underdogs can succeed if they unite to defend what is right and just. The musical portrays the real-life Newsboys Strike of 1899 in New York City where 17-year-old Jack Kelly (played by returning theater artist Gian Magdangal) leads the "newsies" in a protest. It was a time when New York World publisher Joseph Pulitzer continues to increase the cost of the newspapers sold to them, decreasing the boys' profit. It's a classic David-and-Goliath story from which we can learn a thing or two.
ADVERTISEMENT - CONTINUE READING BELOW
Newsies (9 Works Theatrical) opened in July at the Globe Iconic Store in Bonifacio Global City.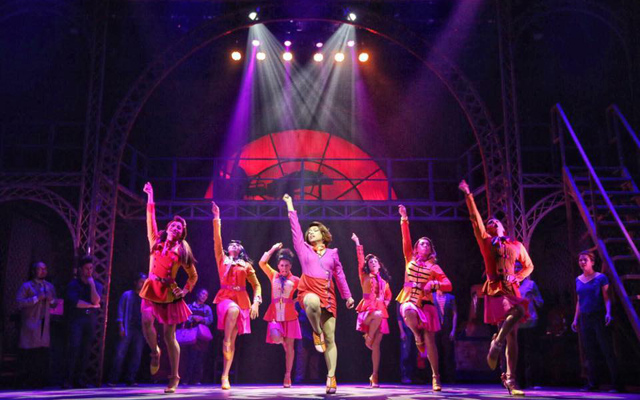 Nyoy Volante surprised viewers with his on-point performance as Lola, a cabaret performer and drag queen who helps save the shoe company of Charlie Price (played Laurence Mossman) from bankruptcy by designing high-heeled boots for fellow drag queens. Intent on fitting in, she shows up at the factory in men's clothes as her old self Simon; but still, she is mocked and bullied by the foreman Don, unearthing negative memories of her dad disowning her when she started dressing in women's clothes. We could all use a flicker of hope from Lola, especially with the long-delayed passing of the Anti-Discrimination Bill. If you missed it in 2017, get your tickets now for the March 2018 re-run.
Kinky Boots (ATEG) opened in June at the Carlos P. Romulo Auditorium in Makati City.
ADVERTISEMENT - CONTINUE READING BELOW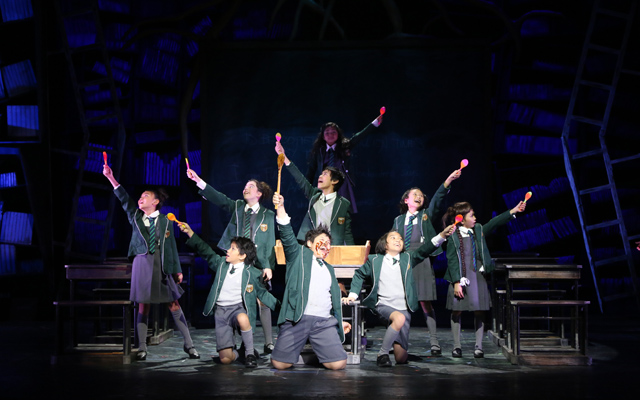 "If it's not right, you have to put it right," goes one of the songs in Matilda, The Musical. The play may be about bullying, particularly in a school setting; but from a bigger perspective, it's also about insurrection against tyranny. We see a bunch of five-year-olds stand up for each other and for what is right (literally, on the table) until they scare off the abusive school principal Miss Trunchbull. We could all use a bit (or a lot) of Matilda's courage and understand that "nobody else is gonna put it right for me. Nobody but me is gonna change my story. Sometimes, you have to be a little bit naughty."
Matilda (ATEG) opened in November at the Meralco Theater in Pasig City.
BONUS: 2017 also saw a handful of reruns and a couple of productions are still worth a mention.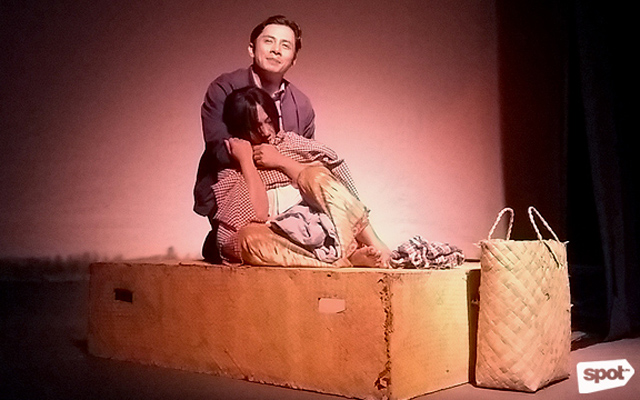 ADVERTISEMENT - CONTINUE READING BELOW
Buwan at Baril sa Eb Major was first produced by the Philippine Educational Theater Association at the Rajah Sulayman Theater in 1985, but restaging it in 2017 was perfect timing. It was in November 2016 when the body of former dictator Ferdinand Marcos was interred at the Libingan ng mga Bayani despite the atrocities carried out during his presidency. To remind the public of all the stories of repression from the Martial Law period, Buwan at Baril sa Eb Major was staged at the Bantayog ng mga Bayani. It presents six vignettes written by Chris Millado, including the story of a grieving wife retrieving the body of her slain husband, a socialite preparing for a rally, and a student activist interrogated and tortured by a police officer. Most lauded was the performance of JC Santos who plays a priest trying to take care of Itawis refugees (one of them played by Angeli Bayani) driven away from their ancestral lands by the military. These scenes may be from three decades ago, but the struggles are still as true as ever.
Buwan at Baril (Sugid Productions) opened in January at the Bantayog ng mga Bayani in Quezon City.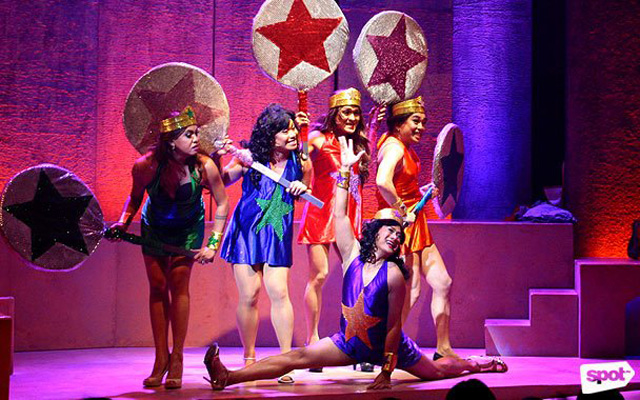 ADVERTISEMENT - CONTINUE READING BELOW
When Caredivas premiered in the Philippine theater scene in 2011, it bagged several trophies so it doesn't come as a surprise that it was restaged in 2012 and again this year. It's a funny musical about five overseas Filipino workers in Israel who try to make ends meet by working as caregivers in the morning and as drag queens at night. It sheds light on an unnecessarily familiar scene: A mother or a father goes abroad to earn more money, leaves behind a family living in poverty, tolerates abusive employers, risks deportation, and struggles against a haunting loneliness. Caredivas prompted laughter through witty banter, but also evoked emotions of despair for the reality that this comedic musical mirrors.
Caredivas (PETA) opened in February at the PETA Theater Center in Quezon City.
Share this story with your friends!
---
Help us make Spot.ph better!
Take the short survey
Load More Stories