'night, Mother Is the Suicide Note That Needs To Be Discussed
It runs until March 18 at the PETA Theater Center.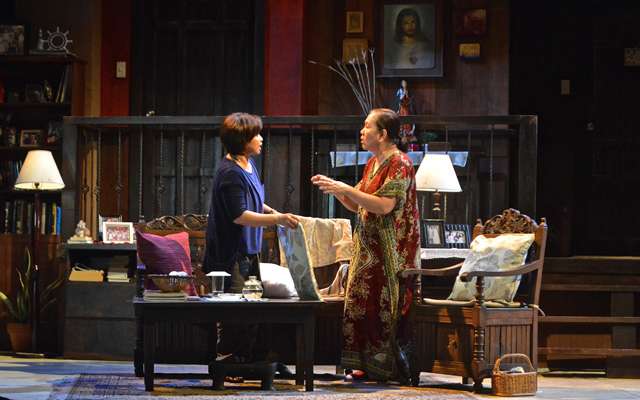 Trigger warning: The play, 'night, Mother, and this review tackles sensitive material. If you have lost someone to suicide, are experiencing suicidal thoughts, or are struggling with depression and other mental health ailments, please read and watch with caution.
(SPOT.ph) The Philippines has come a long way when it comes with mental health. Last year, celebrities around the world—including our very own Kylie Verzosa, Nadine Lustre, and Alden Richards, to name a few—have come forward with their stories of mental health. The Philippine mental health bill has finally passed the bicameral process and is just awaiting the president's signature.
Philippine Educational Theater Association's adaptation of 'night, Mother couldn't have come at a better time. While the conversation on mental health is slowly improving, the stigma still prevails. "We hope that this production can serve as a springboard to discuss these sensitive and private issues," said the production's marketing team.
ADVERTISEMENT - CONTINUE READING BELOW
The S Word
'night, Mother is a 1983 Pulitzer prize-winning, Tony-nominated drama by American playwright-novelist Marsha Norman. The play centers on two characters—Jessie, and her mother, Thelma. It starts with Jessie telling Thelma of her plans to end her life that evening.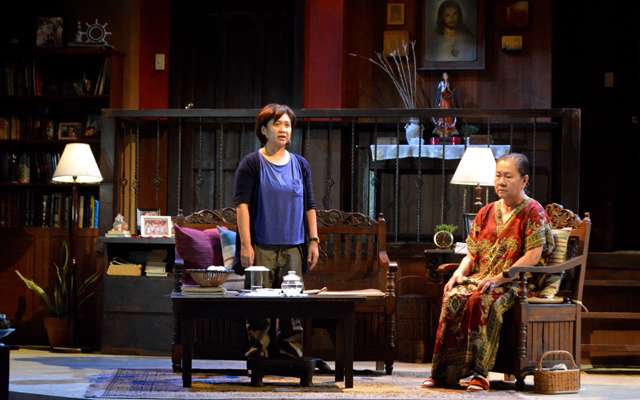 CONTINUE READING BELOW
Recommended Videos
Eugene Domingo plays the role of Jessie, a middle-aged woman who lives with her widowed mother. Nothing in life is working out for Jessie. She is separated from her husband, suffers from epilepsy, is unemployable, and has a drug addicted son who no longer comes home. Sherry Lara plays the role of Thelma, Jessie's aging mother who desperately tries to convince her daughter that her life is still worth living.
The play happens in real time. Over the next 90 minutes of the play (no intermission), the audience is kept glued to their seats, watching the tense, dramatic dialogue between mother and daughter. The script slowly reveals Jessie's life with her mother, their family dysfunction, what led to her decision, and how thoroughly she has planned her suicide.
ADVERTISEMENT - CONTINUE READING BELOW
Except for a few humorous lines, the overall dialogue is dark. The minimalist sound direction by Vincent De Jesus will force you to pay attention to the drama and dialogue, no matter how disturbing. You may find yourself nervously checking the set's wall clock the same way Jessie does, as you wait and hope for a different outcome in the end.
In The Eyes of a Mental Health Advocate
If you come from the mental health community—someone with a background in psychiatry/psychology; someone who has lost someone to suicide; has survived a suicide attempt; is struggling with depression and other mental health ailments; or has a loved one undergoing these struggles—it will be easy to spot that Jessie is exhibiting the classic signs of clinical depression.
In the beginning, it would seem like the characters are aware of Jessie's clinical depression. Thelma starts asking if Jessie has taken her medication and if she has had any episodes lately. Turns out these episodes refer only to Jessie's epilepsy.
As the minutes go by, we realize that none of the characters are aware that Jessie is most likely clinical depressed or that this type of ailment even exists. Thelma tries to figure out the main reason why Jessie wants to die, while Jessie herself can't seem to give a cohesive, logical explanation.
To the untrained eye, Jessie seems calm—far from the stereotypical suicidal person shaking back and forth with "crazy eyes." A psychiatrist will tell you that this lucid stage Jessie is exhibiting is common for majorly depressed, suicidal people. It's that point where they feel they've made the right final decision, and have already planned their method and exact date.
ADVERTISEMENT - CONTINUE READING BELOW
The painful part for a mental health advocate watching this show is that you know exactly how to deal with this kind of situation—that Jessie should not be interrogated or lectured, needs to be placed on suicide watch and emergency psychiatric intervention, and that there is actually still hope, despite her seemingly unbreakable determination to end her life.
But this play represents how the typical Filipino family would usually deal with a suicidal loved one. Because of the stigma, lack of education, and lack of resources, Filipinos are often unequipped to deal properly. Their immediate reaction is to try to talk the person out of it.
And yet, we cannot fault Thelma's character for how she deals with the situation. Despite her flaws and conventional way of thinking, she is a loving mother who does what she can with what she knows. She simply wants to convince her ailing daughter that she still has many things to live for.
We wouldn't be surprised if some people would empathize more with Thelma than Jessie. Some might even find Jessie to be selfish, which is a common misconception about suicidal people. If only people knew that understanding people like Jessie takes more than just a 90-minute glimpse into their lives.
Filipinizing Jessie and Thelma
Actor-writer Ian Lomongo himself was battling depression when he was tasked to adapt 'Night, Mother into Filipino several years ago. In 2017, he was approached by director Melvin Lee to revise and polish his adaptation, which is now PETA's final offering for its 50th season.
ADVERTISEMENT - CONTINUE READING BELOW
The original American version was shown in 1983, and yet the topics of family dysfunction, mental health, and suicide haven't changed much. Whether this play was shown in the '90s, early 2000s, or this 2018, the plot is still as taboo as it was in the '80s.
To make the play a little closer to home, Lomongo injected bits of Filipino humor, nuances, and political tidbits into the dialogue—like the way Jessie is separated and not divorced, the ingredients found in Thelma's kitchen, and that Jessie's son is a potential target for tokhang.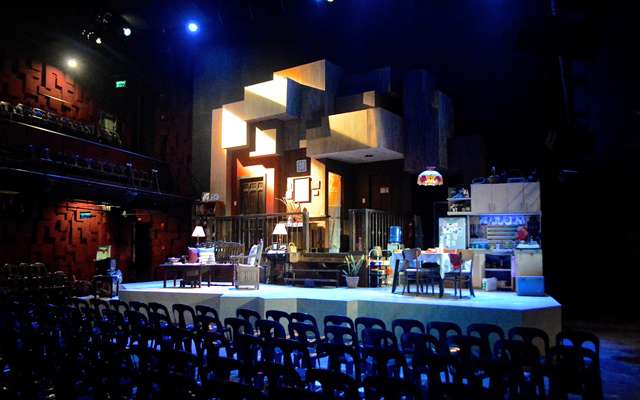 Ben Padero's brilliant set design captures the typical middle-class Filipino household well. There's a Catholic altar, vintage wooden furniture, and other Filipino elements you'll spot if your eyes wander around the set. It's as if you've stepped into the actual home of someone you know.
ADVERTISEMENT - CONTINUE READING BELOW
Beyond the Final Scene
Sensitive and emotionally-charged script aside, both Domingo and Lara gave such profound performances that many audience members were in tears at the end of the show, and even during the standing ovation.
Unlike other Filipino productions that tried and failed to tackle suicide sensitively (like the movie Last Night), PETA's 'night, Mother wants to reach out beyond the final scene. After every show, there's an open forum where the audience members can stay behind to discuss the show with members of the production staff and representatives of mental health groups, like Crisis Line, Philippine Psychiatric Association, and other university psych groups.
"Let us look at this play beyond the obvious and the literal," said director Melvin Lee during the play's opening night on February 2. "Let it be about conversations that we've had or should have had with our loved ones. Through conversation comes clarity. We need clarity in our feelings and thoughts to steer us away from darkness."
If the response during 'night, Mother's first weekend is any indication, there are hundreds of Thelmas and Jessies out there who are holding on, waiting to be heard.
'night, Mother runs until March 18 at the PETA Theater Center, No. 5 Eymard Drive, New Manila, Quezon City. Tickets, priced from P800 to P1,800, are available through Ticketworld.
If you are struggling with suicidal thoughts, depression, and suicide loss, please know that there is help and hope. Call the Crisis Line for free and anonymous counseling through: (02) 893-7603, 0917-8001123, or 0922-8938944. You can also join SOS Philippines on Facebook, a support group founded by the author for survivors of suicide loss and Filipinos undergoing mental health ailments like depression and bipolar disorder.
ADVERTISEMENT - CONTINUE READING BELOW
Share this story with your friends!
---
Help us make Spot.ph better!
Take the short survey
Load More Stories