(SPOT.ph) The administration of late dictator Ferdinand Marcos saw a surge in student activism as Filipinos fell victim to a deteriorating economy, famine, an increase in unemployment rates, and countless human-rights violations. It was a period of unrest, and the University of the Philippines' Diliman campus in Quezon City was one of the places where student activists and laborers gathered to voice out the plight of the people. So when Marcos' third child, Irene Marcos-Araneta, stepped on campus grounds to attend the opening night of Dulaang Unibersidad ng Pilipinas' The House of Bernarda Alba on September 6, things did not go well.
September 6: Opening Night
Marcos-Araneta was seen arriving at Wilfrido Ma. Guerrero Theater on the second floor of Palma Hall at the University of the Philippines (UP) with Yael Buencamino, former executive director of Ateneo de Manila University's Areté. Buencamino, in April, "voluntarily offered to resign" from her post following backlash for personally inviting Marcos-Araneta to an art event within the Ateneo campus.
ADVERTISEMENT - CONTINUE READING BELOW
Students who were outside the theater at the time were quick to take action. During the play's 10-minute intermission, while a DUP member started ringing the bell to signal the start of the second act, student activists assembled in front of the theater. They were seen and heard chanting the anti-Marcos battle cry: "Marcos, Hitler, diktador, tuta!" The flash protest also sought justice for the victims of Martial Law. 
The House of Bernarda Alba director and former Dulaang UP artistic director Alexander Cortez approached the group and pleaded: "I think we should spare the theater from political [sic]." He also added that "UP is a democratic academe."
Cortez, in the '70s, worked with Imee Marcos, Marcos-Araneta's sister, under the Kabataang Barangay. Marcos was the organization's national chairperson.
One of the student activists responded to Cortez: "Nauunawanan po namin 'yong sentimiyento niyo. Pero again po, ang usapin po natin dito ay hindi po kami pumapayag na ganito na lang 'yong pambabastos na ginagawa ng pamilya Marcos sa kabila ng kawalang hustisya sa lahat ng biktima ng pamilya nila."
After the intermission and flash protest, the second act started with no disruption. The activists regrouped and continued their protest after the show.
ADVERTISEMENT - CONTINUE READING BELOW
The post-show rally wasn't witnessed by Marcos-Araneta, who used the theater's backstage exit. Students were reportedly stopped behind the gates, locked inside their own building, and prevented by school guards from going near Marcos-Araneta's entourage.
September 8: Dulaang UP's Statement
ADVERTISEMENT - CONTINUE READING BELOW
On September 8, Dulaang UP released their official statement on Marcos-Araneta. It was first posted on Facebook at 9 a.m., but was deleted and reposted at 3 p.m. "Dulaang UP apologizes to the UP community and the public," it started. An apology was also extended to the "members of the audience, the cast, and staff" for the supposed "disruption during and after the performance." The theater company ascribed the incident to "differences in political leanings," and added that they "have not forgotten the atrocities of Martial Law."
ADVERTISEMENT - CONTINUE READING BELOW
Current Dulaang UP artistic director Banaue Miclat-Janssen shared the same sentiment. In a "personal statement" that she posted on September 8, the artist pointed out her "personal history" of being born in China because her family's leftist involvement against the Marcoses pushed them into exile. But as a UP student-artist, she "was never fired from a production that Irene Marcos supported because [she is her] father's daughter." With this said, Miclat-Janssen clarified that "Dulaang UP did not receive any financial sponsorship from Marcos-Araneta for The House of Bernarda Alba," that "her name is in the acknowledgements page" at the request of the director, that "she is not a sponsor" nor "a special guest," and that "she bought her own ticket to watch the show."
Protests Online and Offline
While student activists already voiced out their grievances on Friday night, the artist and UP community were not done voicing out their opinions on social media over the weekend.
ADVERTISEMENT - CONTINUE READING BELOW
"What makes a UP program think it can invite a Marcos to step inside the campus? Why was she even asked to be a patron of your theater? Mahiya kayo sa daang libong buwis-buhay na sakrifisyo, kasama rito ang dugo ng mga skolar ng bayan!," said Rolando Tolentino, former dean of the UP College of Mass Communication and faculty of the UP Film Institute.
ADVERTISEMENT - CONTINUE READING BELOW
Writer Ninotchka Rosca chimed in: "The re-socialization of the Marcoses started with one seemingly harmless appearance at an event."
ADVERTISEMENT - CONTINUE READING BELOW
"Once again, a proud UP tradition was upheld. Personally, I am happy that the convictions of UP students were so quickly ignited and acted upon. It is their God-given right. It is in the finest tradition of the University," said playwright Floy Quintos. She also called out to the UP Board of Regents and Chancellor to "make it a matter of policy" and "decree UP off limits to these individuals," referring to the Marcoses.
ADVERTISEMENT - CONTINUE READING BELOW
Erika Estacio, a stage manager and former Dulaang UP member, recalled her experience as a theater major at the university. There was a time that she knew that one particular production "borrowed a set piece from Irene Marcos," but she "stayed quiet" because she was "merely a student." And she admitted that "this has been the biggest shame of [her] life." She also posted:
"I believe DUP should not be crucified for letting a Marcos watch their production. I also believe that Sir Alex should not be crucified for being friends with her. But they also should not have tried to shut the protesters down. The guards shouldn't have locked them in. The institution should have been on the side of the students. Instead, it seemed like they were protecting Irene Marcos. They should have let her fend for herself; I'm sure she had the means to. The Marcos family had been playing blind and deaf to the cries of the people they have victimized for so long now; the guards should have left her to face the anger and disgust of the crowd."
ADVERTISEMENT - CONTINUE READING BELOW
Filmmaker Gio Potes hopes that a lesson has been learned through this incident. "Sana matuto na tayo. Unless ganoon tayo ka-apathetic na ang sining natin ay wala na talagang pinaninindigan, ni walang pagtanaw sa mga multo ng kasaysayan."
Ironically (or maybe not), The House of Bernarda Alba is about a matriarchal tyrant. An English translation of Federico García Lorca's last play La Casa de Bernarda Alba, it follows a series of events inside the house of Bernarda Alba (played alternately by Frances Makil-Ignacio and Gigi Escalante), who imposes an eight-year mourning period following the death of her second husband. It doesn't help that the family matriarch is a control freak, forbidding her daughters to have any form of relationship.
ADVERTISEMENT - CONTINUE READING BELOW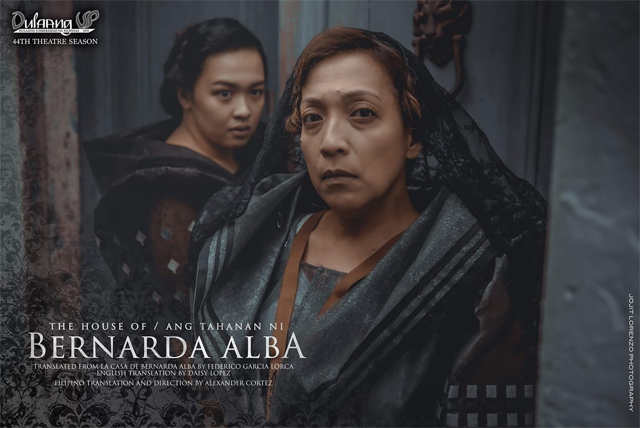 The production runs until September 29 at the Wilfrido Ma. Guerrero Theater, Palma Hall, University of the Philippines – Diliman, Quezon City. Its Filipino translation, Ang Tahanan ni Bernarda Alba, is also part of the run.
This isn't the first time that Marcos-Araneta attended a Dulaang UP event within the UP campus. She was seen with Cortez during the gala nights of The Dressing Room in 2016 and of Angry Christ in 2017. Imee, on the other hand, was last seen at the UP Bahay ng Alumni in 2018 for the Kabataang Barangay reunion.
ADVERTISEMENT - CONTINUE READING BELOW
Main image from Wikimedia
Share this story with your friends!
---
Help us make Spot.ph better!
Take the short survey
More Videos You Can Watch
Load More Stories