Free admission to the Planetarium extended till end of May
Take note of the show schedule!
(SPOT.ph) If you missed the free shows at National Museum Planetarium in April, here's your chance to experience the wonders of their new full-dome projector: Free admission has been extended until May 31, 2017 with a roster of amazing astronomy shows. Science buffs, we know this will make your month!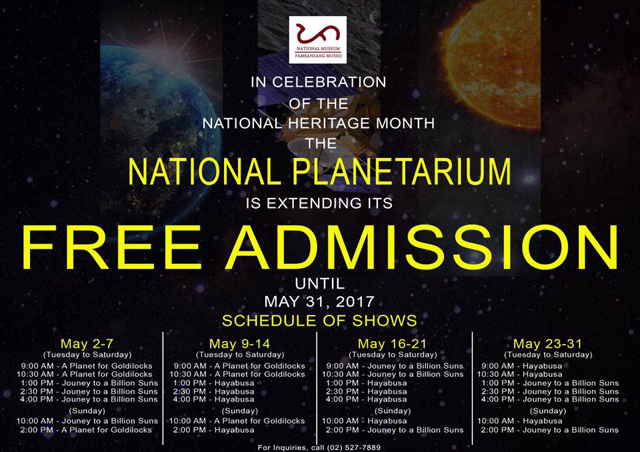 Inspired by the story of Goldilocks and the Three Bears, A Planet for Goldilocks explores humankind's search for a planet with conditions that can support our species. It's alternately titled The Search for a World That is "Just Right."
ADVERTISEMENT - CONTINUE READING BELOW
Journey to a Billion Suns looks at how the study of the stars progressed from the use of ancient star maps to the current quest of modern astronomy. It takes the audience to a beautiful journey through the Milky Way, along with our home galaxy's origin and evolution.
Hayabusa: Back to the Earth features the Japanese space probe Hayabusa, which was launched into the near-Earth asteroid called Itokawa in 2003. It came back in 2010 and brought with it samples of dust for analysis.
The Planetarium is located between the Japanese Garden and the Chinese Garden at Luneta Park in Manila. It is open from 8:30 a.m. to 5 p.m., Tuesday to Sunday. For more information, follow National Museum of the Philippines on Facebook. 
Load More Stories