Pay Close Attention to These Powerful Female Sculptures in UP Diliman
Ferdinand Cacnio's "Uplift" has been the talk of the town.
(SPOT.ph) The University of the Philippines – Diliman's newest sculpture—"Uplift" by Ferdinand Cacnio—drew flak over the weekend for its striking similarity to a 2001 sculpture by Elisabet Bea Stienstra. The visual artist, who's a graduate of the state university with degrees in Psychology and Civil Engineering, denied the allegations and said in a post on social media that he "had never seen nor heard of Ms. Stienstra or her work." He also added: "Hindi ko siya kilala. We've never been to the Netherlands. I was not inspired by her. I did not model my work after hers."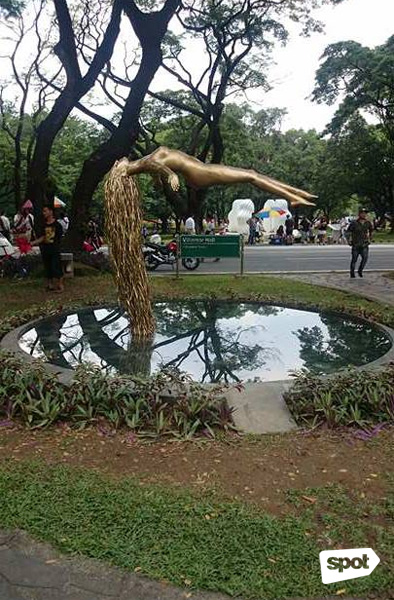 "Uplift" by Ferdinand Cacnio (University Theater, Osmeña Avenue)
Some have dubbed the artwork as a "female oblation," which seems to not sit well among a few artists and critics. "Please do not call it the 'female oblation,' said cartoonist and art studies professor Jose Ardivilla in a post. "Guillermo Tolentino's oblation was culled from Greco-Roman classical articulated forms of masculinity, youth....That floating woman is elevated by her hair, which is a patriarchal dictation of woman's beauty and her perceived worth, length of hair is quite political for women (i.e. maganda=haba ng hair). More glaringly she is supine—a position of subjugation. This is an offering, more like a display, without struggle. This is 'passive voice,'" he continued. The professor also pointed out the use of gold, "a commodity for exchange," as the sculpture's material.
ADVERTISEMENT - CONTINUE READING BELOW
Fellow art studies professor Clod Yambao also shares the same sentiments. "An iconography of a typical 18th and 19th Century depiction of a neoclassical and impressionist hysterical and/or sexually deprived woman—always laying down, horizontal, nude, vulnerable, and inactive. A residue of the male gaze during the Victorian culture of misogyny cum scientis sexualis," he explained on his own page.
"Another issue that we have to point out is that this fixation with finding male-female counterparts is absurd, especially for inanimate sculptures. Matchmaker? Nag-sign up ba sa Tinder si Oble?," art studies professor Jeff Giron quipped.
Painter Katrina Pallon has a different take: "Cacnio's 'Uplift' is woman RISING from the waters; levitating like a diwata...[It] welcomes the sunlight; the spreaded arms at an angle that clearly suggests that like the Oblation, she is offering herself."
CONTINUE READING BELOW
Recommended Videos
Suffice it to say, "Uplift" is definitely different from all the other women sculptures found all over the streets and gardens in the Diliman campus of the University of the Philippines (UP). We list down some of them.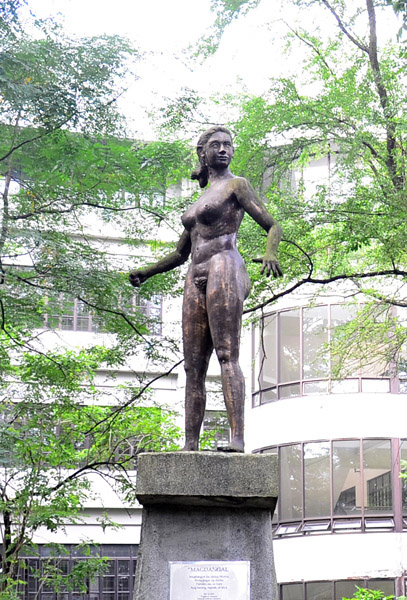 ADVERTISEMENT - CONTINUE READING BELOW
"Magdangal"
Location: College of Arts Letters, Quirino Avenue
This bronze sculpture by National Artist Napoleon Abueva features a woman that stands strong and as if in a position that's ready to fight. It was inaugurated in 2008 in celebration of the university's centennial year. The plaque below the statue bears National Artist for Literature Virgilio S. Almario's poem: "Magbangon ka, aking Mutya, / Mula dagat ng dalita; / Pairalin mo sa lupa / Ang tarong ragsak, at laya."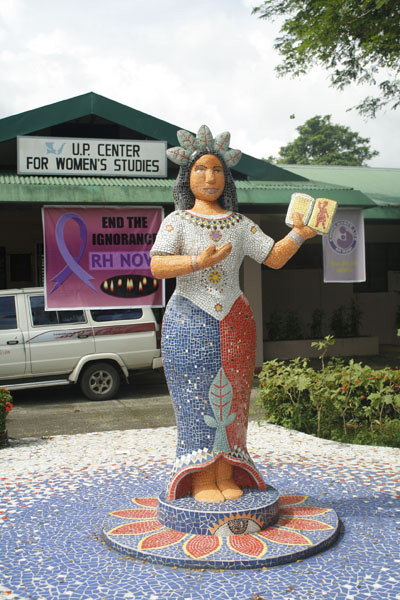 "Dakila"
Location: Center for Women's Studies, Magsaysay Avenue corner Ylanan Street
Created by feminist artist Sandra Torrijos, "Dakila" stands for a combination of woman-mother, teacher, activist, and healer. It is made of brightly colored tiles that result in the glittery image of a woman wearing the Philippine flag.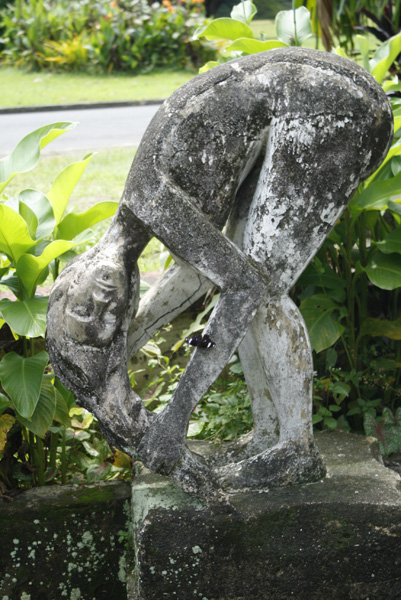 ADVERTISEMENT - CONTINUE READING BELOW
"Nude Bathing"
Location: Intersection of University Avenue and E. Jacinto Street
Attributed to Ildefonso Marcelo, "Nude Bathing" completes his triad of sculptures near the intersection of E. Jacinto Street. Unlike "Captivity" and "Contemplation," it features gentle curves and celebrates the free-flowing feminine form.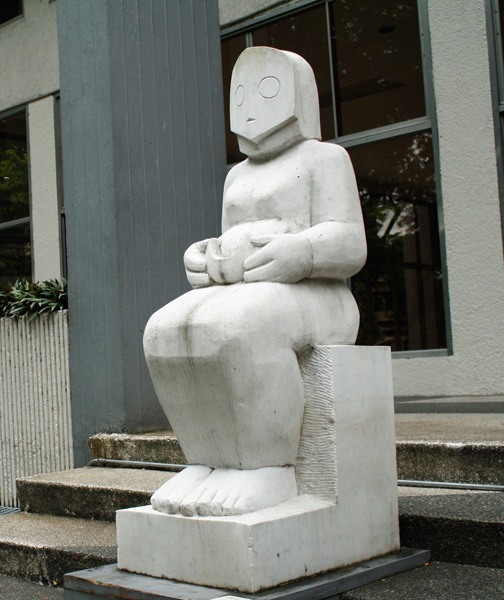 "Haliya"
Location: Formerly at the Vargas Museum, Roxas Avenue
Italy-based artist and UP Fine Arts graduate Duddley Diaz created the image of "Haliya" in 1995 and the sculpture used to rest on the stairs of the Vargas Museum. In Bicolano mythology, Haliya is the masked goddess of the moon, protector of women, and nemesis of the gigantic sea serpent deity Bakunawa.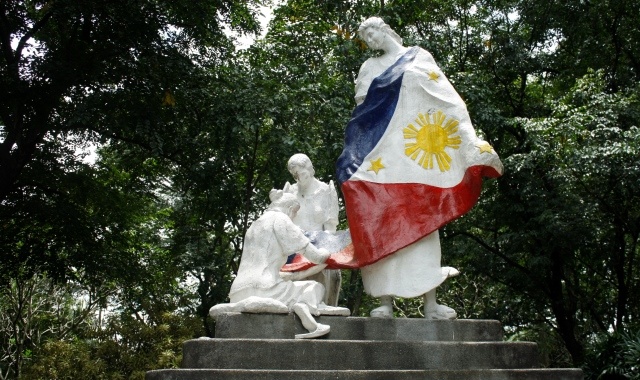 ADVERTISEMENT - CONTINUE READING BELOW
"Three Women Sewing the Philippine Flag"
Location: Behind the Amphitheater
Napoleon Abueva's 1996 sculpture commemorates the moment in Philippine history when Marcela and Lorenza Agoncillo, and Josefina Herbosa put together the national flag while in exile in Hong Kong from 1897 to 1898. It is made of concrete and polychrome.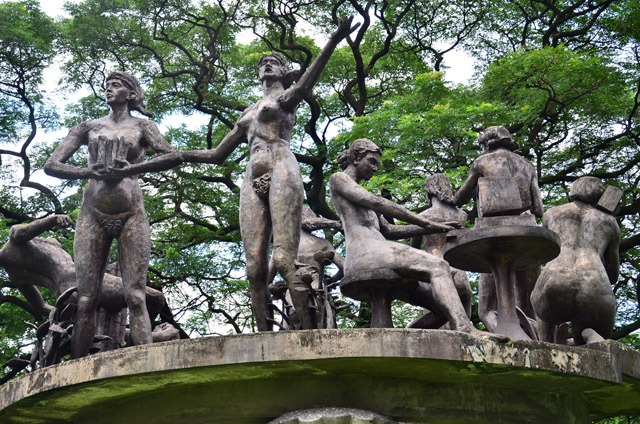 "Siyam na Diwata ng Sining"
Location: Formerly at the Faculty Center, Roxas Avenue
Napoleon Abueva's "Siyam na Diwata ng Sining" (1994) served as the centerpiece of Hardin ng mga Diwata, the front lawn of the now demolished Faculty Center. The nine muses represent architecture, dance, film, literature, music, painting, photography, sculpture, and theater and served as the inspiration for the artists that the building once housed.
Share this story with your friends!
---
Help us make Spot.ph better!
Take the short survey
Load More Stories