(SPOT.ph) Over the years, the world's most dependable search engine, Google, has gone above and beyond looking up anything and everything that we put in the search bar. We also use it for storage (Drive), shared Word and Excel documents (Docs), browsing (Chrome), navigation (Maps), and a lot of other things. By now, who hasn't heard the acronym GMG or Google Mo, G*go?
Google takes things a step further with Google Arts and Culture (formerly Google Art Project), an online platform where you can access high-resolution images of your favorite artworks and go on virtual walk-throughs in the museums that are too far (and expensive) to visit. This collaboration between Google and art institutions started in 2013, and now, there are more than 100 museums around the world that you can enjoy with Street View. You can wander around the building with the ever-dependable Pegman (that little yellow guy). We round up 10 amazing museums that, thanks to Google Arts and Culture, we can now tick off our bucket lists.
ADVERTISEMENT - CONTINUE READING BELOW


Rue de Lille, Paris, France
Believe it or not, Paris' most popular museum was originally a railway station, Gare d'Orsay, before the year 1900. It was then transformed into the building that it is today as part of the Universal Exhibition of 1900 where 50 million guests viewed the display of machines, inventions, and architectural innovations. In a way, you could say that Musée d'Orsay is an artwork in itself. This interesting history is featured in an online exhibit called From Station to the Renovated Musée d'Orsay. As for the virtual walk-through, you can see the museum's large collection of French art dating from 1848 to 1914, which includes masterpieces by Monet, Renoir, and Van Gogh.

ADVERTISEMENT - CONTINUE READING BELOW

Dionysiou Areopagitou Street, Athens, Greece
Perched on the slopes of Makriyianni, southeast of the Rock of the Acropolis, the Acropolis Museum houses every artifact from the Roman and early Byzantine Period found in the ruins directly below and surrounding it. The first museum was established in 1865 and dissolved in 2007 to make way for a bigger and better building that's 10 times the size of the old one. With Google Street View, you can peek through the floor-to-ceiling glass windows and marvel at the immediate views of the archaeological excavation. Inside, you can wander around the first and third floors and see the unearthed sculptures from Parthenon.
ADVERTISEMENT - CONTINUE READING BELOW


ADVERTISEMENT - CONTINUE READING BELOW
Bloomsbury, London, United Kingdom
The British Museum, established in 1753, currently houses more than eight million artifacts, artworks, and other historical objects in its 94 galleries. Some of the world-famous objects housed in it are the Rosetta Stone, Parthenon sculptures, and Egyptian mummies. Aside from a Street View of the outdoor area, basement, five floors, and two mezzanines, there's also a special interactive experience housed within the website. All the museum's artifacts are segregated through a spiffy timeline that starts at 2,000,000 BC and extends all the way to the present, and is divided into five continents—Asia, Americas, Africa, Europe, and Oceania—through various colors. For example, click on the pink-colored Oceania in AD 1900 and you can find out more about an ancient shield from Melanesia. You have the option to have the description narrated by a recorded audio or share what you just found out through social media.
ADVERTISEMENT - CONTINUE READING BELOW


ADVERTISEMENT - CONTINUE READING BELOW
Central District, Sankt-Peterburg, Russia
One of the largest museums in the world, the State Hermitage Museum hosts over three million exhibits that represent various periods and different countries. It now has a total of five buildings that house tens of thousands of paintings and sculptures and hundreds of thousands of graphic works, craft items, and archeological finds. With the 360 view, you can see the masterpieces of Leonardo da Vinci and Rembrandt up close, the world's best collection of 19th Century French paintings, and a unique Gold of the Scythes exhibition.

ADVERTISEMENT - CONTINUE READING BELOW

Smithsonian National Museum of Natural History
Washington, D.C., United States
The Smithsonian National Museum of Natural History is just one of the long list of national museums administered by the Smithsonian Institution. It is said to be the most visited natural history museum in the world. Can't blame the museum-goers! The replica of a North Atlantic Right Whale hanging from the ceiling of the first floor is huge (and you can see it through Google)! The museum's collection has more than 126 million specimens of plants, animals, fossils, rocks, and human cultural artifacts.
ADVERTISEMENT - CONTINUE READING BELOW


ADVERTISEMENT - CONTINUE READING BELOW
Museumstraat, Amsterdam, Netherlands
Rijksmuseum, a Dutch national museum, is famous for its art displays from the Dutch Golden Age. It has 80 galleries that house 8,000 objects of art and history in Amsterdam. Aside from a high-resolution Street View of its floors, Google Arts and Culture also has online exhibits that give a comprehensive survey of the country's most important artists. There are special sections on Jan Steen, Johannes Vermeer (and the famous image of the "Milkmaid"), Rembrandt, and Johannes Lutma. You can even start "wandering" from the ticket booth for a very realistic visit to Rijksmuseum.

ADVERTISEMENT - CONTINUE READING BELOW

Piazzale degli Uffizi, Firenze, Italy
Mention Florence, a symbol of the Renaissance, and what immediately comes to mind is its flourishing arts and culture scene. Galleria degli Uffizi in this historic city houses ancient sculptures and artifacts as well as masterpieces of the world's greatest artists. See high-resolution photographs of Fra Filippo Lippi's "Madonna and Child," Sandro Botticelli's "Primavera," Leonardo da Vinci's "The Annunciation," and Rembrandt's "Self-portrait as a Young Man." There's an online exhibit that explains the creative process of Federico Barocci and the analysis of his drawings, and a survey of artworks by Amico Aspertini and other Bolognese artists.
ADVERTISEMENT - CONTINUE READING BELOW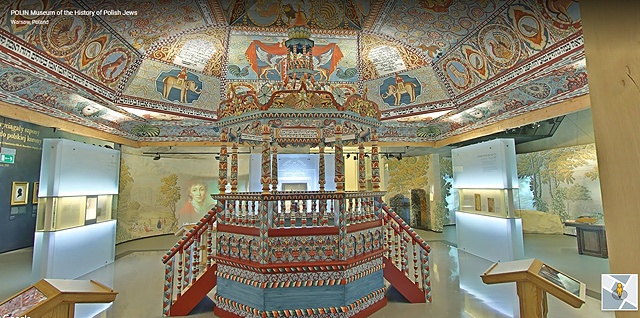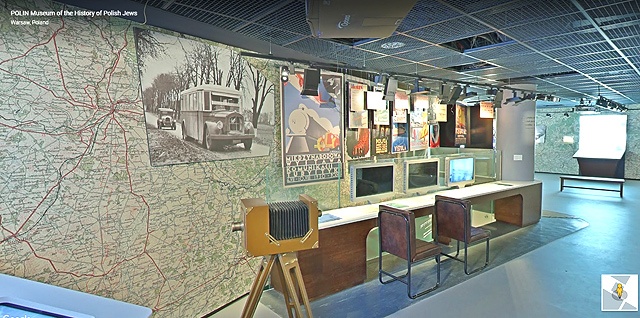 ADVERTISEMENT - CONTINUE READING BELOW
Polin Museum of the History of Polish Jews
Anielewicza, Warszawa, Poland
Millions of Polish Jews were killed in the Holocaust during the regime of Adolf Hitler through Nazi Germany. The Polin Museum of the History of Polish Jews, named after the Hebrew word for Poland, is the first and only museum dedicated to restoring the memory of this perished population. Google Arts' most important exhibition in this institution is a 1,000-year history of these people, including the story of their first settlement, early trade routes, the journey of Ibrahim ibn Yakub, and a survey of their spiritual leaders.

ADVERTISEMENT - CONTINUE READING BELOW

Pergamonmuseum, National Museums in Berlin
Berlin, Germany
The Pergamonmuseum, designed by Alfred Messel and constructed from 1910 to 1930, houses larger-than-life reconstructions of archaeological structures and other excavation finds unearthed by various museums in Berlin. Stroll through the basement, first floor, and the second floor with your Street View Pegman. See up close the 180-meter long monumental walls from 6th Century BC Babylon, the marble ruins of Athena Polias' sanctuary from 2nd Century BC Pergamon, and a rebuilt market gate from 2nd Century Miletus. We're geeking out just looking at everything from our computer screen.
ADVERTISEMENT - CONTINUE READING BELOW


ADVERTISEMENT - CONTINUE READING BELOW
The Metropolitan Museum of Art
Fifth Avenue, New York, United States
Also known as the Met (not to be mistaken for the Metropolitan Museum of Manila and Metropolitan Theater), New York City's Metropolitan Museum of Art houses over two million works in its permanent collection. Here you can see replicas of arms and armor from the Middle Ages, art and artifacts from ancient civilizations such as the Babylonian and Sumerian cultures, drawings and prints from Western Europe, and a whole lot of other things. The Street View lets you wander around two floors of the main building. You can also check out online exhibits on Coco Chanel's modern designs, Italian shoemaker Pierre Yantorny's exquisite collection, and behind-the-scenes photos at The Costume Institute Conservation Lab.
Share this story with your friends!
---
Help us make Spot.ph better!
Take the short survey
More Videos You Can Watch
Load More Stories