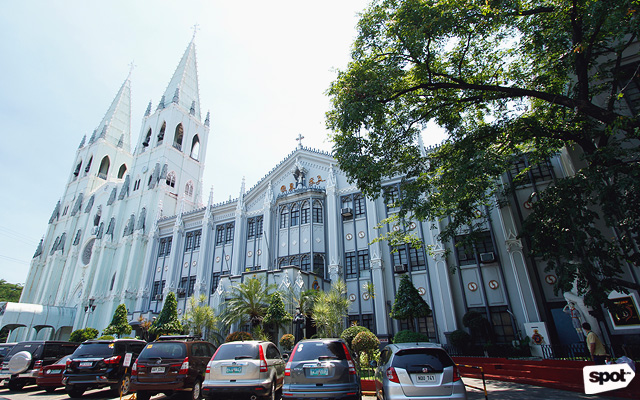 (SPOT.ph) Stepping into Basílica Menor de San Sebastián in Quiapo is like being transported into the Spanish era. Huge metal doors welcome you into this massive structure that, from above, looks like a cross, typical of traditional architecture for Christian churches. Inside, the rays of the sun play with the colors of the stained glass, creating an atmosphere that's both solemn and awe-inspiring. Above, chandeliers light the massive space as if it's a grand hall fit for royalty. There's an elevated platform along the side, where you could imagine friars in religious habits giving their sermons in booming voices. It almost feels like this 126-year-old church has been suspended in time.
ADVERTISEMENT - CONTINUE READING BELOW
San Sebastian Basilica is most known for being an architectural wonder as an all-steel building. Aside from its unique composition, it was also designed in the Neo-gothic style at a time when the rest of the Spanish-era churches all had Baroque influences. It was declared a Philippine Historical Landmark in 1973 and a National Cultural Treasure in 2011. But the passage of time (and numerous typhoons) led to the structure's rusting and corrosion, to the point of almost crumbling.
"It's the corrosion that made us realize that we have to do something about it," shares Fr. Rene Paglinawan, OAR—the San Sebastian Convent Prior—in an interview with SPOT.ph. It is now a problem being addressed by the generous donors, dedicated volunteers, and devoted founders of San Sebastian Basilica Conservation and Development Foundation.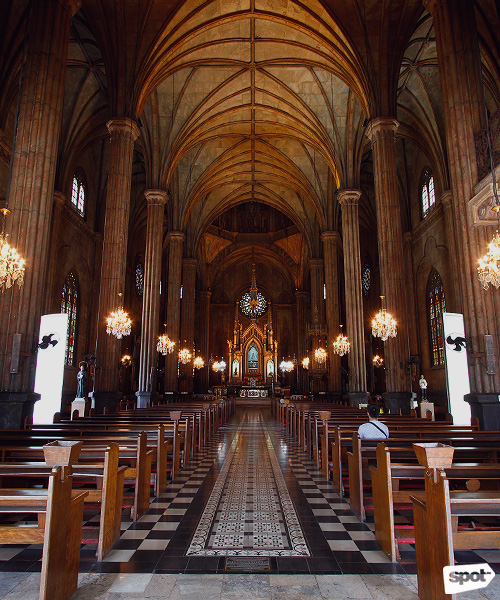 ADVERTISEMENT - CONTINUE READING BELOW
Recommended Videos
Rising from the Rubble
This isn't the first time that the church has been up against various forces and natural disasters. In 1621, the site of the Basilica—then an estate called Calumpang—was donated to the Order of Augustinian Recollects. It was inaugurated as the Church of San Sebastian de Calumpang, which also housed the image of Our Lady of Mt. Carmel, making it the first shrine devoted to that title of the Blessed Virgin Mary. The structure, however, was set fire to and plundered during the Sangley Uprising in 1640. It was further damaged five years later, after a 7.5-magnitude earthquake hit Luzon.
A bigger structure was built on the same site only to succumb to plundering by British troops in 1762, resulting in a priest being held for three days in exchange for 1,000 ounces of silver. The ransacked church was refurbished in 1832 and heavily repaired in 1855.
ADVERTISEMENT - CONTINUE READING BELOW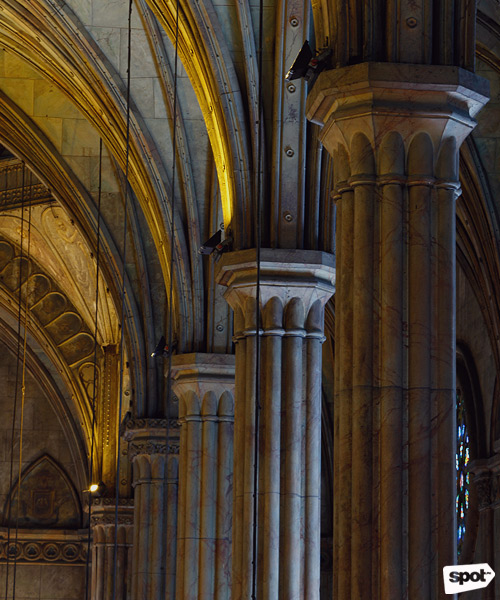 By 1859, the second San Sebastian Church had already gone through two centuries of earthquakes. As a solution, a third structure was made with higher walls, a row of brick columns, and a three-naved interior that was intended to make it more calamity-resistant. Of course, it didn't. By 1863, another strong earthquake hit Manila and completely tore down the church.
ADVERTISEMENT - CONTINUE READING BELOW
The fourth San Sebastian Church was inaugurated in 1867. Like its predecessors, it was forced to close after a series of earthquakes and aftershocks ruined the structure in 1880.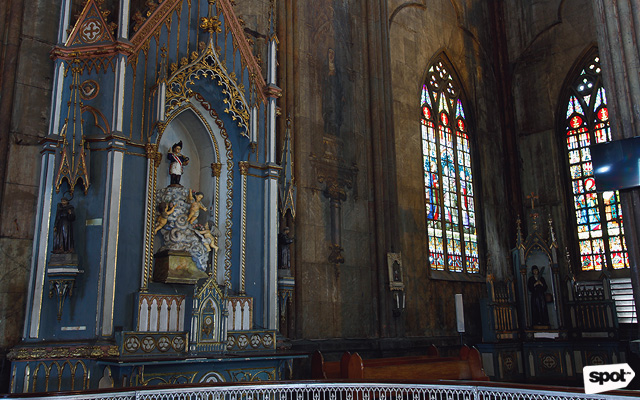 With this history, it was only natural for the Manila Director of Public Works Don Genero Palacios y Guerra to suggest trying steel as the building's material. "[At] the time, steel [was being] used in railroads. In Europe, steel [was] already being used in public places like [the] market. But not so much in churches," explains Fr. Paglinawan. The idea may be novel, but for the rest of the world caught in the Second Industrial Revolution, making an all-steel church was a challenge it was ready to take on.
ADVERTISEMENT - CONTINUE READING BELOW
So with the help of experts from seven countries, the construction of San Sebastian Church started in 1881. Palacios, a Spanish architect, volunteered his services to design the structure. He was joined by the Belgian Societe Anonyme de Travaux Public as the general contractor, which was also behind the construction of the long-distance train service Orient Express that ran from Paris to Istanbul, as well as the Museo Nacional de Ciencias Naturales in Madrid, Spain. Other nationalities involved included two Belgian foundries as subcontractors for the metal materials, German studio Henri Oidtman for the stained glass windows, French Magin Pers for the structure's foundations, and British Frederick Henry Reade Sawyer as the foreman.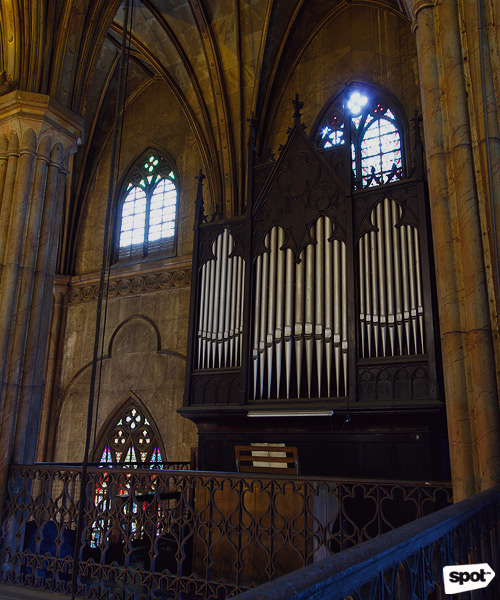 ADVERTISEMENT - CONTINUE READING BELOW
Construction took 10 years; and even before the last steel beams were put in place, the Church of San Sebastian Calumpang was raised to a Minor Basilica by Pope Leo XIII on June 24, 1890. The conditions for obtaining this title was very rigid. Aside from a required size and capacity, the historical value and worthiness of its art were also considered. You can just imagine how much faith the people of Calumpang and the Vatican put on this project early on.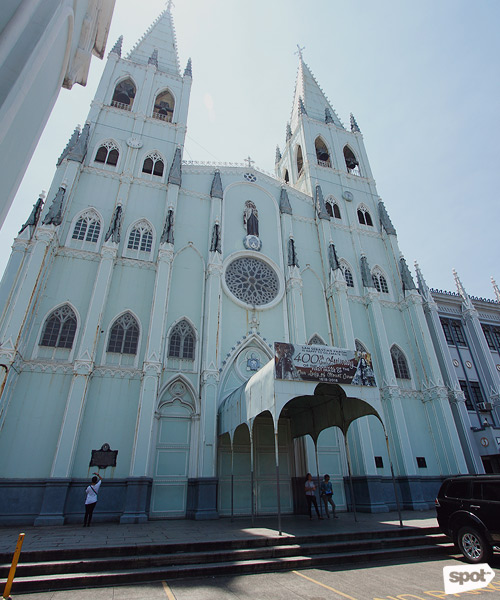 ADVERTISEMENT - CONTINUE READING BELOW
The Eiffel Myth
It's not uncommon to hear the name of French civil engineer and architect Gustave Eiffel in the mix as one of the people behind the construction of San Sebastian Basilica. After all, it's a steel structure with spires that looks a lot like the Eiffel Tower. "The name of Eiffel is always a romantic name. It's always nice to connect something with him. It's always good," Fr. Paglinawan says.
But he has to point out that "categorically, it's not Eiffel." He turns to documents and receipts that they have from the construction of the Basilica under Palacios as evidence to prove otherwise. "If you Google siguro 'San Sebastian,' nine of 10 articles [will say that] it's by [Gustave] Eiffel. But if you look at the sources of those nine, probably there's only one and they repeat that," he reveals.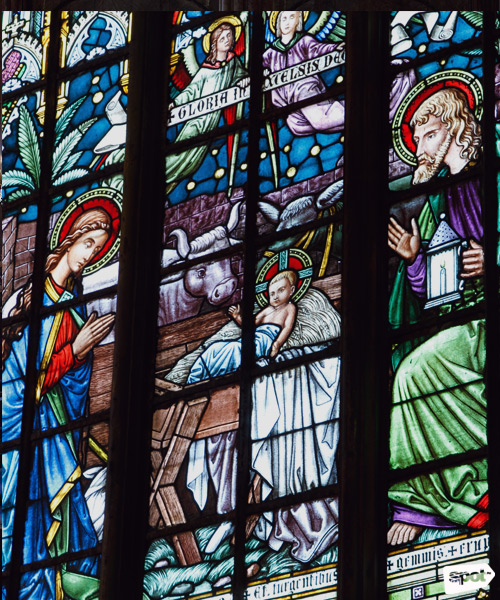 ADVERTISEMENT - CONTINUE READING BELOW
San Sebastian as an Art Gallery
With this collective from all over Europe, one would ask what the Philippines' role was in all this. "It's the art that's the biggest contribution of Filipinos," Samantha Pacardo, Project Manager of the San Sebastian Basilica Conservation and Development Foundation, points out. 
"Actually that's one of the things that we highlight during the photo walk—the art. Because not a lot of people think of San Sebastian and associate it with art," she adds. The tour program, which lets students, photographers, and anyone else who's interested learn more about the Basilica's history, is part of the restoration project.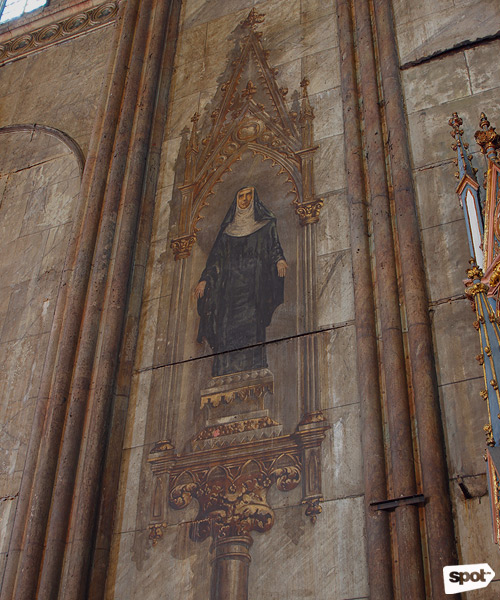 ADVERTISEMENT - CONTINUE READING BELOW
The church has more than 140 figural paintings—from a haunting mural of purgatory at the choir loft to the paintings of saints and martyrs on the ceiling of the dome above the altar. The walls are also filled with Neo-gothic designs and faux finishing that would make you wonder if it's actually made of steel or marble. These were all hand-painted by college students at the Academia de Dibujo y Pintura, the country's first art school, which eventually became the University of the Philippines College of Fine Arts.
"You can just see [on] the tour how highly skilled the students were because if you look at the figural paintings, they're not flat. They're actually trompe l'oeil paintings so there's an almost 3D effect that they used for the paintings. It really looks like it was carved out of stone. They made the effort to hide the fact that it's metal," Pacardo explains.
ADVERTISEMENT - CONTINUE READING BELOW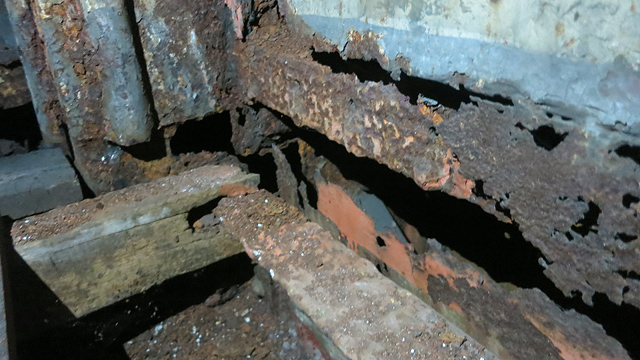 The Deterioration of a Cultural Treasure
But it is also in these works of art that the cultural treasure's slow deterioration is most evident. When you look closely, some of the figural paintings have lost their vibrant colors, some have blurred, and some just completely faded. This is because rust has formed inside the columns and double walls of the whole church.
ADVERTISEMENT - CONTINUE READING BELOW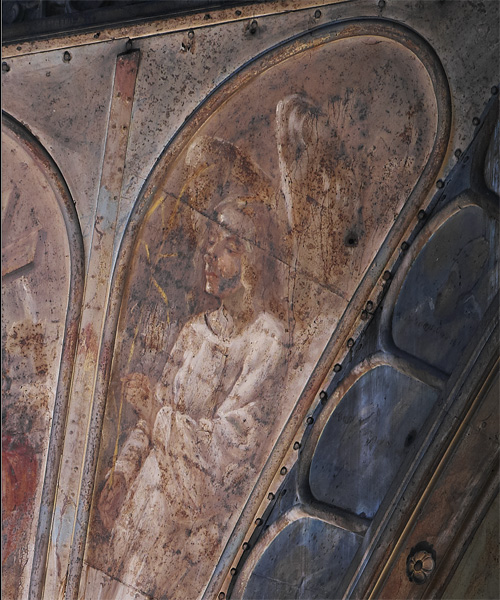 "Once rust forms, it actually pushes out the paint. It pushes it out until it starts to flake. The paintings here are now very fragile that you can take out the paint with [a] toothbrush," we were told by Pacardo.
ADVERTISEMENT - CONTINUE READING BELOW
Where did the rust come from? This church is made of steel—an alloy of iron, which basically reacts when in contact with water vapor or even just oxygen. (Hello, chemistry!) With Quiapo being close to Manila Bay and the Philippines getting approximately 20 tropical cyclones a year, there's just a whole lot of water around.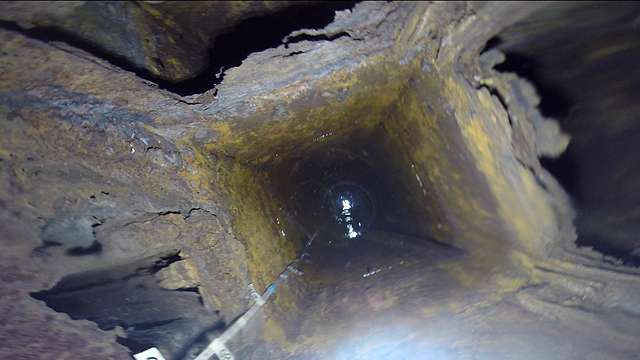 ADVERTISEMENT - CONTINUE READING BELOW
"When [conservation experts] were doing the diagnostic test [in 2012], they first started seeing the leaks. It was [Typhoon] Milenyo when they were here, and because it was such a strong typhoon, they saw water coming out of the columns [inside the church]," she adds. The water pooled for about two meters inside these columns, causing moss to form.
Looking for the holes inside the church was like trying to find a needle in a haystack—except that the needles counted up to more than 300. Robots were supposed to be dropped from the ceiling into the columns to facilitate scraping off the rust and moss; but there was so much of both that the team members themselves had to climb into the corroded beams to manually do the job.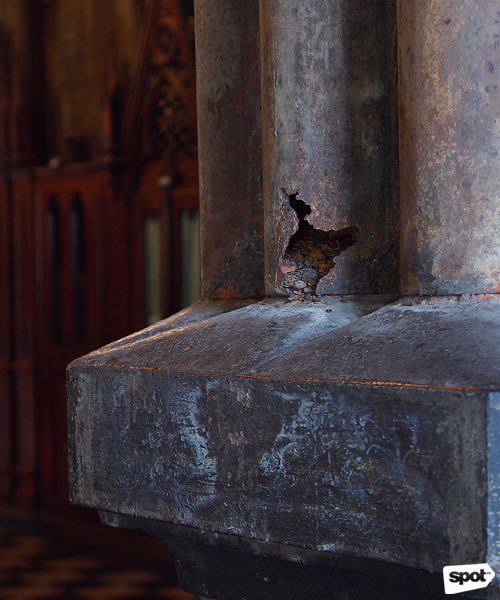 ADVERTISEMENT - CONTINUE READING BELOW
Aside from the evident marks of corrosion on the figural paintings, there is also rust eating away at the edges of the beams and planks and base of the columns.
It did not help that some of the repairs throughout the century weren't handled well. Some murals were glazed over with varnish instead of resin, which could have protected the centuries-old paintings. Some holes were stuck with cloth or plastered with cement, which acted like sponges and sucked more water into the steel bars.
"Someone even put a whole pair of jeans [inside a hole], so it became a running joke that someone must have just removed his clothes inside the church," Pacardo quips.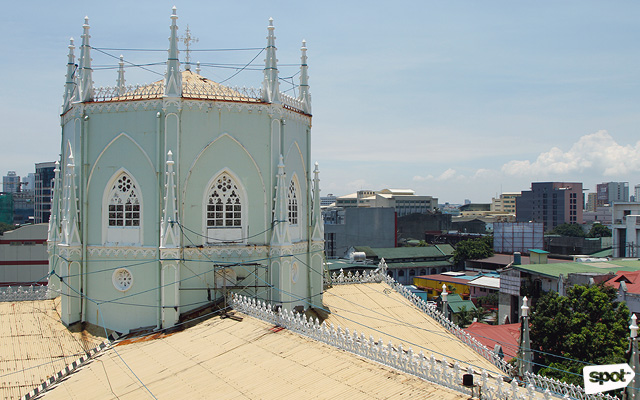 ADVERTISEMENT - CONTINUE READING BELOW
With all the drawbacks of using steel in a tropical climate, one would think that Palacios did not think it through that much. "Oo, corrosive. But we avoided three destructive forces of the previous churches—earthquake, anay, apoy. And for a long, long time, this held against corrosion. Of course, we don't have a perfect thing," Fr. Paglinawan concedes.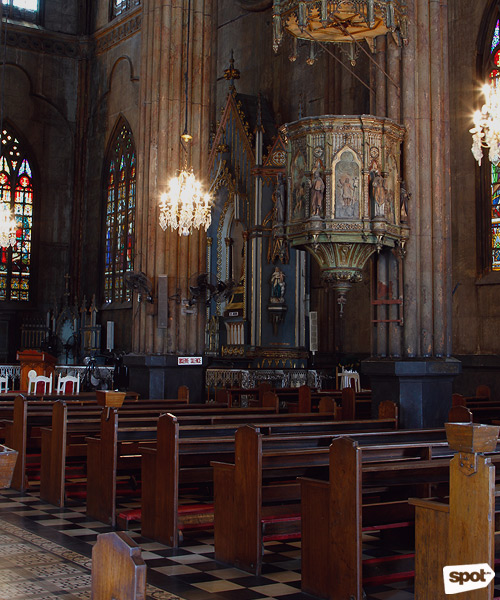 ADVERTISEMENT - CONTINUE READING BELOW
More Than Making It Shiny
But there's no question that a rich history, its cultural significance, and interesting architecture make San Sebastian Basilica worth saving.
In what seems to be a stroke of fate, Tina Paterno—a building conservator who was formerly based in New York City—was in Manila in 2011 to deliver a talk at the University of Santo Tomas. Fr. Paglinawan took the opportunity to invite her to visit the basilica.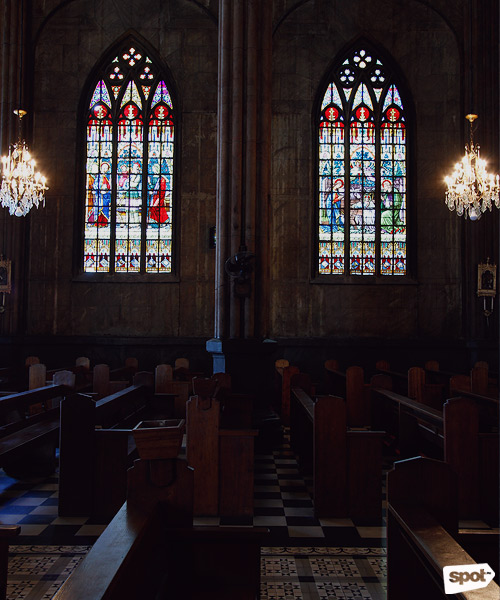 ADVERTISEMENT - CONTINUE READING BELOW
"He invited me to look at the Basilica. And I was alarmed. I was also awed by the beauty but I was also alarmed by the deterioration. I guess when you're a conservator, you see [the] damage that is not so apparent to the regular person," Paterno tells us. In 2012, they incorporated San Sebastian Basilica Conservation and Development Foundation and she served as its Technical Director.
Just as the construction of San Sebastian Basilica was an effort by various nationalities, its restoration and conservation is also a coming together of international conservation experts, Recollect friars, and businessmen. Grants and funding are also coming in from all directions—U.S. Ambassador's Fund for Cultural Preservation, U.S. Embassy Manila, Order of Augustinian Recollects, Bakas Pilipinas in New York, and National Commission for Culture and the Arts.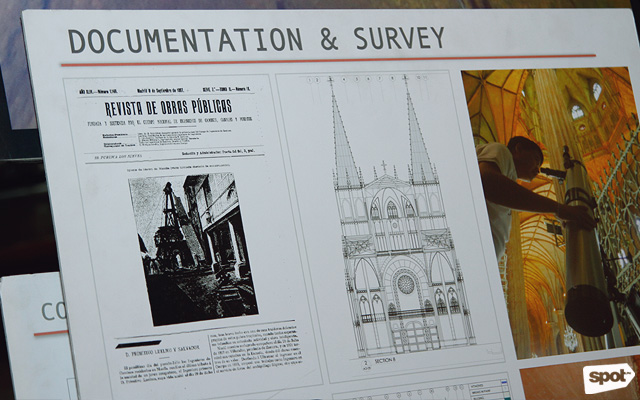 ADVERTISEMENT - CONTINUE READING BELOW
The coincidence that a structure that took 10 years to build will also take 10 years to be rebuilt is not lost on us. It's a decade-long restoration and the Foundation's only about halfway done. The painstaking process includes looking into the extent of the damage, repairing the structure, and restoring the art that makes San Sebastian Basilica the cultural treasure that it is.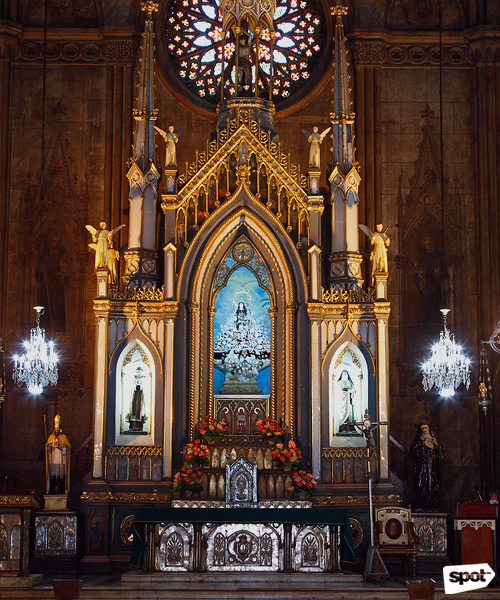 ADVERTISEMENT - CONTINUE READING BELOW
It's a Herculean effort, but it is necessary. Paterno adds, "It's very significant. It's the only all-metal building in the country and one of the few all-metal churches in the world. They're not too common. This is one of the last few remaining historic churches whose interiors are still originals. These finishes are 126 years old and they haven't been substantially altered. I'd be hard-pressed to find another historic church that could make the same claim. So the views you get inside the Basilica are the same views that someone in 1891 could have seen."
With history seemingly repeating itself in these restless times, it helps to take a closer look at the most inspiring examples of our rich heritage. That includes San Sebastian Basilica, a symbol not only of the Catholic religion, but also of Filipino artistry, and the unity of the people behind its construction, and now, restoration.



ADVERTISEMENT - CONTINUE READING BELOW
You can help the San Sebastian restoration effort by booking a tour through savesansebastian.org@gmail.com or buying merchandise from the San Sebastian Basilica Conservation and Development Foundation, Inc.
Your guide to thriving in
this
strange new world.
Share this story with your friends!
---
Help us make Spot.ph better!
Take the short survey
Load More Stories