The SPOT.ph Guide to Manila Biennale 2018
Block off your February for this.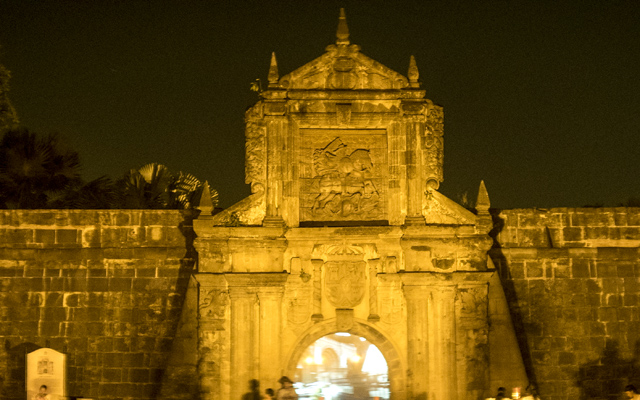 (SPOT.ph) Every February, the Philippines celebrates National Arts Month—a time when promoting and advocating arts and culture is of utmost priority. Art-inspired festivities happen all over the country, from the whole day Pasinaya at the Cultural Center of the Philippines to the three-week-long Fringe Manila in various exhibit halls and performance venues around Metro Manila. In 2018, another platform joins this national celebration from inside the Walled City—the first ever Manila Biennale, an art festival that is geared towards the promotion of the heritage of Intramuros and the history of Manila.
Biennale has become known in the Italian cultural scene as the international art exhibition held every two years in Venice. Manila takes this concept of the prestigious festival and recreates it in the many gardens, plazas, chambers, and museums of the Walled City to become a distinct Filipino art experience. It is scheduled to happen from February 3 to March 5, 2018, and is expected to give birth to a new tradition that will be repeated once every two years.
ADVERTISEMENT - CONTINUE READING BELOW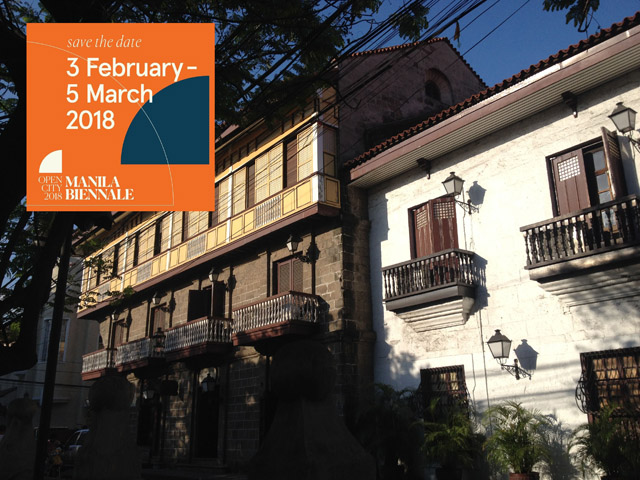 CONTINUE READING BELOW
Recommended Videos
Appropriating biennale to the Philippine setting also means bringing along with it the history of Intramuros, which is why Manila Biennale's first theme is "OPENCITY" (intently spelled without a space between words). On December 26, 1941, Manila was declared as an open city by U.S. Gen. Douglas MacArthur during World War II. In military speak, this means that the city has abandoned all defensive efforts and that the opposing country can simply march in and is expected to not drop bombs or stage an all-out attack. As we know from history, the Imperial Japanese Army ignored this declaration and razed Manila to the ground. It was a vulnerable period for the Philippines, and by bringing back art and culture within our walls, we can eventually revive the lost soul of the city of Intramuros.
It will be a historic three full weeks of arts, so here's a rundown of what you should know about Manila Biennale 2018:
ADVERTISEMENT - CONTINUE READING BELOW

"In Retrospection 2" by Renz Baluyot
Manila Biennale has two components: The collaborative program and the curated program.
The three-week festival coincides with the Anthology Festival of Design and Architecture (February 9 to 11), Pasinaya Festival (February 1 to 4), Fringe Manila (February 8 to 25), and Pink Shorts LGBT Festival (February 17 to 18)—it is National Arts Month, after all. All these celebrations will be collaborating with the Manila Biennale to be able to stage their own productions within the Walled City. Cultural Center of the Philippines, Design Center of the Philippines, Viva Manila, and Short + Sweet International will also be present during the festival.
Manila Biennale will also be curating its own exhibitions and performances through the help of local artists Ringo Bunoan, Con Cabrera, Cocoy Lumbao, and Alice Sarmienta for visual arts; Design Center of the Philippines for design; Matthew Lopez for public programming; and Ramon Nocon for film. Producers of the curated programs are the Intramuros Administration, Carlos Celdran Walk This Way Tours, and VivaManila.
ADVERTISEMENT - CONTINUE READING BELOW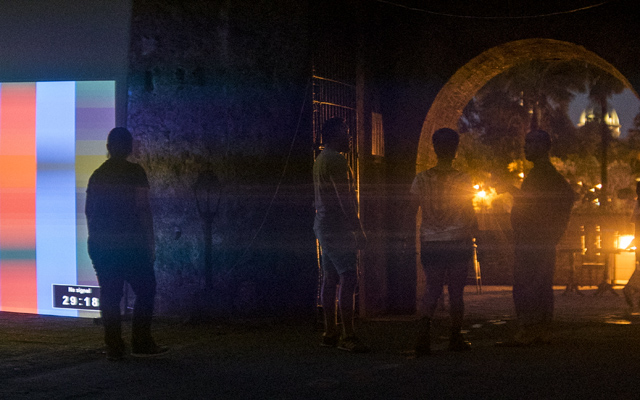 Venues are spread out all over Intramuros.
Exhibits will be held at Fort Santiago, Jesuit Mission House, Casa Manila, Baluarte San Diego, and Puerta Real from 10 a.m. to 6 p.m. The reception lounge is at Plaza San Luis along General Luna Street from 10 a.m. to 6 p.m.
You may have to block off your February for this.
Exhibitions are from February 3 to March 5 while performances are from February 21 to 25. There's an Artist Ball on February 21 and the Manila Transitio Memorial Concert on February 25.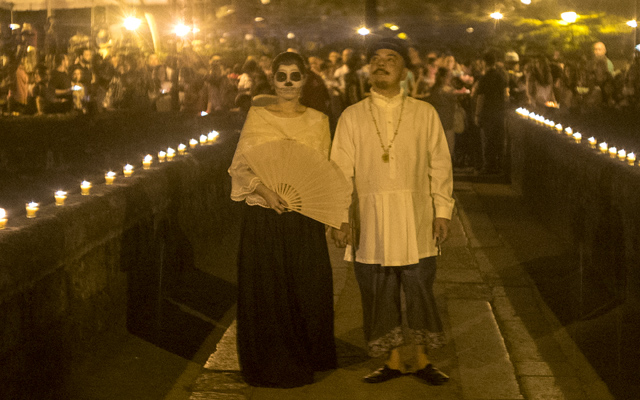 ADVERTISEMENT - CONTINUE READING BELOW
Make your experience more fun with the Manila Biennale Passport.
Passports are already available for purchase through opencity@manilabiennale.ph (subject: Art Passport). It includes entrance to all curated exposition spaces, transportation between all exhibition sites within Intramuros, VIP concierge services at the reception lounge, invitation to the Artist Ball, entrance to the Manila Transition Memorial Concert, priority reservations, exclusive offers, and other special deals. The Manila Biennale Passport, valid from February 3 to March 5, is priced at P5,300.
Day passes are available for purchase starting January 2, 2018.
You can get the Day Pass (P880), which includes entrance to all exposition spaces, transportation between exhibition sites, and entrance to parks and museums within Intramuros. The Student Day Pass (P350) is inclusive of just the entrances to exposition spaces, parks, and museums. These can be purchased through opencity@manilabiennale.ph (subject: Day Passes) or on-site at the Intramuros ticket booths.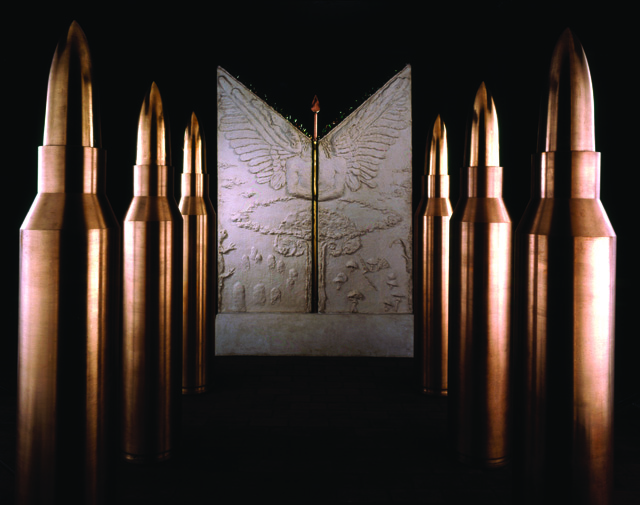 ADVERTISEMENT - CONTINUE READING BELOW
"Angel of Death" by Agnes Arellano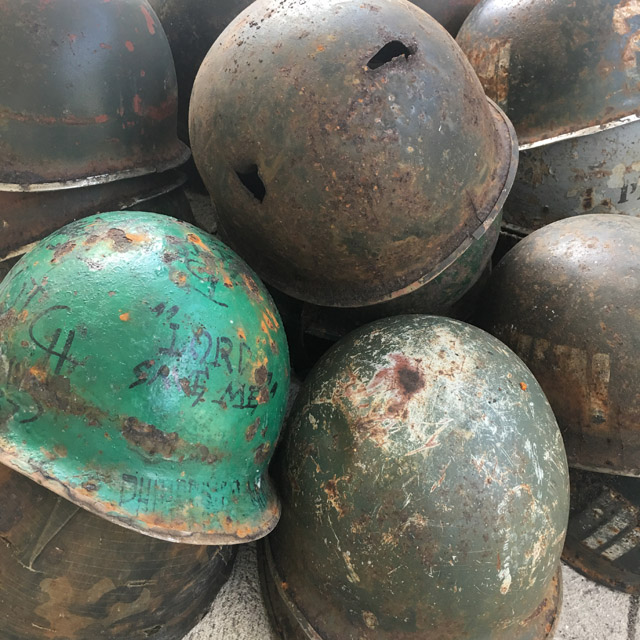 "Helmets" by Pete Jimenez
Thirty-nine local and international artists will participate in the OPENCITY exhibition.
Some of the Philippine representatives include Agnes Arellano, Renz Baluyot, Zeus Bascon, Mideo Cruz, Kiri Dalena, Gary-Ross Pastrana, and more. Henri van Noordenburg from the Netherlands, Angel Shaw from the U.S., and Nicolas Combarro from Spain will also be joining.
There's an Intramuros App for better navigation.
The Intramuros App will be made available for download by January 2018. It gives directions to all historic landmarks as well as descriptions for each, locations of all OPENCITY exhibition spots complete with the name and statement of the artists, and washrooms, dining options, shopping areas, and leisure spots around the Walled City.
Manila Biennale 2018 is from February 3 to March 5, 2018 in Intramuros, Manila. For updates, follow Manila Biennale on Facebook.
ADVERTISEMENT - CONTINUE READING BELOW
Share this story with your friends!
---
Help us make Spot.ph better!
Take the short survey
Load More Stories