Areté's New Arts Wing Is About More Than Just Art
How Ateneo de Manila University's newly completed arts hub is defying expectations
(SPOT.ph) Areté, Ateneo de Manila University's colossal arts and innovation hub, opened in stages since the first rooms welcomed students and guests in September 2017. The George SK Ty Learning Innovation Wing of the four-floor and two-part structure was the first to be completed, while the Arts Wing remains a work in progress. Still, we can't help but feel overwhelmed upon entering the newly opened Ateneo Art Gallery and the Doreen Black Box Theater.
"From Ateneo Art Gallery's (AAG) old home of having two main exhibition spaces, here in the Areté, we have seven galleries for our exhibitions, which means we have more opportunities to present the Ateneo Art Gallery's collection. In our collection, we actually have works, early works by National Artists such as Fernando Amorsolo, Arturo Luz, Napoleon Abueva; and we have an extensive collection of works by social realist artists," explains Esty Bagos, the gallery's Museum Education Officer, about their big move from the Old Rizal Library Special Collections Building in October 2017. Its inaugural exhibit was the 2017 Ateneo Art Awards which filled the walls of the first floor exhibit halls—Mr. and Mrs. Chung Te Gallery, Mr. and Mrs. Ching Tan Gallery, and Ernesto and Susan Tanmantiong Gallery.
ADVERTISEMENT - CONTINUE READING BELOW
CONTINUE READING BELOW
Recommended Videos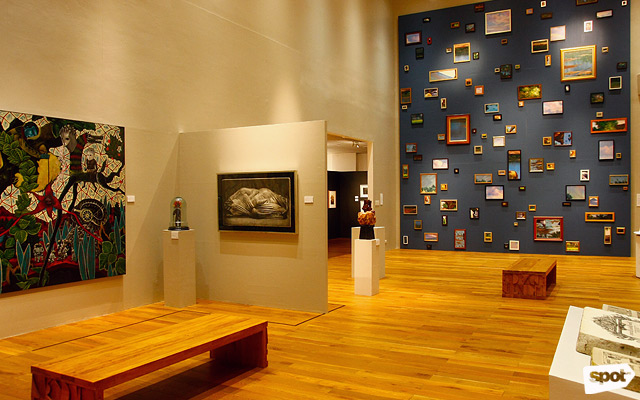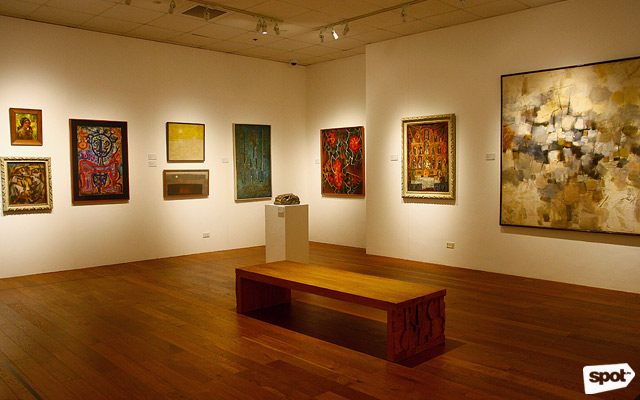 ADVERTISEMENT - CONTINUE READING BELOW
The young artists' works were cleared out in February 2018 to give way to the university museum's vast collection of post-war Philippine modern art. The exhibit titled Love It and Leave It: A Legacy of Gifts, which runs until January 2019, reflects how much AAG has grown since its establishment in 1960, when it became the first museum of modern art in the Philippines. It also highlights the role of philanthropy in enriching the university museum, which started with only over 200 artworks donated by Fernando Zobel.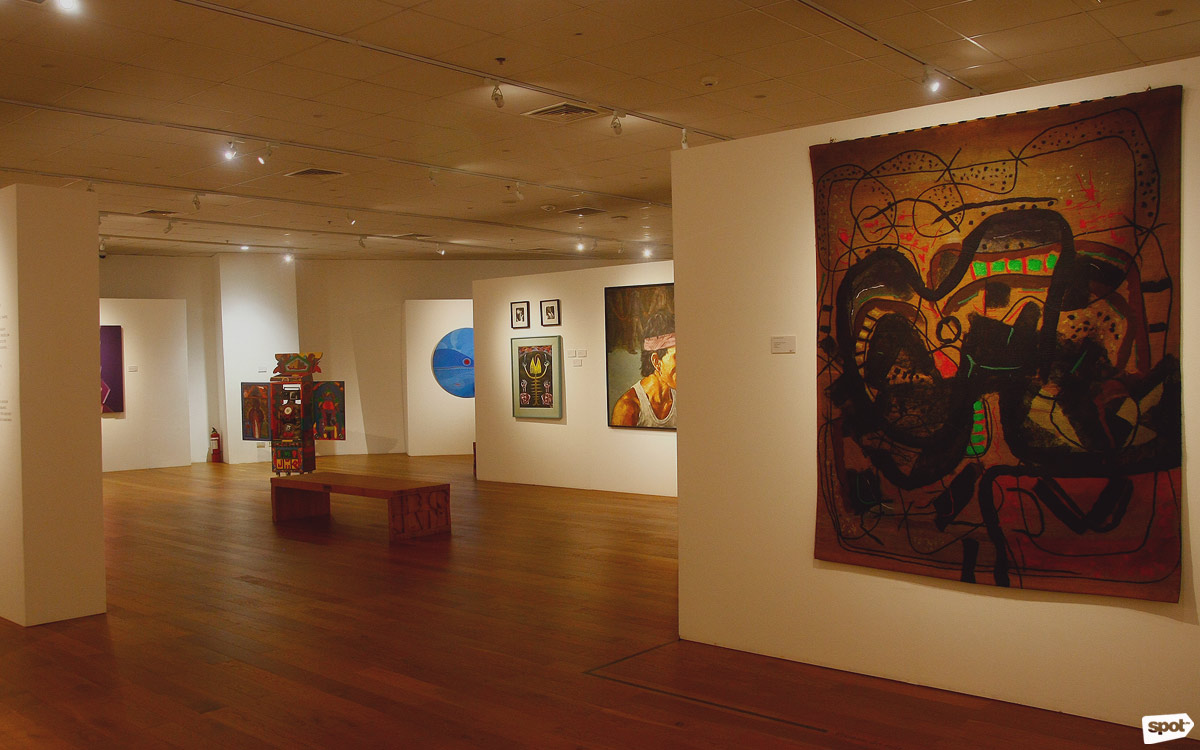 Names of donors are listed on the galleries' walls as a gesture of gratitude. Some of the works—such as Conrado Mercado's "The Door" (1973), Edgar Talusan Fernandez's "Kinupot" (1997), and Raffy T. Napay's "Spring" (2014)—were donated by the artists themselves; while the others were given by art collectors and companies like Smart Communications and Security Bank Corporation. It would be hard to miss a whole wall filled with 100 paintings by Alfredo and Isabel Aquilizan depicting a Filipino genre that was popular in the 1950s called Mabini art.
ADVERTISEMENT - CONTINUE READING BELOW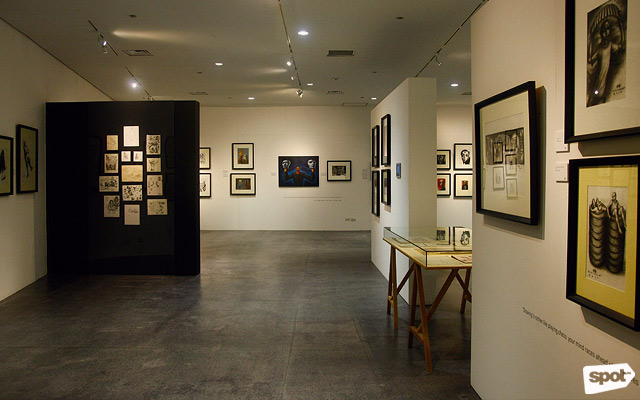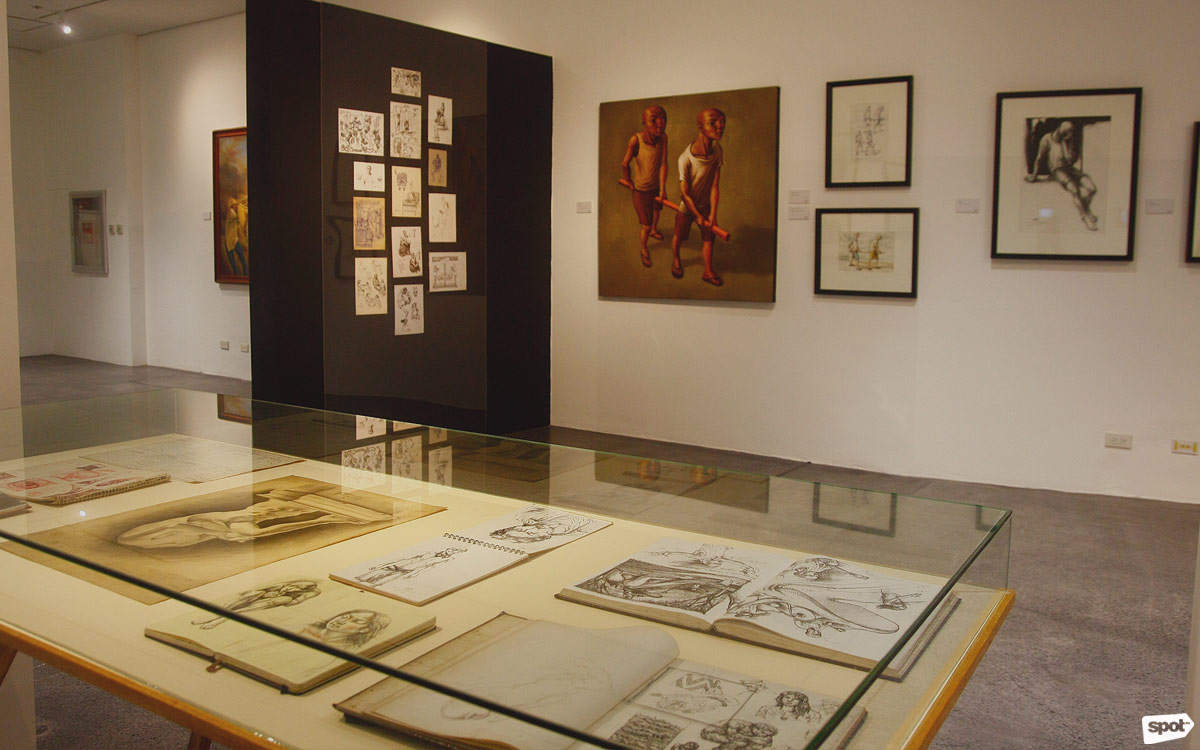 ADVERTISEMENT - CONTINUE READING BELOW
The Wilson L. Sy Prints and Drawings Gallery on the second floor is dedicated to drawings in pencil, charcoal, pen and ink, and watercolor. Debuting in this space is a retrospective survey of Elmer Borlongan's works, starting from his sketches in the 1990s to his studies for huge canvases in the 2000s. The collection shows how the artist's distinctive style evolved through a career in the arts that spans over two decades. Elmer Borlongan Draws the Line runs until May 13.
Next door, you can find the Ben Chan ArtSuite, which is a space for collaborative activities such as lectures, workshops, and film screenings. Wooden benches all over the museum also bear the logo "BENCH/" (pun probably intended).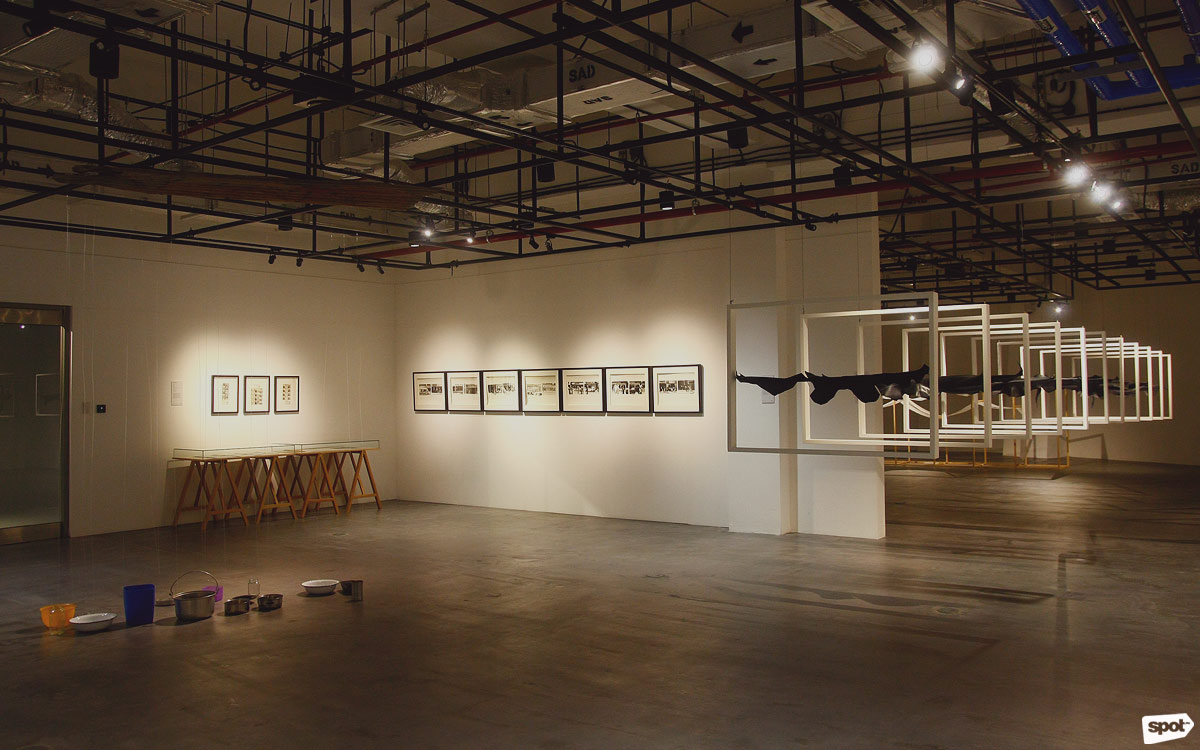 The 70s: Photographs, Documents, and Objects
PHOTO:

Jun Pinzon
The third level is home to three art spaces—the Alicia P. Lorenzo Gallery, Elizabeth Gokongwei Gallery, and Ambeth R. Ocampo Gallery. Though named after three sponsors and separated by three doors, the whole undivided area currently holds an important exhibit called The 70s: Photographs, Documents, and Objects, which is part of a series titled "Philippine Art by the Decade." Expect to see commentaries by Filipino artists like Fernando Modesto, Danilo Dalena, and Roberto Chabet. It runs until July 2.
ADVERTISEMENT - CONTINUE READING BELOW
The theater arts program at the university, and maybe in Metro Manila, is also taking a huge leap with the opening of three theaters in the Arts Wing of Areté. There's the 250-seater Doreen Black Box Theater on the third floor, which opened on April 17 with the Tanghalang Ateneo production Lysistrata ng Bawkit; a 900-seater main theater on the first floor, which is expected to be completed by June; and an outdoor amphitheater, which is slated to open by the end of the year.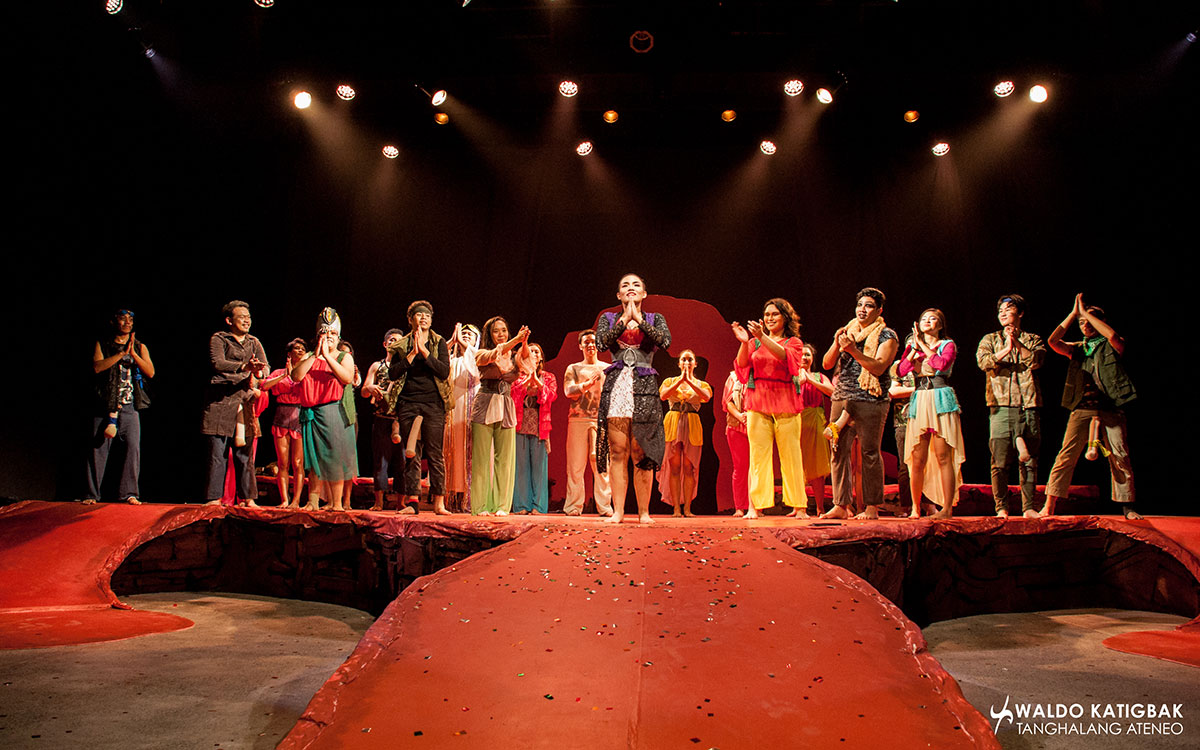 Tanghalang Ateneo's Lysistrata ng Bakwit runs from April 21 to May 5
PHOTO:

Waldo Katigbak / Courtesy of Tanghalang Ateneo
"You see, when we talk about the arts here, we're not [just] talking about the visual arts which you see around me. But you're also talking about music and film, and dance, and theater, and all sorts of other combinations. And what is exciting here is that my job is to try and see what I can do with the arts to merge and talk together," enthuses Ricky Abad, Areté's Artistic Director.
ADVERTISEMENT - CONTINUE READING BELOW
As Yael Buencamino—Areté's Executive Director—pointed out in a previous interview with SPOT.ph, the new hub is all about the crossover of various disciplines. This is exemplified by the third floor's bridgeway, which not only physically connects the Arts Wing to the Innovation Wing, but also does so metaphorically.
"I'm very interested in trying to get arts to converse with the sciences—with physics and chemistry, and mathematics, and biology, and sociology, and psychology, and anthropology. So in a sense, what we're trying to do is kind of interdisciplinary, quite collaborative and it requires a lot more people to start talking and creating," Abad adds. So if you're trying to put up a production at Areté, you may have to think of "something [more] than just a play."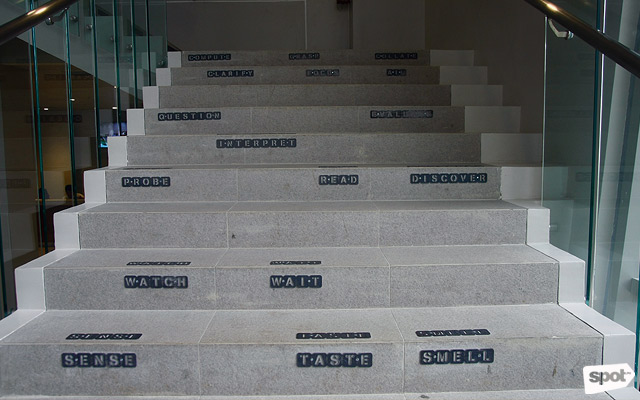 ADVERTISEMENT - CONTINUE READING BELOW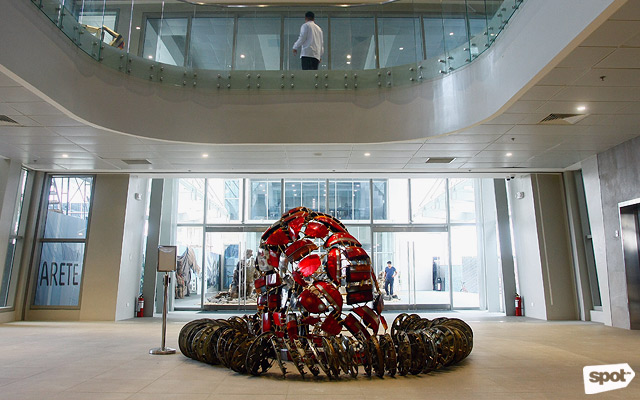 The construction of Areté at the Ateneo de Manila University is about more than having a new space for artists and scientists. It's about inspiring a new generation of creators to go above and beyond one message, one form, and one genre.
Areté is to the left of Gate 3 and across Ricardo and Dr. Rosita Leong Hall at Ateneo de Manila University, Katipunan Avenue, Loyola Heights, Quezon City. For more information, follow Areté on Facebook.
ADVERTISEMENT - CONTINUE READING BELOW