CCP's Weekend Festival Hopes to Raise Mental Health Awareness
Will You Still Love Me: Festival of Arts and Ideas runs until September 16.
(SPOT.ph) "When my mask shatters /and you see how broken I really am, / will you still love me?" penned the late Julia Buencamino in a poem before she died from suicide on July 7, 2015. Her parents, celebrated artists Shamaine and Nonie Buencamino, explained that these lines "speak of the fear that most people struggling with mental health suffer." To hopefully help more people dealing with mental illness, the Julia Buencamino Project returns with the second edition of Will You Still Love Me: Festival of Arts and Ideas. It runs from September 14 to 16 at various venues inside the Cultural Center of the Philippines in Pasay City. Entrance to most activities—such as workshops and film screenings—is at pay-what-you-can basis with a minimum of P50. Theater performances cost P200.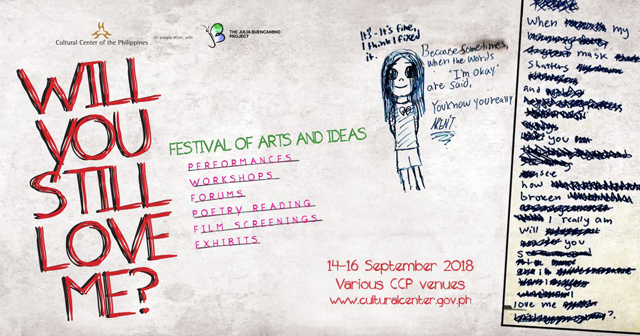 "We hope to create a community that helps build mental resilience through the arts. Art heals. Art helps focus the mind. Art even changes the way the brain functions," Shamaine pointed out.
ADVERTISEMENT - CONTINUE READING BELOW
During the festival, participants can create their own paper crane origami and put it up in a paper crane tree at the CCP Little Theater Lobby. This serves as the event's unifying theme as it symbolizes messages of hope and self-affirmation.
Other highlights include mindfulness exercises using visual imagery and body awareness; workshops on prose-writing, exploring personal creativity, dance healing, and a poetry session based on Vim Nadera Jr.'s postgraduate thesis on clinical psychology; and performances built around the idea of art as a form of healing. Short films on mental health, such as Elehiya sa Paglimo, Kaktus, Bedtime Paradox, Kaming mga Nakakulong, The Tide, Wish, and Hawla, will also be screened at the Tanghalang Manuel Conde.
Will You Still Love Me: Festival of Arts and Ideas runs from September 14 to 16 at the Cultural Center of the Philippines, Roxas Boulevard, Pasay City. It is open to the public from ages 15 and above. For more information, visit CCP's website.
UPDATE: Cancelled due to inclement weather.
Load More Stories