Manila's New Art Destination Is a Restored Pre-War Mansion
It's the new home of Casa de Memoria auction house.
(SPOT.ph) Before City of Dreams and Solaire became entertainment hotspots in Parañaque, the locals' primary means of recreation was their very own beach strip—Tambo Beach. Families would have Sunday picnics by the shore, kids would pick up paros (a species of clam) at low tide, and mothers would chase down the little ones who were just excited to be in the water. Others would spend their afternoons on the verandas of regal mansions along what was then known as Dewey Boulevard, enjoying the best view of the famous Manila Bay sunset.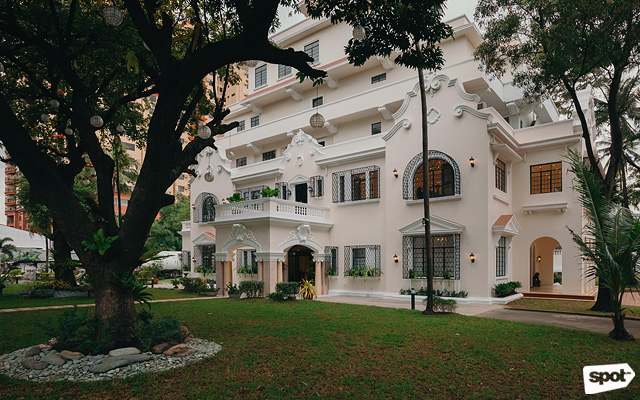 CONTINUE READING BELOW
Recommended Videos
ADVERTISEMENT - CONTINUE READING BELOW
That busy thoroughfare, now known as Roxas Boulevard, is home to Palacio de Memoria. While today it is surrounded by the undeniable signs of urbanization, it was once a symbol of the elegance of this part of Manila—an elegance that the mansion's current owners, the Lhuillier Family (of Cebuana Lhuillier fame), hope to be able to bring back.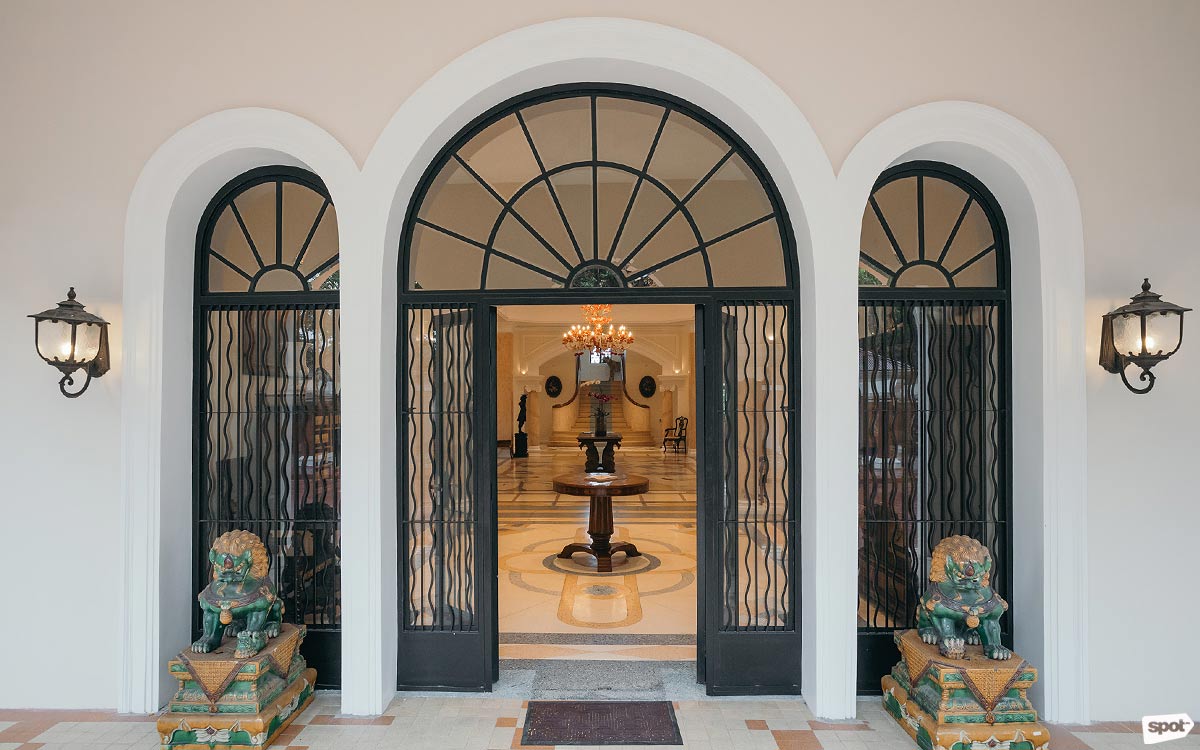 The wrought iron door transports guests to a different era.
PHOTO:

Zhang Xi Shuo
A mysterious History
Not much is known about the original owners of the house. "It's a bit of a mystery," Camille Lhuillier, marketing manager of the auction house, reveals in an interview with SPOT.ph. All they know, based on photos, is that it was originally a two-floor Colonial Revival house on a sprawling three-hectare property. It surprisingly survived the tragic Battle of Manila, when most of the city's structures were bombed or razed to the ground.
ADVERTISEMENT - CONTINUE READING BELOW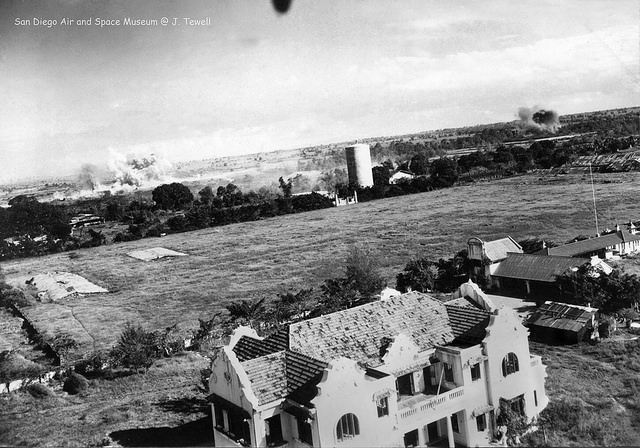 After the war, the property was acquired by the Villaroman Family, whose patriarch Dr. Francisco Villaroman Sr. was a physician, surgeon, and professor at the College of Medicine and Surgery of the University of Santo Tomas. Then called the Villaroman Mansion, most of the interior was redone in the Filipino Art Deco style, an interesting choice (and possibly a post-colonial gesture) considering that the exterior is a remnant of the Spanish era.
ADVERTISEMENT - CONTINUE READING BELOW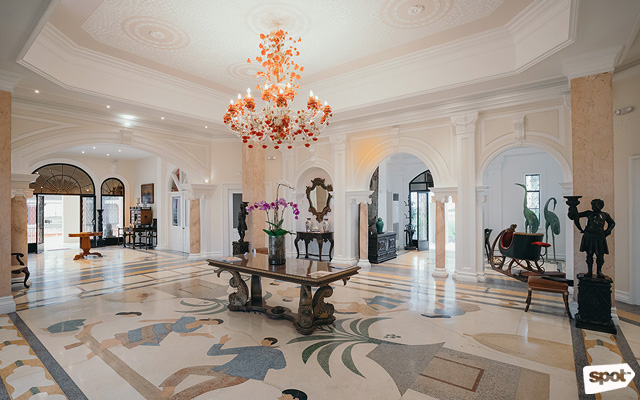 The mansion's terrazzo floors boast familiar countryside images: A man and a woman dancing the tinikling, a nipa hut, palm fronds, flowers in full bloom, and other tropical patterns. Geometric and symmetric patterns bordered with gold and brass can be seen on the floors of the other rooms. Soft hues of yellow, green, orange, and salmon add subtle color to the floors, walls, and columns of the house.
ADVERTISEMENT - CONTINUE READING BELOW
Five floors were later added to the two-storey mansion to accommodate Dr. Franscisco's growing family. Bathrooms were installed on the first floor, breaking what was originally designed to be a very symmetrical foyer. A staircase was added on one side of the anteroom on the second floor, again shifting the proportions of the space. Spacious halls were divided to become smaller quarters for the children. The upper floors, on the other hand, were dedicated to the patriarch's medical practice—yes, there was a clinic and a morgue. An elevator was later added for the convenience of the older Villaromans, including Dr. Francisco, who suffered a stroke.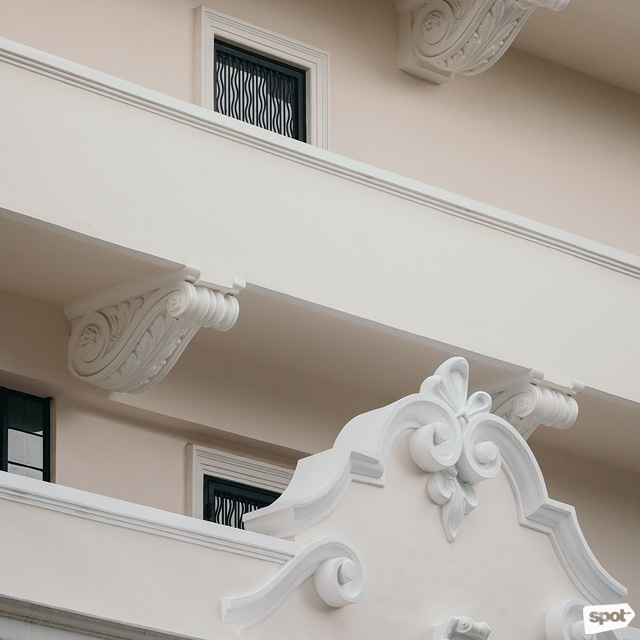 ADVERTISEMENT - CONTINUE READING BELOW
Unfortunately, not much is known about the building's architect. It might be someone as famous as Andrés Luna de San Pedro, a prominent Filipino architect responsible for the Art Deco buildings in Escolta and mansions along then-Dewey Boulevard. Or it might be National Artist Juan F. Nakpil, who was one of the architects of Manila Southern College, built in the 1930s and later acquired by Dr. Franscico to become the Franscisco Villaroman Foundation School. An ABS-CBN article on Palacio de Memoria, on the other hand, pointed out the similarity of the house's Neoclassical and Spanish Colonial Revival architecture to that of William Parsons' signature design (Manila Hotel) as well as Juan Arellano's style (Manila Metropolitan Theater).
"We're actually asking for any information from the public right now," Lhuillier says about the house that her family acquired 15 years ago. While the archiving of the mansion's history is still in the works, the Lhuilliers are busy filling it up with equally memorable furniture pieces that now make up Palacio de Memoria.
ADVERTISEMENT - CONTINUE READING BELOW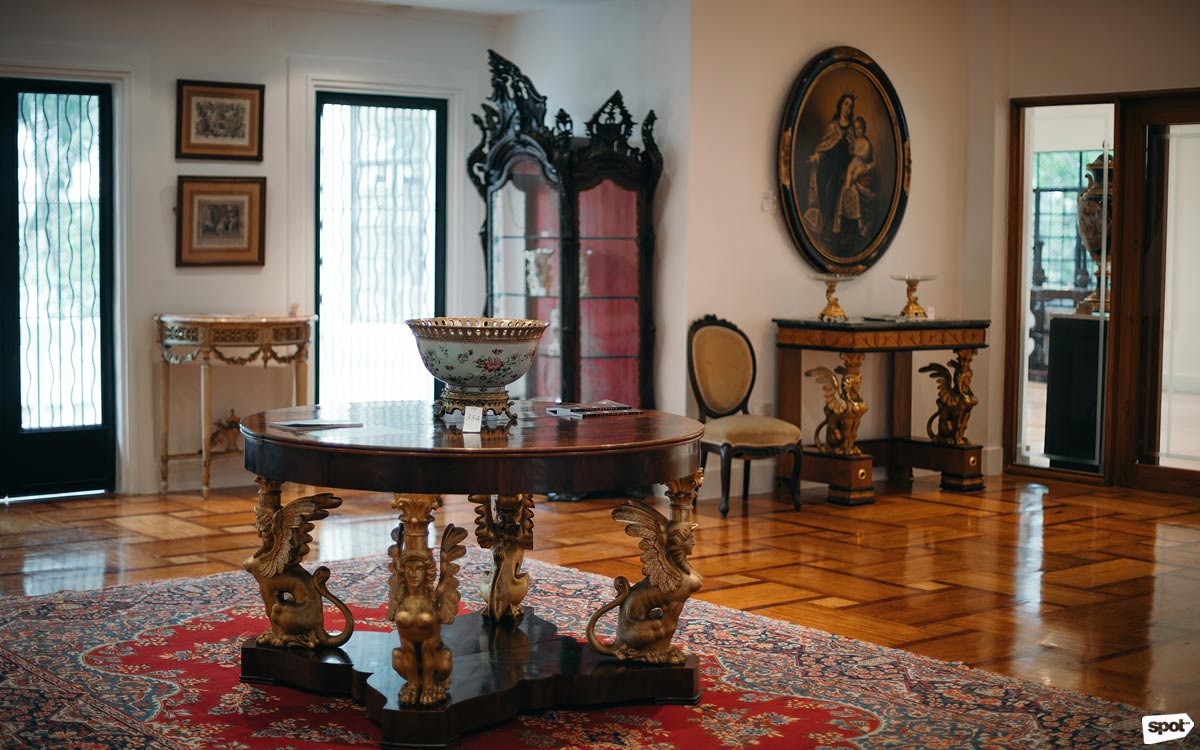 According to Lhuillier, every furniture piece has a story and that's what they want to share to collectors.
PHOTO:

Zhang Xi Shuo
A Palace of Memories
Starting in March 2019, Palacio de Memoria will serve as a new, larger outpost for Casa de Memoria, a Makati-based auction house that "specializes in antiquities and heirlooms that have been fondly owned and passed down from generation to generation." Most of the items that go up for auction are consigned by families that have entrusted their heirlooms to Camille Lhuillier and her sister Angelique Lhuillier- Miranda.
"Our pieces here, these are all for sale. It's a way for people to see our pieces. For Casa, it's been a little bit hard to see how things would look. Here, you can really see how pieces have space to breathe," Lhuillier explains. Palacio's current location was supposed to be Casa's original home when it opened in 2016, but the restoration of the heritage house took three years—much longer than expected.
ADVERTISEMENT - CONTINUE READING BELOW
Inspired by the way mansions in the past actually looked, Palacio de Memoria's rooms follow different themes. "With this place we can also show people how to style your home," the Casa de Memoria co-owner adds.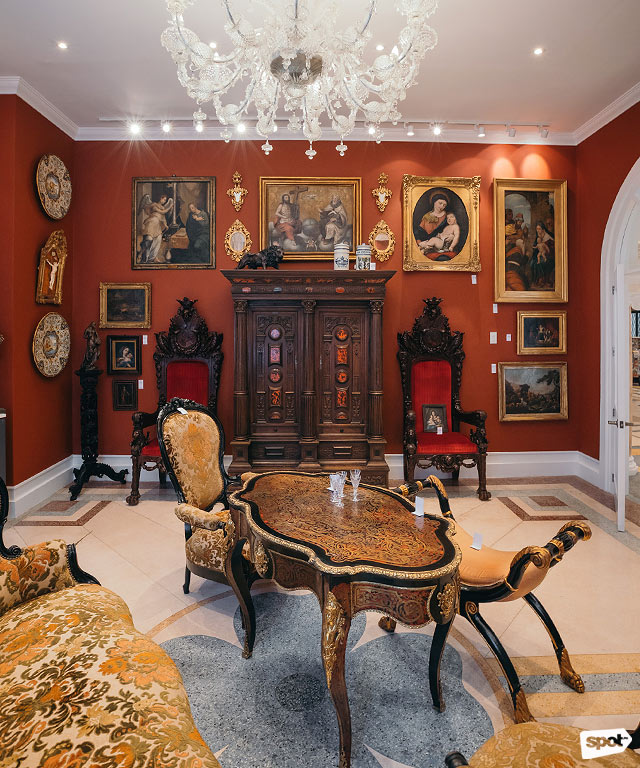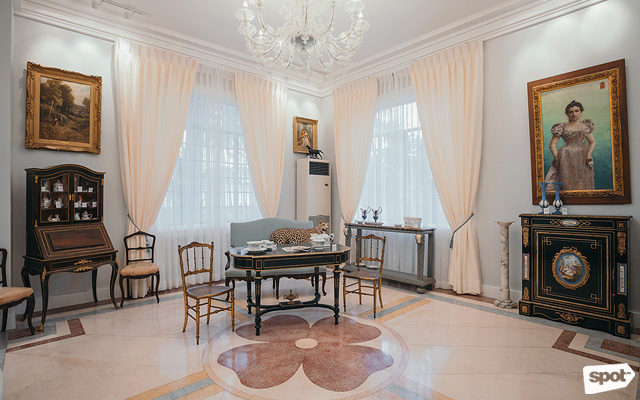 ADVERTISEMENT - CONTINUE READING BELOW
On the ground floor, one room is an "homage to the Venetian and Florentine pieces that are here." Its dark red walls exude a strong character that complements the rare, Old World pieces within. Religious paintings and sculptures serve as décor on top of Neoclassical drawers and rare commodes. It also speaks volumes about Camille's father, Philippe Jones Lhuillier, and his work as Philippine ambassador to countries like Italy, Portugal, and Spain.
At the top of the stairs, an anteroom leads to the old house's formal dining room. The Lhuilliers intend for this area to be Palacio de Memoria's events space, its first event being a 50-person banquet that the family hosted in early December. The second floor also has a den, where a chess table is set up right across a cabinet that one could clearly imagine to be carrying bottles of Scotch.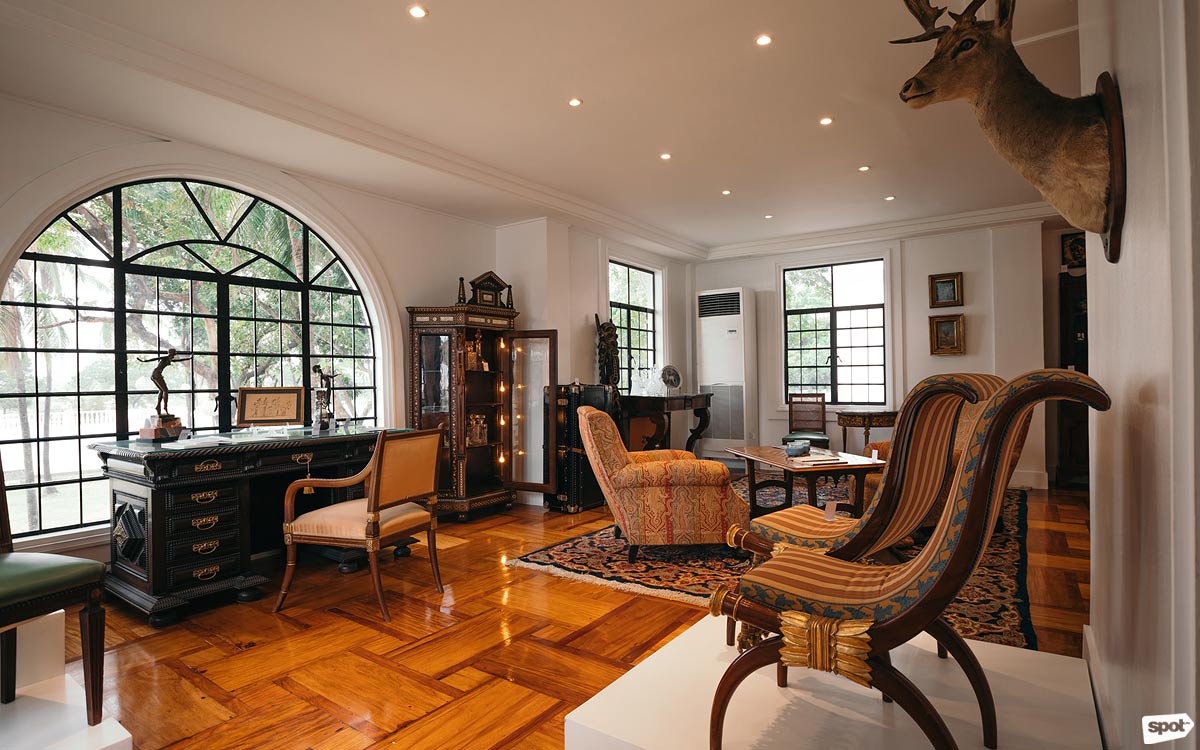 ADVERTISEMENT - CONTINUE READING BELOW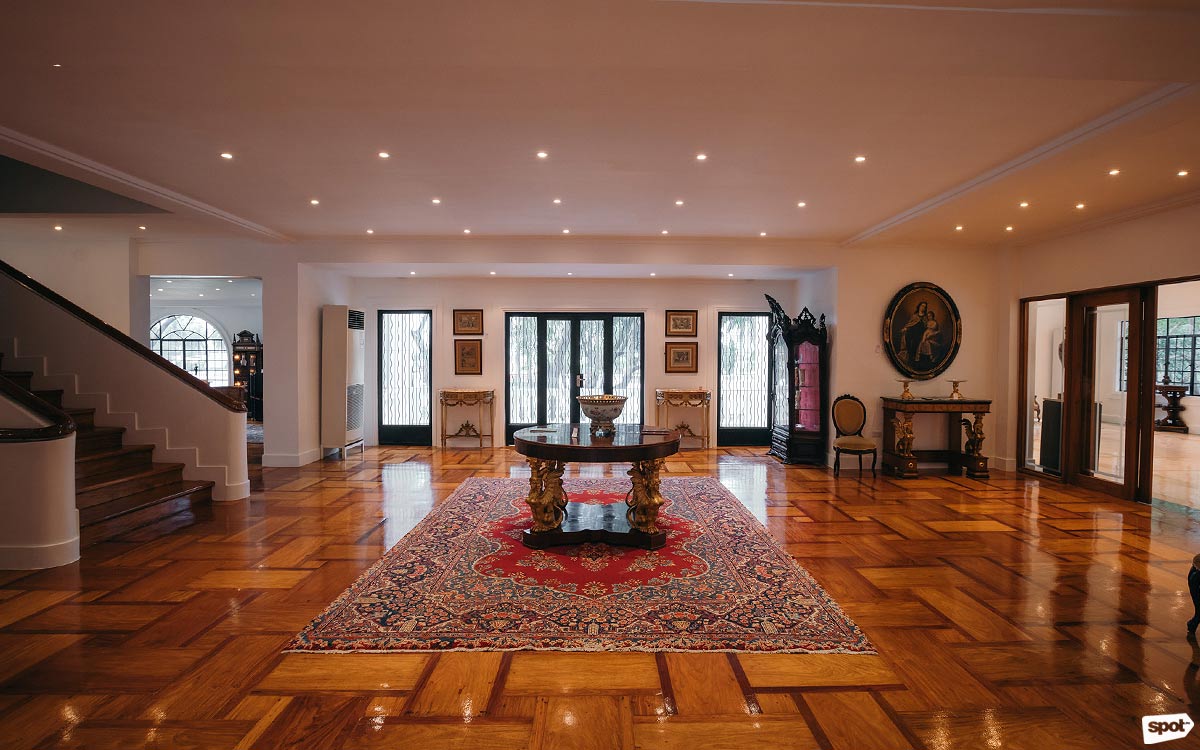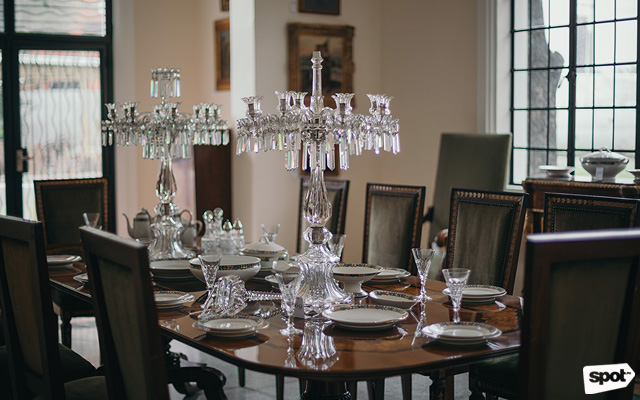 ADVERTISEMENT - CONTINUE READING BELOW
The rest of the seven-storey house is still under construction, but Lhuillier reveals that they're planning to open it in parts. "We want to make it an art destination," she enthuses. An arts gallery, a restaurant, and a bar are all in the works.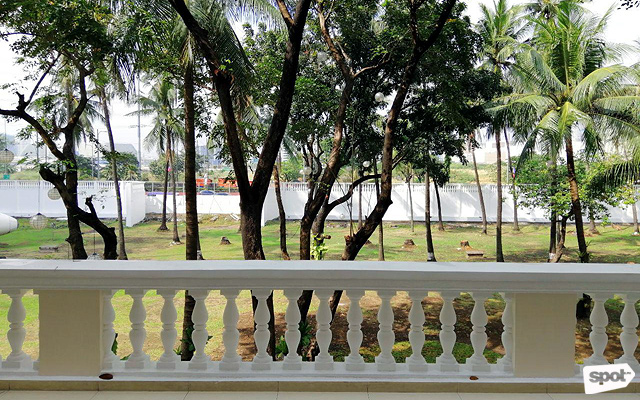 ADVERTISEMENT - CONTINUE READING BELOW
It's hard not to feel transported to another time when exploring Palacio de Memoria, and possibly the best part of the house is a balcony that looks out over the mansion's soon-to-open access gate to Roxas Boulevard. One can only imagine the magnificent view the Villaromans enjoyed from this spot, all those decades ago.
"It's kind of a nice feeling, [as if] you're not in Manila," concludes Lhuillier while looking out. And Palacio de Memoria is just that—a house frozen in time, but one that will soon see new memories.
Palacio de Memoria is at 95 Bayview Drive, Los Tamaraos Village, Barangay Tambo, Parañaque City. It opens to the public in March 2019. For appointments, call Casa de Memoria at 759-9804.