(SPOT.ph) You can't deny that Lang Leav, author of more than a handful of books, has a huge following around the globe. Here in the Philippines, her verses have been posted and reposted on Facebook, Tumblr, Instagram, Twitter, and what-have-you. We are the "Social Media Capital of the World," after all, and you can count on Pinoys to make things go viral, as long as they feel strongly enough about a subject.
Leav came to the country (for the fourth time) in the third week of February to launch her latest collection Love Looks Pretty on You. And as with most other book tours, she accommodated a lineup of journalists—some, creative writers themselves. Features about the author's visit, and new book, started coming out on February 22—from Inquirer.net and Rappler; and of course, there's the now-controversial ANC-X article (released on February 24), titled "Leav and let live (What I learned from meeting Lang Leav)" by Mookie Katigbak-Lacuesta.
ADVERTISEMENT - CONTINUE READING BELOW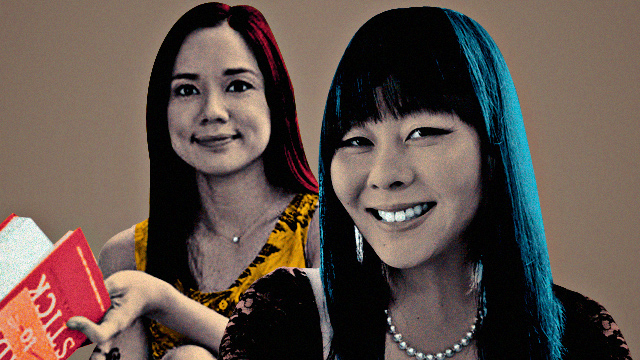 Katigbak-Lacuesta, who released her third poetry collection in 2018, started the piece with a narration of a dream she had "the night before [she met] Lang Leav": "I waltz, Cherie Gil-like to where she's seated. 'You're not a journalist,' she tells me, 'And you're not a poet,' I tell her. And then, in that flush nanosecond before she can call me nothing but a second-rate, trying-hard copycat, I wake up."
ADVERTISEMENT - CONTINUE READING BELOW
Recommended Videos
It goes on to describe Leav as "every poet's best dream and worst nightmare" and "the proto-Instapoet, the proto-Kaur." (Rupi Kaur, a Canadian writer with Indian roots, is "part of a new generation of instapoets"—quoted from The Guardian.) Leav, in Katigbak-Lacuesta's interview, emphasizes Instapoetry "as a movement, born out of a necessity." There is also an admission that she had never read any of Leav's work cover-to-cover prior to the interview. Towards the end of this discussion, the Filipina writer concludes—"we both call ourselves poets," but with a disclaimer that "it is likely [their] paths won't cross again."
A day later, February 25, Leav read the profile about her and tweeted: "Cringeworthy article. For the record, those string of pearls was a gift from my mother back when I was a starving artist. I wear it for luck at all my events. Perhaps focus less on giving backhanded compliments and more on being a professional journalist."
ADVERTISEMENT - CONTINUE READING BELOW
With social media as their arena, readers (and even non-readers) of Leav posted their messages of support for the Thailand-born writer and disdain towards the published article under ANC-X. The interviewee, in addition, posted a thread-long series of tweets to defend the "string of pearls" mentioned by Katigbak-Lacuesta.
ADVERTISEMENT - CONTINUE READING BELOW
Sarge Lacuesta, Filipino fictionist and husband of Katigbak-Lacuesta, came to the defense of his wife. "Critical thinking belongs to everyone—and every writer should be able to take criticism. Who is the entitled one, then?" he tweeted in direct reply to @langleav.
To this, Leav responded: "Dude, I've had six years of criticism good and bad. Don't make it about that. This article was just one long narcissistic rant. Annoyed I gave her my time when I was doing up to 8 hours back to back media per day." Lacuesta quipped: "I'm quite sure you'll survive."
ADVERTISEMENT - CONTINUE READING BELOW
Meanwhile, a good 24 hours after ANC-X published theirs, CNN Philippines released their own interview by Gian Lao—an Ateneo graduate who self-published his first book of poetry in 2017. The headline is a direct quote from Leav: "Literature belongs to everyone." It starts with the basics—titles of Leav's books, the name of her favorite poet (Robert Frost); then steps back a bit to "talk about the beginning," from her family background to leaving Sydney. Leav, in a now-deleted tweet, posted about Lao's story: "Thank you for this well researched article. It's refreshing to see professional journalism that is fair and balanced."
ADVERTISEMENT - CONTINUE READING BELOW
If anything good has come out of this, it's that people are now posting poems by both Katigbak-Lacuesta and Leav on social media—available to be read (or at least be curious about). 
ADVERTISEMENT - CONTINUE READING BELOW
ADVERTISEMENT - CONTINUE READING BELOW
ADVERTISEMENT - CONTINUE READING BELOW
ADVERTISEMENT - CONTINUE READING BELOW
What we're sure you'd love to see next: a Twitter face-off, all done in poems.
UPDATE (February 28): This article originally showed Lang Leav's tweet about Gian Lao's story on CNN Philippines. Her post has since been deleted.
Share this story with your friends!
---
Help us make Spot.ph better!
Take the short survey
Load More Stories