(SPOT.ph) Many major events in human history resulted in the creation of timeless works of art. Art during the Great Depression depicted the plight of the poor, protest art emerged amid totalitarian regimes, and Pablo Picasso's "La Guernica" brought worldwide attention to the ramifications of the Spanish Civil War. The COVID-19 pandemic, which has upturned life as we know it in 2020, is no different. Filipino artists found solace in their canvases, articulating the voice of the silenced and depicting the ongoing conflicts.
Check out these 10 very relevant works of art by Filipino artists:
"Hunger unleashes the madman in us. It's better to eat than be eaten." by Kiko Capile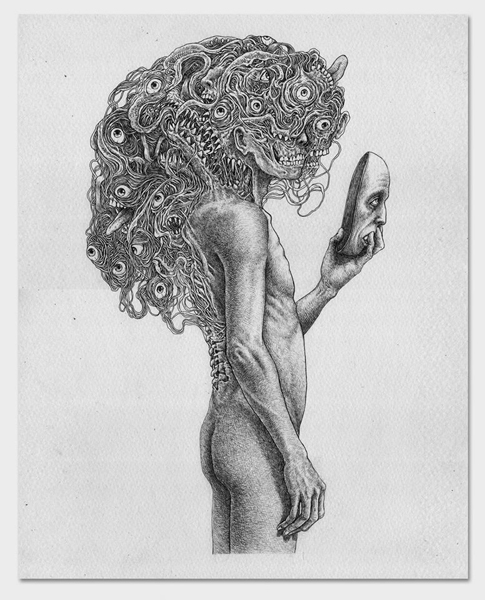 "Before COVID-19, I actually try not to work on themes that are currently happening in our country or in the world," Kiko Capile tells SPOT.ph. But the ongoing pandemic is a lot different; and through pen and ink, he shows what hunger brought about by quarantine is doing to our people. "Art is what's [keeping] us sane in this time of crisis. I'm not talking only of the visual arts like paintings, but art in general like literature, film, [and] music," he adds.
ADVERTISEMENT - CONTINUE READING BELOW
"Hope and Despair" and "Faith and Hope" by Alex Bugsy Sibug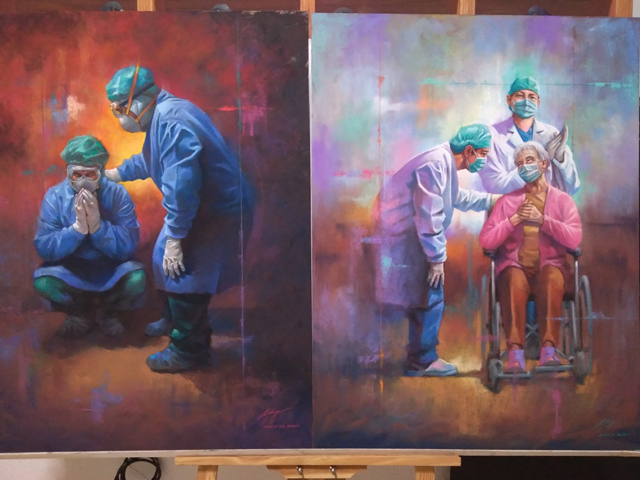 In a pair of canvases, Alex Bugsy Sibug hopes to call our attention to medical frontliners who are dealing with "lack of equipment, mismanagement, frustrations to the public, and longing for their loved ones"—all while responding to their call of duty. "I try to inspire others through my art. I paint a story that touches the heart—nostalgic and a sense of longing. I envision emotions through lines, colors and visual perceptions. If I can show that, perhaps faith and hope is restored in all of us in this pandemic," he tells us.
"Frontliner" by Adrian Trijo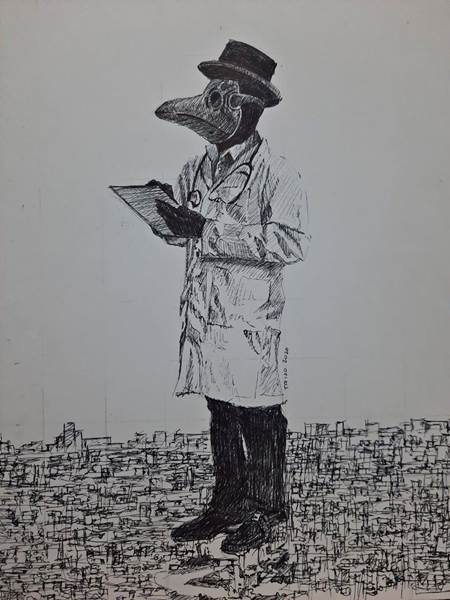 In "Frontliner," Adrian Trijo wants to praise doctors who are risking their lives. His illustration shows a medical professional wearing a mask with a bird-like beak, which is reminiscent of what plague doctors wore from the 17th to the 18th century.
"Flatten the Curve" by Chad Montero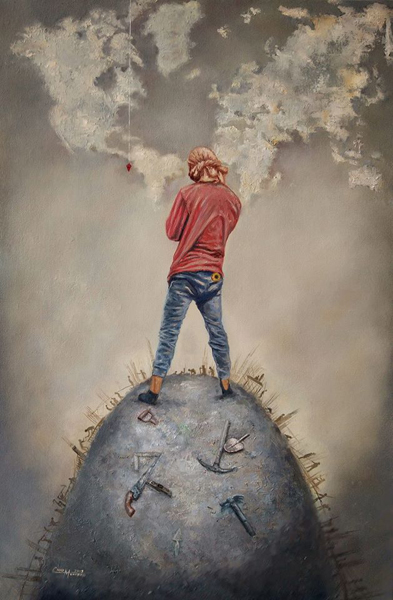 Chad Montero's painting, originally titled "Bantayog," was first exhibited in 2019 at Eskinita Gallery. The new name, "Flatten the Curve," according to the artist, is a metaphor and word play. "'Yong image sa painting ay isang construction worker. Usually sila 'yong gumagawa ng mga gusali at nagpapatag ng daanan. Pero sa kinakaharap nating panahong ngayon, ibang klaseng pagpapatag ang kailangan nilang gawin." As an artist who grew up in poverty, Montero sees that direness of the situation that construction workers and daily wage earners are facing. "Flatten the curve in a way na malaking porsyento ng populasyon natin ay mahihirap o mga ordinaryong mamamayan at nasa kanilang kalagayan nakasalalay ang pagpatag ng kurba," he adds.
ADVERTISEMENT - CONTINUE READING BELOW
"Frontliner Spirit" by Alex Ordoyo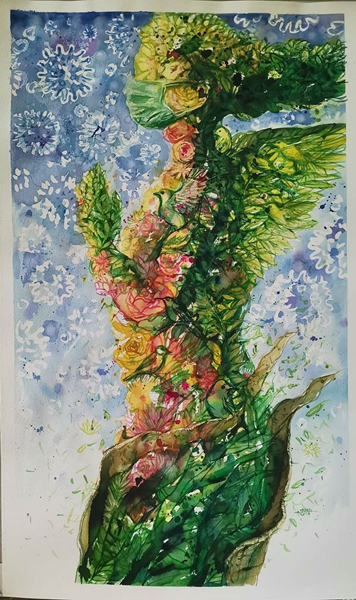 "Frontliner Spirit" is part of Eskinita Art Gallery's online exhibition for a cause called Lockdown Memoirs. Alex Ordoyo offers his work as a tribute to all frontliners, conveying a message of hope and healing.
"Sa Umagang Paggising" by Alan Navarra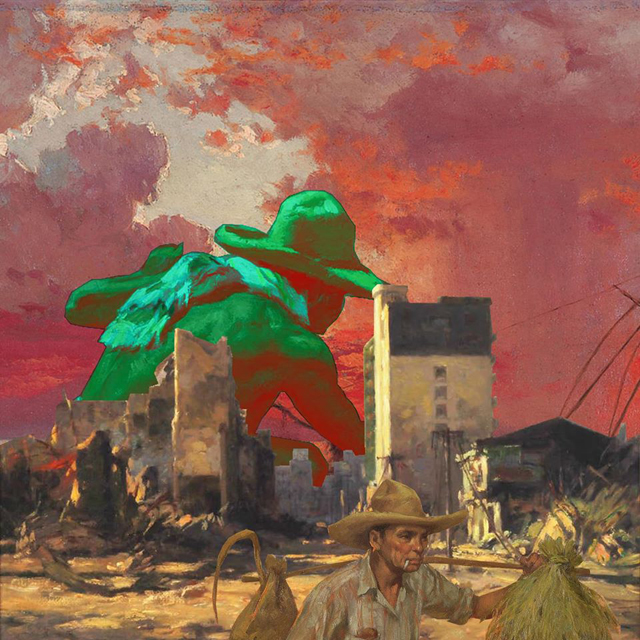 Alan Navarra has produced a lot of works ever since the quarantine started. "I would work during the day and use the collage as a way to make sense of the news on my social media feed," he reveals. "Sa Umagang Paggising" is part of the series called Ang COVID ay Di Biro, which was created during the first day of the community quarantine in Metro Manila. He used paintings by Fernando Amorsolo and put together collages that reflected the plight of laborers massively affected by the lockdown.
"2020" by Thomas Daquioag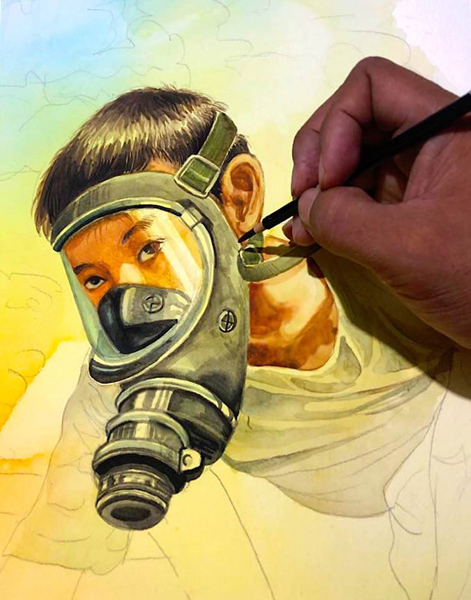 Thomas Daquioag's watercolor painting couldn't be more apt. His work-in-progress shows a young man wearing a mask, which has become an essential as we try to fight the spread of COVID-19. But looking at it on a larger scale, the year is revealing a lot of truths behind the metaphorical mask that we wear every day.
"The Mask, The Crown, Where Are the Party Clowns" by Frenk Sison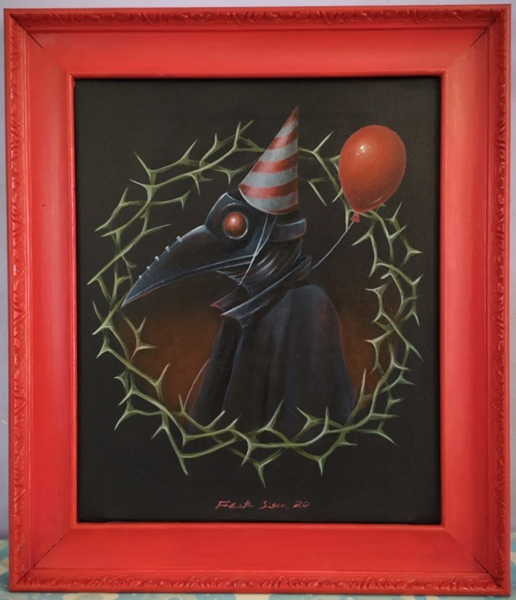 ADVERTISEMENT - CONTINUE READING BELOW
Frenk Sison's "The Mask, The Crown, Where Are the Party Clowns" is inspired by his current observations about humanity. "Humanity is depicted as the superior in the link, but as to what is happening in our society we are downed in numbers rapidly and showed that we can also be the prey unknowingly," the artist says. The clowns, according to him, pertains to the government that should be the ones leading us, but are instead disappearing.
"Lumot" by John Claudee Sicam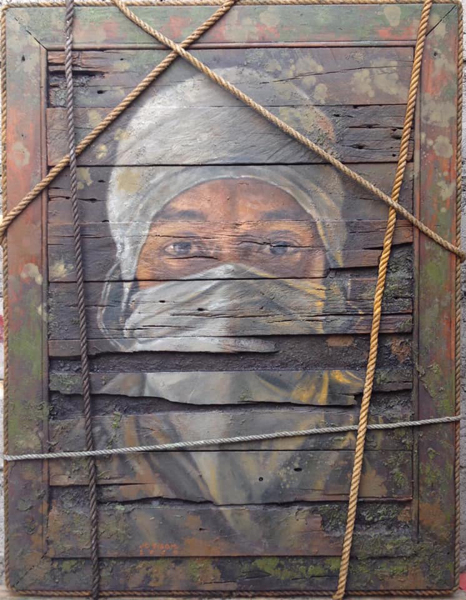 John Claudee Sicam from Isabela paints an image of a farmer on a piece of weathered wood and surrounded it with strings. It describes the current situation where workers are trapped behind closed doors and bound by the government-implemented quarantine, unable to make a living to provide food for their family.
"Repleksyon" by Wilfredo Offemaria Jr.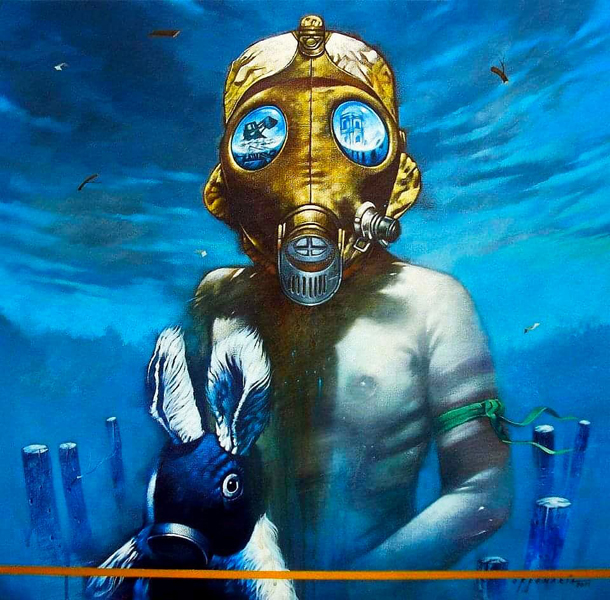 Wilfredo Offemaria Jr.'s work is a representation of humanity in its simplest form—"hubad at wala ni anumang materyal na bagay sa kanyang katawan," according to the artist. The only thing that he has is a stuffed toy, symbolizing the item most important to him. He is abandoned in a world with unbreathable air and a dystopic future brought about by human actions. "Kung ano ang ginagawa natin sa kalikasan iyon ay babalik sa atin; at pag dumating 'yon, ang lahat ng makamundong bagay ay wala nang halaga," Offemaria concludes.
All photos used with permission for SPOT.ph.
Share this story with your friends!
---
Help us make Spot.ph better!
Take the short survey
More Videos You Can Watch
Load More Stories