STORY: Jason (Zac Efron), Daniel (Miles Teller), and Mikey (Michael B. Jordan) are 20-something besties living in New York. When Mikey's wife leaves him, Jason and Daniel welcome him back to the world of commitment-free singlehood, and make a pledge that all three of them will enjoy women solely for casual, uncomplicated quickies. Soon after they make this vow, the three dudes each find themselves meeting women who are seemingly worth having long-term relationships with.
PLUSES
Zac Efron shows everything including his penis (sort of). Zac Efron isn't merely the star of That Awkward Moment, he's also one of its executive producers. And so, when he pays himself to do an R-rated bromance (the movie is rated R-13 by our MTRCB) that has shots of him giving it to a girl doggie style, planking over a toilet bowl in his birthday suit and walking around a party with a long fake penis hanging out of his zipper, you know that his objective was to help the movie's box-office potential. If you've dreamt of seeing the High School Musical hunk shed his clothes and his teen idol status to enter the world of adult movie stars, this movie's for you!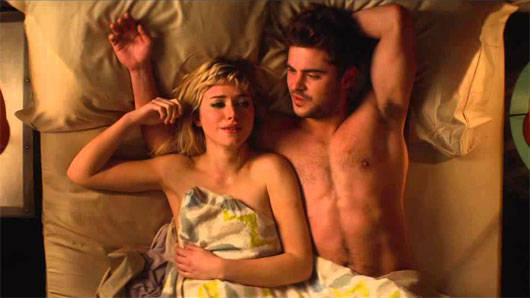 ADVERTISEMENT - CONTINUE READING BELOW
Imogen Poots as Ellie. With Efron, Miles Teller, and Michael B. Jordan each trying to be the most commitment-phobic dude in the movie, of course it's a woman who'll stand out. Of the five women who play meaty roles in the movie, my favorite is British actress Imogen Poots, the young lady who makes Efron think twice about staying single. With a look and demeanor that recalls Michelle Williams, Poots is the only member of the cast who moved me with her truthful delivery of an observation about relationships.
MINUSES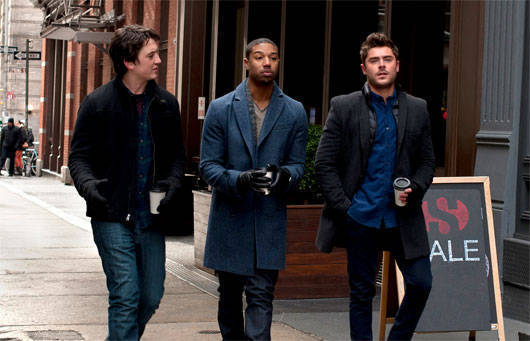 All that walking while talking. That Awkward Moment is the feature film directorial debut of a guy named Tom Gormican, who shows his inexperience in the job through the unimaginative blocking of many of the dialogue scenes. He films an excessive number of the troika in virtually the same way-by having them walk down New York streets with the camera in front of them, shooting them in medium shot.
CONTINUE READING BELOW
Recommended Videos
It's a romcom set in New York...again. So many romantic comedies have been filmed in Manhattan that it's become quite a challenge to present something about the city that moviegoers are unfamiliar with. That Awkward Moment tries to do for Gramercy Park what Sleepless in Seattle did for the rooftop of the Empire State Building, but fails. This is partly due to the inability of the director and his cinematographer to enhance the location for the big screen or make it glow with whatever magical charm it holds for New Yorkers.
The movie's identity crisis. Much of the bromantic situations and foul-mouthed dialogue in That Awkward Moment were surely inspired by The Hangover, the success of which was due largely to male moviegoers. Hence, the repetitive chatter about Viagra, shitting, penises, and the frequent use of the "f" word by Jason, Daniel, and Mikey.  But if That Awkward Moment was targeting the male demographic, why do the three show their naked bodies a lot, when none of the females they hook up with don't even get to show a breast? If this is a guy movie, why is there a scene where Jason and Daniel go dildo shopping in a sex shop? Surrounded by penises of various shapes, sizes, and colors, Jason/Zac even asks Daniel/Miles something along the lines of, "If you were gay, would you do me?" In a later scene, the father of the girl Jason is "sort of" dating even looks at Jason as though he were attracted to his daughter's man! A beat or so later, daddy even says, referring to Zac Efron's character, "I like this guy." Guy movie, gay movie...who knows?
ADVERTISEMENT - CONTINUE READING BELOW
That Awkward Ending. This movie has one of the cheesiest, most cringe-worthy climaxes I've seen in a romantic comedy. And just when you think the ending couldn't get any worse, the filmmakers immediately start showing bloopers when the end credits begin to crawl. They don't even give us time to absorb the lessons the movie dispensed about male-female relations before they hit us on the heads with, "It's only a movie, folks, and look how much fun we had making it!"
IN BRIEF: That Awkward Moment is proof that the frat boy humor of The Hangover movies and the sweet sentiment of your typical romantic comedy can't co-exist in the same movie.
Rating: •• 2 spots out of 5
Share this story with your friends!
---
Help us make Spot.ph better!
Take the short survey
Load More Stories