Taste Test: French Macarons
We taste test Manila's French Macarons to find which one has that certain 'je ne sais quoi'.
Sweet tooths are loving the dainty, pastel-colored, cream-filled sandwich cookies called 'macarons'. Originating in France and gaining popularity in the 1900s when Parisian pastry shop, Laduree, turned the humble cookie into a Parisian craze, these rainbow-colored treats even appeared in cameo roles in the 2006 period film Marie Antoinette, atop elegant dessert trays in the movie. Sinfully sweet in pretty colors, macarons attract one's sensibilities like no other.
We scoured the city's pastry kitchens to see which macarons tickle our tastebuds like crazy. While it may seem impossible to mess up something that looks so delightfully good, we learned that really good macarons have visible layers: a thin, smooth upper crust which should not shatter into the soft, moist and chewy inner cookie with the ganache or buttercream filling that extends to the edge of the cookie. With these qualities in mind and our sugar cravings going into overdrive, we sampled the Rose and Chocolate-flavored macarons in Manila to see which ones are fit to please our sugar fix.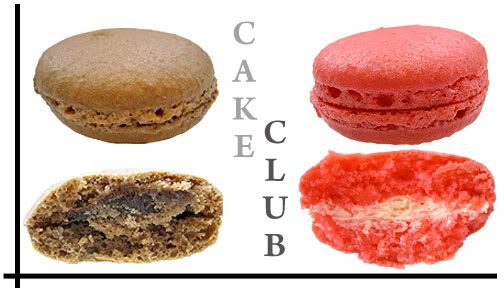 ADVERTISEMENT - CONTINUE READING BELOW
Cake Club's Macarons
Sweetness and Flavor: Cake Club's chocolate macaron, with its light mocha color, was sweet and tasteful, but in a hot-chocolate-like Milo flavor kind of way. The rose macaron, on the other hand had a soft sweet flavor which was equal parts rose, strawberry and fruit.
Layers: The texture and the cookie surface was smooth but sadly, once you bite or slice your way into the macaron, the ganache filling for both chocolate and rose was a wee bit too thin. It was a good thing that the filling had the right smoothness to it and was not sticky, or else we would have been a bit disappointed with the sugar rush experience. The cookie crust was thin, as it should be, and gave way to a moist, soft cookie underneath.
CONTINUE READING BELOW
Recommended Videos
Packaging: The Cake Club macarons are nestled in a sturdy black and rust gold box, a standard Diamond Hotel box, packaging which comes in handy (not to mention presentable) when you're looking for a quick gift.
Cost: P200 for half a dozen. The Cake Club only has six flavors to choose from.
Cake Club is located at located at the Archaeology Wing, Second Floor Power Plant Mall, Rockwell Center, Makati City with telephone numbers 305-3000 and at the Diamond Hotel, Roxas Boulevard corner J. Quintos Street, Manila with telephone numbers 528-3000.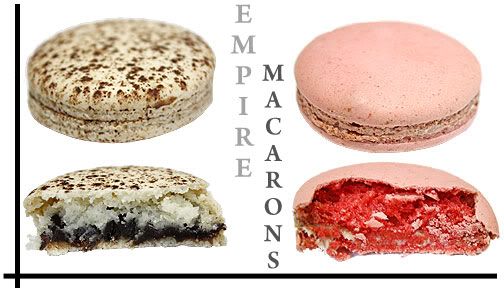 ADVERTISEMENT - CONTINUE READING BELOW
Sweetness and Flavor: Both rose and chocolate flavors were sweet. The chocolate macaron, which had chocolate flecks on the smooth upper crust had a chocolatey, cocoa-powder taste to it. If this is how you like your chocolate macarons, Empire's will be a treat. The Rose ganache macaron had more of a candy flavor than the distinct Rose flavor we were expecting.
Layers: Empire Macarons had no visible layers, considered a big no-no in the bid for macaron supremacy. The top crust also cracked easily and shattered into the inner cookie, showing space with just air in between the top crust and the soft, chewy cookie. However, the filling was creamy, so even if the ganache filling played peek-a-boo, hints of creamy flavor joined the moist cookie inside.
Packaging: When you buy a dozen, the macarons will come in a yellow box with red and black stripes. Come November, Empire Macarons will have a see-through Christmas box, perfect for spreading some macaron love during the holidays.
Cost: P 30 / piece for regular flavors or P 350/ dozen (Classique Buttercream, Chocolate, Chocolate-Blanc, Cookies and Cream, Pistachio, White Choco, Moka, Chocolate-Peanut Butter, Strawberry, Cherry, Lemon, Blueberry and Coconut). P32 for the Rose Ganache flavor. Premium Flavors such as Caramel Pecan, Irish Crème and Triple Chocolate also available.
Empire Macarons get the prize for most number of macaron flavors. P10 discount when you purchase by the dozen.
Empire Macarons may be ordered through georgia@grochacatering.com or through mobile number 0917-8861190. Empire Macarons will be at the Baker's Dozen this November at the Power Plant Mall.
ADVERTISEMENT - CONTINUE READING BELOW
Sweetness and Flavor: Bizu's chocolate macaron, which had the darkest chocolate color among all three, had a similar cocoa-chocolate flavor to it like that of Empire's. The rose, however, was an explosion of a rich rose flavor, which hinted of light crème and sweet rose petals. This one tops the Rose macarons list.
Layers: Bizu macarons got it right in the layers department, with soft, chewy cookies sandwiching a hefty spread of the ganache filling for the Rose macaron. However, we spied an empty space filled with air just beneath the smooth cookie crust when we bit into it; this was not true for the Chocolate macaron, which had a packed, soft cookie enveloping the creamy filling inside.
Packaging: Macarons from Bizu come in see-through packages with the dainty Bizu logo. Should you want to order them as party favors or give-aways, Bizu can suggest elegant packaging just the way you like it. Bulk orders may get special discounts.
ADVERTISEMENT - CONTINUE READING BELOW
Cost: P 35/ piece. They also have pre-set boxes: Box of 8 at P265/ Box of 14 at P455 and Box of 28 at P895.
Bizu Patisserie is located at the Greenhills Promenade, Greenbelt 2, Glorietta 4 and Alabang Town Center. Please click here for a complete list of Bizu branches.
Images by Karl Bustamante.
Share this story with your friends!
---
Help us make Spot.ph better!
Take the short survey
Load More Stories