Taste Test: Apple Pie
We took a slice of half a dozen apple pies to find out which of our local bakers handled their crumbs and crusts with the deftest of touch.
The apple pie is the most familiar of the fruit pies. Serve them a la mode. Cover them with a crumb topping (streusel) or an intricate lattice-work. The hallmark of a good apple pie is a tender and flaky crust, from a pastry dough that's been carefully created. Of course, the core of an apple pie should be the fruit. Not to sound tart or anything, but if the filling doesn't taste like apple, it ain't an apple pie. We took a slice of half a dozen apple pies to find out which of our local bakers handled their crumbs and crusts with the deftest of touch.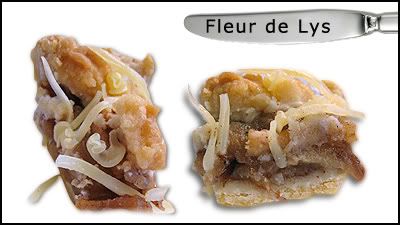 Pie 1: Fleur de Lys Apple Pie
Topping: This pie is tiny when sliced, which makes it the saddest looking of the bunch. The streusel is moist and topped with a handful of spaghetti-thick strands of cheese, perhaps to try and make up for its size.
Filling: The sliced apples are layered with a hint of orange zest tucked in between. Sugar overpowers the filling though and the requisite flavor of cinnamon is unnoticeable despite the flecks of the spice suspended into the filling.
Crust: The crust is just there to hold the apple filling together and leaves nothing much to crow about. This pie is the first one I tried out of the half dozen other slices and no matter how much I tried to like it, it crumbled before my eyes.
Fleur de Lys is located at G/F, FLP Building, Tomas Morato Ext., South Triangle, Quezon City. For orders and inquiries, please call 372-0631.
ADVERTISEMENT - CONTINUE READING BELOW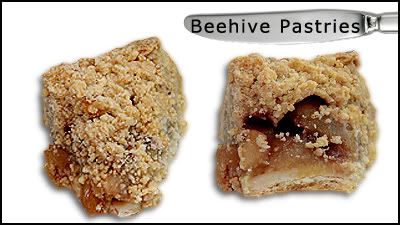 Pie 2: Beehive Pastries' Apple Crumble
Topping: Its topping will convince you that this pie is ripe for the picking. A generous layer of streusel strewn on top makes it look hefty. Chopped walnuts were few and not evenly distributed and they barely added crunch nor texture to the topping.
Filling: Apples were sliced thin but a little overcooked.
Crust: For all the promise of its topping, the crust is bland and falls short.
For orders and inquiries, please call (0922) 822-2399 or visit their Multiply site at http://thebeehivepastries.multiply.com.
Pie 3: Banapple's Apple Caramel Crumble Pie
Topping: A thin layer of golden brown streusel covers this fancy apple pie. Dark caramel underneath lends a mysterious character, though at some point it slightly muddles the flavor of what ought to have been a sunshine of a fruit.
Filling: Reddish-brown filling echoes the cinnamon and caramel tones of the pie. Its sweet filling does not clash with the thick dark caramel which could have been a disaster had both tried to assert their sugar level. If you like caramel, this is your pie.
Crust: I'm not a fan of its crust which disintegrates as if it were burnt polvoron.
Banapple is located at 225 Katipunan Ave. Blue Ridge, Quezon City. For orders and inquiries, please call 439-2675.
Pie 4: Ella's Apple Pie
Topping: Decent mounds of streusel top this pie, with just the right balance of sweetness found in the filling.

Apple Filling: The apple slices reach up to only about an inch and a half, making it thinner than usual. The texture borders on soft and mushy.
ADVERTISEMENT - CONTINUE READING BELOW
Crust: Ella gives the crust some respect as hers is one of only two in this list that actually has a classic flaky crust that crackles. Despite its thin proportion, the crust is dense with the aroma and flavor of butter.
Ella's Bakeshop is located at 2428 Tolentino St, Pasay City. For orders and inquiries, please call 843-5494.
Pie 5: Sugarhouse Apple Pie
Topping: Perhaps playing on the perfect pairing of apple and cheese, a full blanket of grated cheese adorns this pie. Underneath is a light sprinkling of the crumb topping.
Filling: Cut into chunks, the apples pack more flavor. This pie earns points for its bright, distinctive apple flavor, proof that the fruit is doing its work well. Spice is not its strong point though as I could barely get a whiff of cinnamon.
Crust: The majority of the pies, like Sugarhouse, used cookie crumb crust. This type of crust can hold fluffy chiffon or cream fillings more than the apple slices, making it crumble easily under all the chunky weight of the apples.
For orders and inquiries, please click here to browse through Sugarhouse locations near you.
Pie 6: Angel's Kitchen Apple Pie
Topping: At last, a local apple pie that resembles the classic American version: double crusted and golden brown. Shiny granules of dark brown sugar add that final spark.
Filling: Evenly sliced, firm and al dente, the apples are tossed into the pie crust with a shower of whole pecans and sultanas. They steam inside the crusts with juices just thick enough to coat each piece lightly and make them tender. I love the textures of this pie–the fruits and nuts are not lumped together but remain in their distinguishable form. More tart than sweet, the apples are coated lightly with cinnamon and retain its golden color. The pie as a whole is properly sweetened that the fruit evens up the scale with a sweet tart. Butterscotch sauce served on the side gives the pie some more complementary and comforting flavors.
ADVERTISEMENT - CONTINUE READING BELOW
Crust: Only a crust that could stand on its own comprises this pie. It's buttery and tender. It keeps and holds well even after spending a couple of hours in the fridge. I could lift the whole slice and transfer it to another plate without falling apart. The whole thing is so thick you'd need a sharp knife to enjoy every morsel, every layer. If grandma could make an apple pie, this would be it. And not a crumb would be left on my plate.
Angel's Kitchen is located at 57 Connecticut Street, North East Greenhills, San Juan City. For orders and inquiries, please call 721-8822.
Images by Karl Bustamante.
Load More Stories