Taste Test: Food for the Gods
Spot sampled five variations of food for the gods to find out if it lived up to its name.
It's a heavy name to bear: food for the gods. You'd expect something precious to happen when the morsels hit the mouth. A favorite holiday gift along with other baked goodies, its key ingredients are dates, nuts, molasses, sugar and butter. Traditionally a thick dark brown and moist bar, food for the gods are also known as ' date bars.' Its look and flavor follow the bloodline of butterscotch bars and blondies, the fairer cousin of brownies.
In the Philippines, it is hidden, like a treasure, in a piece of foil and then wrapped in colored cellophane. These date bars give off the intense aroma of scorched butter and brown sugar, the best thing about eating a piece. We tried them at room temperature, heated in an oven toaster and straight out of the freezer to see if the flavor varied. Warmed, the food for the gods exuded a more enticing aroma of butter-brown sugar. It even made the edges crisp a little, making it chewy. The cold tends to mute the sweetness and aroma but enhanced the flavor a bit.
I didn't hear angels sing with our random selection but one stood out from among them because it sang the brightest note. I am sure not to be struck by lightning when I offer them as gifts to the 'gods' this Christmas.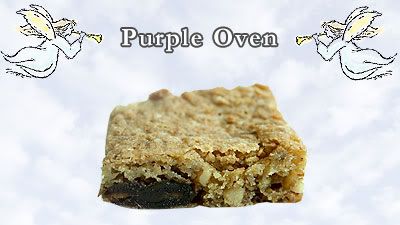 ADVERTISEMENT - CONTINUE READING BELOW
This bar defies the traditional dark persona that characterizes a food for the gods. It looks more like a blondie, with an almost dry top. Everything about it is mild–from the color to the butter-sugar-molasses-date flavor. It's also more about the nuts than the fruit, perhaps making it drier than usual. The bar is not individually wrapped with cellophane/foil. Instead, the whole thing is cut into squares and laid on a beautiful gift carton then neatly covered with a thin wrapper. The gods will love the arrangement but will probably skip the contents. (P210, 16 pieces. P13 each).
CONTINUE READING BELOW
Recommended Videos
For orders and inquiries, please call 631-4221.
Hefty for its size, this baby reminds me of fruitcake with a smooth texture. The pureed dates kept it moist throughout. Its aroma is redolent with butter and sugar but disappoints in flavor. Consistency is important if the promising aroma has already drawn you in. It should taste as good as it smells. Eaten straight from the freezer, it redeems itself a little. Warmed in the toaster oven, its fine, cake-like texture is emphasized. Each piece is wrapped in festive red cellophane. (P270 for basket of 10. P25 each.)
ADVERTISEMENT - CONTINUE READING BELOW
For orders and inquiries, please call Sucre Patisserie and Cafe at 415-0943.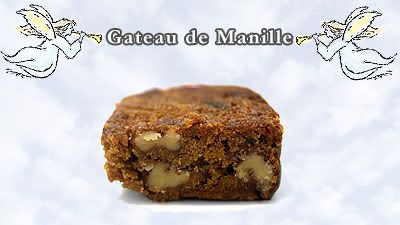 Dark brown and handsome, this food for the gods strikes me as shy. The expected aroma is spot on but the taste of that aroma comes rather belatedly. At least the dates are easily distinguishable, giving off that buttery sweetness when warmed in the oven. Still, I love the crunch that the coarsely chopped walnuts provide. The edges are smooth and rounded. Each bar is individually wrapped in foil and green cellophane. (P22 each.)
Gateau de Manille is located at 117 Katipunan Road, St. Ignatius Village, White Plains, Quezon City and can be contacted at 911-6547.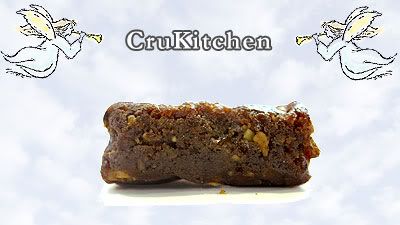 ADVERTISEMENT - CONTINUE READING BELOW
Crukitchen's version also deviates from the bar norm–it is shaped as a two-inch log. The nut pieces are finely chopped and the dates pureed. At room temperature, the surface looks a bit slimy and moist. A bit of grease seeps out of its gold printed wrapper. It's quite messy to eat but I don't really mind. When warmed in the oven, it gains a chewy, smooth texture without the oily residue. Of all the date bars, this one is the sweetest. Not in the cutesy "Ang sweet naman!" sense, of course, but in terms of the sugar. Still, those with a sweet tooth can finish it off in one, two bites. Or less. (P250 for 15 pieces.)
For orders and inquiries, please call Cru Kitchen at 828-4474.
Another heavy weight bar, this food for the gods focused more on heft of flavor and ingredients. You can tell Delize used quality dates. The interior is soft and moist but firm. I loved the chewy edges when heated. Frozen, it yields easily to the chewing and causes it to melt rapidly into a whisper. My only caveat is it's more golden than dark brown. It will probably not be fair to the other darker bars but I would have to say I prefer this fairer version. It doesn't hide inside foil but is presented in a paper liner with serrated edges. This ought to please our godly cravings. (P480 for 24 pieces, minimum order.)
ADVERTISEMENT - CONTINUE READING BELOW
For orders and inquiries, please call Delize at 721-7022.
Images by Karl Bustamante.
Share this story with your friends!
---
Help us make Spot.ph better!
Take the short survey
Load More Stories