Taste Test: Dark Chocolate
SPOT pitted five of the best dark chocolates available in the metro against each other to discover the best of the best in terms of texture, taste and presentation.
Scientific reports have heralded dark chocolate not only as a rich, romantic treat, but as a healthy, pleasurable snack when taken in moderate amounts. The reports claimed that the high cacao content contained within dark chocolate is associated with cancer-fighting anti-oxidants, which lower blood pressure and keep the heart happy (literally and figuratively) when taken in moderate amounts. Compared to its more wholesome milk chocolate sibling, dark chocolate is musky, sexy, and sophisticated, the chocolate of choice for true chocolate lovers, and the preferable choice for baking, cooking, and drinking because of its rich, hearty undertones.
SPOT pitted five of the best dark chocolates available in the metro against each other to discover the best of the best in terms of texture, taste, and presentation. Among the choices were dark chocolates from Belgian chocolatiers Leonidas and Theobroma, the austere, melt-in-your mouth Japanese Sachi chocolates from Heavenly Chocolates, the bittersweet homemade creations from Chocolate Confections, and Manila-based Belgian chocolaterie, Chocolates by Benoit.
THEOBROMA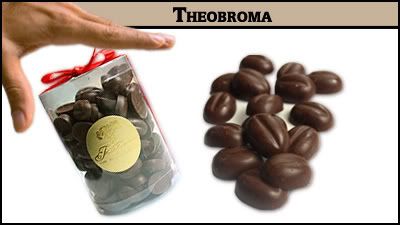 ADVERTISEMENT - CONTINUE READING BELOW
The small, cacao bean-shaped treasures packed little oomph despite their hefty name - Theobroma. Reminiscent of slightly larger chocolate chips, they'd be great as just that - chocolate chips ensconced with cookie dough or melted with nearly scalding milk to create an irresistible dark hot chocolate. Bitter and mildly sweet, I recommend tasting a handful of these petite nuggets in order to get its true hefty, dark chocolatey taste.
Presentation: Bean sized, and easy to eat out of a clear plastic cylindrical container.
Taste: Bitter and mildly sweet, with a subtle aftertaste.
Texture: Smooth, chewy and light, these are nibblers in the truest sense of the word.
CONTINUE READING BELOW
Recommended Videos
Theobroma Belgian chocolates are available at #17 Aguirre St., BF Homes, Paranaque, FS2A Treasure Trove, Festival Supermall, Filinvest, Alabang, and South Supermarket Alabang Westgate, Filinvest Corp. City, Filinvest, Alabang. For orders and inquiries, call 632-8426265, +63922-8301203, +63922-3758749 or e-mail sales@theobroma.com.ph.
CHOCOLATE CONFECTIONS
Floral in shape and dainty in size, these dark chocolates were the shiniest, gooey-est of the lot, and melted most easily at room temperature. They noticeably had a "homemade" look about them, and had the most bitter taste. Only mildly sweet, they left a bitter aftertaste which remained even after downing a mouthful of water.
ADVERTISEMENT - CONTINUE READING BELOW
Presentation: They come in a long blue box, nestled in between brown paper lining, a perfect accompaniment to a bouquet of flowers.
Taste: Light, bitter and not too sweet.
Texture: Gooey and slightly grainy, small morsels stuck to my mouth even after swallowing.
For orders and inquiries, contact Chocolate Confections by Maribeth Santiago on chococonfections.multiply.com or call +63917-8519828 or +632 8509828.
LEONIDAS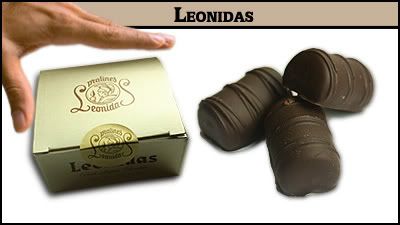 On their packaging, these pralines claim to be made out of 100% pure cocoa butter, and they lived up to it. The sweetest of the lot, I detected a hint of milk chocolate infused with dark, and they also felt the smoothest in the mouth. Definitely the most refined chocolates of the bunch.
Presentation: Four dark chocolates wrapped in a cardboard gold box. Regal and classy, they're fitting as a gift to impress, or even for the King of Sparta, their namesake.
Taste: Sweet, and almost too sweet to be made out of pure dark chocolate.
ADVERTISEMENT - CONTINUE READING BELOW
Texture: Smooth and clean, they immediately melted in my mouth - heavenly.
Leonidas chocolates are available for purchase at any of their kiosks at the ground level of Glorietta 3, second level of the Podium in Ortigas City, and at the NAIA.
SACHI, distributed by Heavenly Chocolates
It was my first time to try these dark cubes of chocolate dusted with dark cocoa powder, nestled together in a basic, clean and austere box. But their simple appearance belied the oomph that these babies contained: they had the most cocoa-butter flavor, and when left at room temperature, it felt like I was eating dark chocolate fondue. Yum. They definitely had the most decadent, concentrated flavor, and are also my favorite of the bunch.
Presentation: Simple, square, and very similar in packaging to Royce chocolates, I had to do a double take and make sure that the packaging said 'Sachi,' and not the former. A brown sticker on the opening box flap informed me that it was their 'bittersweet' variety that I had in front of me.
ADVERTISEMENT - CONTINUE READING BELOW
Taste: Fondue, anyone? Felt like I was eating a solid block of melted dark chocolate, not that I minded.
Texture: Velvety smooth, silky and intense. If this didn't arrive in block form, I would've felt like I was drinking dark chocolate, not eating it.
Heavenly Chocolates is located at 127 Roces Avenue, Quezon City, and can be reached at +632-6662208, +63915-7881105 or ellainessevilla@yahoo.com.
CHOCOLATES BY BENOIT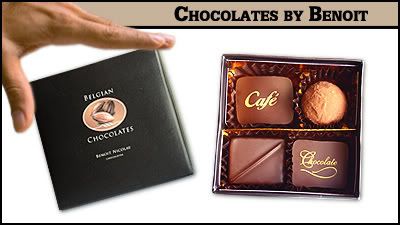 Benoit Nicolay's dark chocolate pralines appear to sit like little morsels of gold in a rust-brown box (this is the man who claims that "People eat with their eyes first, and taste second," a statement he's obviously taken to heart). Surprisingly, his pralines are not the least bit bitter, and aren't sweet - as how true dark chocolates should be. They also take on an addicting nature. I'm hooked.
Presentation: Chocolates by Benoit's dark chocolate varieties come in bars, individual pieces, and small round discs, all very nicely packaged in wrappers, boxes, and plastic.
ADVERTISEMENT - CONTINUE READING BELOW
Taste: Half bitter, and half sweet, these chocolates will appeal to dark chocolate lovers who prefer a mild taste of bitterness and sweetness.
Texture: The assorted dark chocolates are infused with coffee, crisps, and macadamia nuts, perfect for those who prefer to have texture in their chocolates.
Chocolates by Benoit can be ordered via www.chocolatesbybenoit.com or by calling +632-8226995, +63917-3271877.
Share this story with your friends!
---
Help us make Spot.ph better!
Take the short survey
Load More Stories