Mamou
Mamou's Malou Fores dishes with Spot about comfort food, her favorite flavors and the joys of owning a restaurant.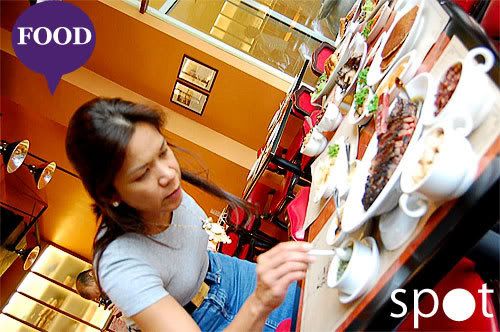 When Malou isn't in the kitchen, she's outside saying hello to her guests and making sure that they are getting the most out of their Mamou experience. Feel free to ask her which side order to get with your main dish - she'll happily give her recommendations.
Where does your love of cooking come from?
My passion for cooking stems from my love of eating. For you to be able to cook from the heart, you have to really love eating. From experience, I find that it's much easier to cook something that you love to eat.
I wanted to be a good wife to my husband because he loves to eat, so being married to him really helped me push my abilities in the kitchen. But my taste buds are influenced by my mom and by the Filipino side of me. I love piping hot soups: molo, sotanghon soup, bulalo. I don't like warm soups. I like it piping hot.
ADVERTISEMENT - CONTINUE READING BELOW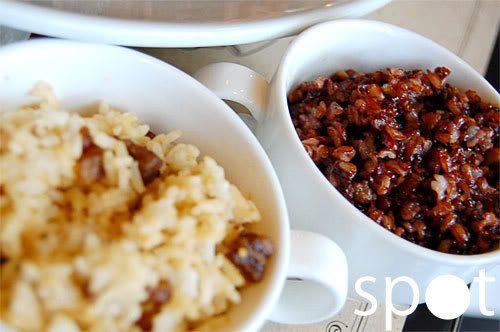 CONTINUE READING BELOW
Recommended Videos
Don't feel like mashed potatoes with your USDA Prime Angus Beef? At Mamou, you have the option of going the healthier route by having a side of Benguet Red Rice.
What are certain tastes and flavors that you love?
I love paksiw with green sili, Pampagueno style. I used to not like spicy food but because I was always surrounded by it growing up, I eventually started eating spicy dishes. Now, at Mamou, we make our own chili flakes.
I like strong flavors - if you notice my dishes, like the Roast Pork and Chicken. Cuban Cantina influenced, it was so greasy but it was so good. I loved the taste and my husband enjoyed it. When I came home to Manila, I miss it and then I search for the recipe. My friends who have been together since high school, our kids have grown up together, we have dinner at each others' homes. Sunday brunch. Certain dishes stick in the household.
ADVERTISEMENT - CONTINUE READING BELOW
What is your favorite cuisine?
Hands down it's Filipino food. Adobo. Sinigang. I'm not a kare-kare person.
One of the joys of the job is when guests give compliments to the chef - right on the place mat!
How did Mamou begin?
My friends and relatives just kept on asking me when I was going to open up a restaurant of my own so that they didn't have to wait until our next dinner party at the house to sample my food. It's as simple as that! When the requests became more persistent, I knew that it's time for me to open a new restaurant.
Owning and running a restaurant entails 200% of your time. We've been open for almost a year and only now can I take time out from the restaurant to go on short breaks or mini vacations. But really, to have a restaurant function the way you want it to function and for the food to be served with a certain quality in mind, you have to be inside the kitchen.
ADVERTISEMENT - CONTINUE READING BELOW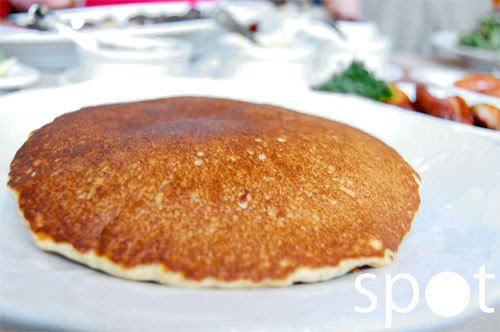 Wholewheat pancakes, anyone?
The chefs (at Mamou) I met almost two years ago. Three of them trained with me at home for six months before they could even start. This kind of (slow and comfort food) cooking is not exact. The important thing here is that they get my taste buds, my husband's and my son's. Actually, for me, my husband and my son are my strictest critics. They can tell if a noodle is two seconds overcooked. For the burgers I was experimenting with, they were the first ones to say that the meat was too small. So I fixed it. The beef from the burger comes from the steaks, actually. We serve it with fries, tomato, lettuce, mustard, ketchup - the works.
Can healthy eating exist with comfort food eating?
Yes. I mean, you have to make a compromise sometimes. If you really want to have pasta, then you have a choice of having whole wheat noodles instead of white noodles - both we have here at Mamou. We have a lot of rice dishes because I'm a rice person., but we make sure that we also offer the healthier red rice variety from Benguet.
ADVERTISEMENT - CONTINUE READING BELOW
You can indulge here or you can go healthy. My pancakes, you can have regular buttermilk or whole wheat. My sausages are available vegetarian. Mickey (from Mickey's Deli) and Tomas make my sausages to my specifications, which are usually spicy and garlicy. But I care about vegetarians.
Do you believe in fusion food?
I consider myself a purist. I have nothing against trying fusion food but let me tell you now that it's not going to come from my kitchen because I am not that experimental. Adobo - there's not one kind of adobo in the Philippines. If someone were to tell me that you should try balsamic vinegar with it, perhaps I would try something like that but that's how far I would go. In terms of beautiful, high designs and food presentation - I appreciate that it is decoration, I appreciate plating. But for me if it's a French Japanese thing - it' not my type of food. I admire people who do it and I will certainly eat it. But again, you won't find it at Mamou.
Where do you get your inspiration from?
Gosh, everywhere! You know, I was just reading this Ukranian cookbook, if you can believe. Now, if I find a recipe that I like and I feel like people here would like it, I wouldn't hesitate to put it on my white board of specials. But I won't Filipinize it. I'll keep its Ukranian identity. I mean, we do that all the time here, we serve all kinds of home style cooking from different places, mostly from those that my husband and I have visited. We always find ourselves going to a place, loving the dishes, and then craving it once we're back here in Manila.
ADVERTISEMENT - CONTINUE READING BELOW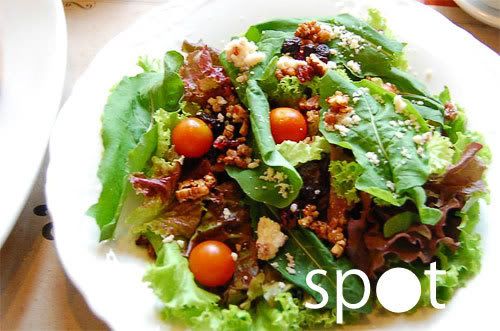 Mamou's Greens salad is good for sharing and for the body.
What are your comfort foods?
Tuyo and Fried Eggs and Benguet Coffee. And grapefruit juice. Weird combination. I also really like red garlic rice. I am fond of salty food. I love dried fish. I love galungong. I love sushi. I love steak tartar. I love Antonio's steak tartar.
What are the things that you love the most about having your own restaurant?
I like the difference I see in our staff here. I see our chefs and they're all very hard working. Chef Mario cooks the best steaks. But that comes after practice. I try to make it so that when our staff makes a mistake, we analyze why it happened. We're not going to charge the staff for the mistake, but we want to get to the bottom of it so it doesn't happen again. If we overcooked your steak, we'll change it if you're willing to wait for it. I'm not afraid of admitting to mistakes - we all make mistakes.
ADVERTISEMENT - CONTINUE READING BELOW
Share this story with your friends!
---
Help us make Spot.ph better!
Take the short survey
Load More Stories