The Binondo Roundup
Manila's Chinatown captivates the stomach at every turn, so Jenny Orillos makes it more navigable and points out the stellar must-tries and go-to places.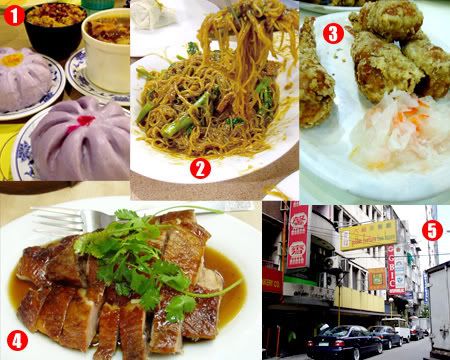 Binondo is a bustling district that will never run out of delightful places to eat, from old school panciterias to the newer cafés and eateries. Manila's Chinatown captivates the stomach at every turn it's almost fun to get lost because you might turn up clutching a bag of warm bicho-bicho, dumplings, or hopia. Now that, literally, is a food find.
The best way to experience Binondo is on foot, the better to navigate the alleyways and streets. Pedestrians jostle against each other amidst the slow moving vehicles, pedicab drivers, horse-drawn carriages, and fruit carts. The street signs in white and green function like beacons to those in search of restaurants whose specialties have become legend. The whole stretch of Benavidez St., for example, is home to Ma Su Ki (from the Ma Mon Luk family), Golden Fortune Teahouse, Holland Bakery Co., and Wan Chai Teahouse.
Binondo Church which stands majestic in front of the Plaza San Lorenzo Ruiz (formerly Plaza Calderon de la Barca, named after a writer) can serve as your point of reference. Same with Ongpin St., the main street of Binondo. Here are a few yummy spots to fill you up while you're in Manila's Chinatown.
ADVERTISEMENT - CONTINUE READING BELOW
1 Café Mezzanine (Volunteer Firemen's Coffeeshop)
On the second floor of Chuan Kee Restaurant is the sleek Café Mezzanine. It's a perfect spot to dine if you'd rather skip the crowded canteen ambience. The interiors are a shout out to the area's volunteer fire search and rescue brigades, which benefit from all of the café's proceeds. Dramatic black and white shots of firemen in action and shiny firemen's hats adorn the bright yellow and purple walls. The menu features sizzling plates, burgers and sandwiches, soups, noodles and rice meals as well as fireman-themed drinks and desserts.
Don't let the Western-style offerings keep you from trying the Chinese all-time favorites like machang, fish ball soup, go kong, and kiampong. Kiampong is salted fried rice served on a small bowl. Dig in and the rice–dark brown with soy sauce–reveals pieces of pork, chicken, dried shrimp, and mushroom. Unshelled peanuts and crisp fried shallots adorn the top and pack in more flavor. We ate that with go kong, a soup glorious with pork knuckles, meat and broth that's not so salty. The café also serves large mounds of purple-colored siopao from Mr. Ube at P45 a piece. The special meatball siopao variant is made hefty with salted eggs, Chinese sausage and ground meat. The hot and spicy variant is aflame with grilled pork.
CONTINUE READING BELOW
Recommended Videos
Insider tip: Open from 7am - 10 pm. Closed on Sundays after 2pm. Landmarks to look for: right next to Tasty Dumplings, Eng Bee Tin Chinese Deli, and the ubiquitous ube-colored fire truck parked at the side of Binondo Church.
ADVERTISEMENT - CONTINUE READING BELOW
Café Mezzanine is at 650 Ongpin St., Binondo, Manila. Phone 241-99-99 Loc 230.
2 Quik Snack
Office workers, businessmen and other locals grab their merienda at Quik Snack, a small brightly lit eatery along grimy Carvajal St. Ignore the dingy signboard when you enter and ask the waiter to give you a plate of Misua Guisado (stir-fried egg noodles with scrambled eggs, mushrooms, shrimps and peanuts), a specialty of the house. Tell him to anoint it with sate sauce (additional P15) for that special peanut flavor. Its simpler cousins include other guisado noodles with your choice of beef, shrimp and pork, fish, or talaba over mi, bijon or miki noodles. We tried the Beef Guisado, a messy tangle of bijon, thick sate sauce, meat and greens. A secretive hint of anise lent the noodles a distinct flavor. I enjoyed every forkful of noodles partnered with the popular special fresh lumpia. The wrapper was stuffed to bursting with evenly diced cabbage, carrots, mushroom, spring onions, tofu, bean sprouts and wansoy (cilantro). Vegetarian-friendly noodles are also offered, as soup or stir-fried.
You can graze on dimsum, soup, pancit and sandwiches at Quik Snack but progress on to a full meal if you prefer. Quik Snack also offers short orders common to Binondo eateries: buttered chicken, oyster omelet, ngo hion (kikiam), relyenong shrimp and rice toppings.
Insider tip: Open for lunch and merienda. Carvajal is a narrow alley connecting Quintin Paredes St. and Yuchengco (formerly Nueva St.). If you're at Café Mezzanine, turn right to Yuchengco St. until you reach Carvajal.
ADVERTISEMENT - CONTINUE READING BELOW
Quik Snack is at 637-639 Carvajal St., Binondo, Manila. Phone 242-9572, 242-9589.
3 Ilang-Ilang Restaurant
Ilang-Ilang Restaurant looks very dated and tired, but on a late Sunday afternoon when its contemporaries are closed, it's a good substitute for dinner. Decrepit buildings line this fragrantly-named street but its namesake restaurant still stands here, waiting like a jilted bride. We made a stopover here for the buttered chicken, one of their specialties, and for a whiff of nostalgia.
The place looks like a dimly lit banquet hall, with white geometric print tiles (a venue perhaps for special occasions in the area). The house specialties are already enumerated on top of the menu: lomi, rellenong hipon, taro cake, kikiam, hong ma, stuffed eight treasure chicken, fried pigeon, braised chicken feet, atay con bawang and glutinous flour rings.
For our meal, we went for a course of fried chicken, vegetable and fried rice. Although the buttered chicken was recommended, I'd skip it the next time. It was slightly off-kilter: the chicken was saltier than expected and was more batter than butter. Stuffed with pork and sweet Chinese sausage, the rellenong hipon was enlarged way beyond its size. I liked the stuffing but the small shrimp underneath the layers of meat and batter looked pitiful. The sautéed vegetable with garlic was fresh and flavorful but costs too much at about P200 for the whole plate.
Insider tip: Drop by Ilang-Ilang St. if you're through exploring the other streets. From the Binondo Church, walk towards San Fernando St. (a short bridge), then turn right. Ilang-ilang St. is at the corner of Jaboneros and Sto. Cristo Sts. When you see Mercury Drug Store, turn right at the first corner along Jaboneros St.
ADVERTISEMENT - CONTINUE READING BELOW
Ilang-Ilang Restaurant is at 551 Ilang-Ilang St., Binondo, Manila. Phone 241-9298.
4 Wan Chai Tea House
For some serious lunch or dinner with family or friends, proceed to Wan Chai Tea House in Benavidez St. It was not so crowded when we came in so we had a leisurely lunch amidst a bright and clean ambience. Allow for a good five to ten minutes to select from the menu which features about two hundred dishes. Teahouses and restaurants like Wan Chai leave no diner behind, listing a dozen of so ways of cooking meat, seafood, vegetables, noodles and rice to please any palate.
We asked the waiter what their house specialties were. "Everything with the pictures," he said. That meant probably half the menu. I got dizzy just browsing through each page. When we finally got our bearings, we decided to skip the usual Chinese restaurant staples like fried chicken, lemon chicken and stir-fried vegetables. Instead of being overcome with gluttony and indecision, I comforted myself that we can come back to Wan Chai again so I need not worry about not being able to taste everything.
The key is to order at least one new and unfamiliar dish. For me, that meant the tausi fish head, a beautiful pile of, well, fish head minus the eyeballs, eaten with gusto down to the last morsel. The fried radish cake was a stinky revelation. It starts out looking like an ordinary square patty until you bite into the soft interior, revealing a pungent aroma. It must have come from the fermented fish roe mashed inside. Last was the fried pork chop with orange syrup, crisp, tender and doused with a sauce that was not too sweet.
ADVERTISEMENT - CONTINUE READING BELOW
The fried mini pao took a good ten minutes to arrive. It was shiny with a bit of oil (but not so much as to give your doctor a heart attack). The top bore brown pan marks like an emblem and sprinkled with sesame seeds. The meat filling was nothing fancy–just some cabbage, shrimp, ginger and pork. What drove us to siopao ecstasy was the freshness of the dough, something that isn't always present in the steamed variety. I dream of this siopao to this day.
Insider tip: Skip the roasted Peking duck–the one served on our table probably waited for centuries before being arranged on a platter. It looked handsome but it was tough to the bite. The assorted soy sampler would have been a better choice. If you still can't find anything you like off the menu, Wan Chai has posters of new offerings stuck on the wall. Landmark: Benavidez intersects with Salazar St.
Wan Chai Tea House is at 918 Benavidez St., Binondo, Manila. Phone 245-4406, 245-4889.
5 Institutions Other Binondo institutions on my to-visit list include Ma Su Ki (Benavidez St.), Panciteria Lido (across Teodoro Alonzo St.), and President Teahouse (809 Salazar St.). Foodies flock to Sincerity Restaurant (497 Yuchengco St.), a 50-year old plus restaurant, for its popular fried chicken.
After your food trip, drop by Eng Bee Tin Chinese Deli for a pack of hopia for pasalubong. Two variants I've tasted include ube-cheese and ube-pastillas. They also have tikoy roll, Chinese sausage, condensed milk pastillas, fresh egg noddles and more. Boxes of tikoy are stacked outside the stores in time for the Chinese New Year.
ADVERTISEMENT - CONTINUE READING BELOW
Text and images by Jenny B. Orillos.
Share this story with your friends!
---
Help us make Spot.ph better!
Take the short survey
Load More Stories