Power Foods for 2009
A new year always brings with it newfound fitness goals and exciting plans. We've discovered a few 'power foods' that will help you greet each new challenge with renewed health and zest.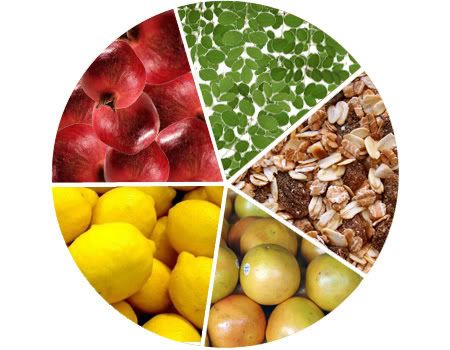 From bottom left to right: Lemons, pomegranate, malunggay, muesli, and grapefruit. Acai Berries not in picture.
After almost eight weeks of unabashed holiday eating, most people are vowing to eat healthier this new year. There are talks of signing up at the neighborhood gym, sleeping earlier (and consequently, waking up earlier, too) and finding time to meditate and pray during the day to create a calmer, more peaceful self. But a healthy existence doesn't have to be isolated to the physical; it can also start right with what kinds of food you put in your body and on your grocery list.
We talked to a few experts and did our own research on the power foods of 2009. Here's what we found to be new mainstays in our kitchen pantries.
1. Malunggay. Called "Sajina" in the Indian subcontinent, "Moringa" in English and "Malunggay" in our native Philippines, the leaves most commonly used like spinach in most local dishes is one of the most nutritious of the world's greens. A "super vegetable" if you may, dried malunggay leaves are much more potent than when eaten fresh and packs in 10 times the Vitamin A of carrots, 17 times more calcium than found in milk, 15 times the potassium gleaned from bananas and 25 times the iron of spinach, according to the Bureau of Plant Industry.
While there is a lot of talk about this healthy vegetable, Melinda Santana, Managing Director of Moringana, producer of malunggay tablets, said that "malunggay is positioned as a breast-feeding supplement in most drugstores so it's not as popular or commercialized as barley or spirulina. But there are a lot of studies done in the USA and in India about its nutritional values, and here in the Philippines, we've been using it as part of our diet and use it as a therapeutic ingredient in the provinces."
ADVERTISEMENT - CONTINUE READING BELOW
Power up with this multi-vitamin vegetable in tablet form called Moringana or cook up a few recipes with dried malunggay (think Moringa Pesto Pasta), both of which can be bought at the Echostore, the store we absolutely adore in Serendra. Sharing space with Kape Isla, the café will also soon serve dishes that will incorporate all the healthy, organic food offered by the Echostore. If the goodness of Malunggay Scones are any indication, power food-eating this year will be nothing less than appetizing.
Moringana, or malunggay tablets and dried malunggay, are available at the Echo Store, Ground Level Serendra, Bonifacio Global City, Taguig with telephone number 901-3485.
2. Lemons. When life gives you lemons, squeeze them and turn it into juice. We all know that lemons are not just for pretty garnishes. Aside from being at the root of most home remedies and with nifty uses such as a toothache painkiller and hair shine inducer, there's more to lemons than making glasses of lemonade. The juice of this yellow wonder helps prevent and cure osteo arthritis and is a great liver tonic. Since it's packed with vitamin C, the juice prevents many infections and is known to relieve symptoms of asthma. As a fruit, its potassium content helps nourish the brain and nerve cells.
Scientists from the US Agricultural Research Service (ARS) say that our bodies absorb and utilize the limonin, found in citrus fruits such as lemons. Limonins are anti-carcinogens and reduces risks of heart disease and stroke. And did we mention that lemons, with their bright cheery yellow color, does wonders for depressed moods?
ADVERTISEMENT - CONTINUE READING BELOW
Lemons are available in most groceries like Robinsons Supermarket.

3. Pomegranate. Move over, green tea. The humble pom is now gaining popularity among health buffs, using the fresh juice as an anti-oxidant (it has 4 times the anti-oxidants of the popular tea). The stunning fruit, yellowish with a slightly bruised look, hides the sumptuous crimson round-shaped fruit inside. Its juice is known to prevent heart disease, high blood and obesity and tops the war of healthy juices, according to a UCLA study.
Dr. Paul M. Gross, Ph.D, doctor, physiologist and author of "Wolfberry: Nature's Bounty of Nutrition and Health", confirms that this super fruit is an anti-cancer agent and is a source of dietary antioxidants. When taken in juice form, have it freshly-squeezed as it lessens effects of stress on our blood vessels and helps fight hardening of the arteries, caused by eating high-cholesterol dishes that we just can't seem to veer away from.
Pomegranate Juice is available at Healthy Options, Powerplant Mall, Rockwell, Makati City.
4. Grapefruit. Tart and tangy, the grapefruit's juiciness can be put up against the more popular orange and is equally stellar with its healthy benefits: loads of Vitamin C, antioxidants to battle bad cholesterol and protect you from lung and colon cancer.
"The World's Healthiest Foods", a book endorsed by George Mateljan, promoter of healthy and power foods, confirms that grapefruit juice is ranked among those highest in anti-oxidant activity. Additionally, a lab study published in the Journal of Nutritional Biochemistry says that the Naringenin in grapefruits helps repair damage. This great fruit is not as common in Manila but you can find grapefruit juices in most groceries like Florida's Best. If you are taking medications, take heed and read the medicine label (or consult with your doctor), as some prescription drugs do not work their magic when taken with a grapefruit diet.
ADVERTISEMENT - CONTINUE READING BELOW
Grapefruit Juice is available most groceries like Robinsons Supermarket.
5. Muesli. A cereal made from toasted whole oats, fruit and wheat flakes, the modern take on muesli is far different from the original recipe of Dr. Bircher-Benner, the physician who invented muesli.
Grace Sambo from Healthy Options, which carries several brands of ready-to-eat muesli, says that since muesli has oats, "It is rich in fiber. The dates, raisins, almonds mixed in it provide protein and energy. " A power breakfast food because of its nutritional value and best paired with portions of fresh fruit, the oats lowers cholesterol and is a good source of fiber, protein and calcium for the busy go-getter. Local coffee pusher Bona Coffee in the South knows this too well and has a Breakfast Fruit Yogurt Muesli on the menu, a yummy concoction of oats, fresh fruits, granola and yogurt. One does not need to be a health buff to like this muesli mix, best eaten for breakfast, but just like any good food, one can never have enough of healthy muesli.
Breakfast Fruit Yogurt Muesli is available at Bona Coffee. Click here to see list of Bona Coffee branches.
6. Acai Berries. Brazil not only has supermodels but super-fruits as well. Found in smoothies and tropical fruit juices, the acai fruit (pronounced A-Sigh-ee) from the rainforests of Brazil has been hailed as one of the healthiest fruits in the planet. Loaded with antioxidants, it is also known to promote cardiovascular health and has 30 times more antioxidants than blueberries.
ADVERTISEMENT - CONTINUE READING BELOW
Dr. David Katz, resident doctor from Oprah Magazine, says that "it does seem to have an antioxidant effect that, in theory, could lower the risk of heart disease and cancer" but recommends that antioxidants found in acai berries will be more powerful if consumed with whole foods, such as fruits and vegetables, instead of downing them as fruit juices.
If you're looking for a taste of acai berries in your (alcoholic) spirits, a "miracle elixir" called Veev, has made its way into USA's liquor market. Infusing acai berries with pear and areola cherry, it drinks like vodka but is 60 proof, which makes it easy on the palate with the natural powers of the acai berry. Veev has been voted as one of the top consumer products in Southern California, but if you should want to stick to acai berry fruit juice, these can be found in most local health stores.
Zola Acai Berry Juice is available at Healthy Options. Limited stocks are available.
Text by Trixie Zabal. Artwork by Karl Bustamante.
Load More Stories