Pepper Lunch
You'll cook your own food and like it.

When to go: The best time to go to Pepper Lunch is at lunch time, as the name of the restaurant suggests. I tried eating dinner here, too, but for some reason, having lunch here is more fun. If you're craving for some Pepper Lunch love for dinner or for brunch, Powerplant Mall is open from 10am to 10pm. I recommend going a little early to beat the line. Since the restaurant had its soft opening on May 16, the lunch and dinner line has been really crazy.
What to eat: The price of their dishes range from 250 all the way to 650 pesos. For each dish, you can either go ala carte (and just get house water) or go for the combo that comes with a drink (they only have one size for their drinks and its equivalent to one large McDonalds cup).
Shake! Shake! Salad (P99) - As the name suggests, you'll need to shake the salad. I got the Seaweed and it was so-so. A wee bit expensive if you ask me.
ADVERTISEMENT - CONTINUE READING BELOW
Beef Pepper Rice (P198 ala carte, P250 with drinks) - The classic dish that Pepper Lunch is known for. The best thing about it is that it's the most inexpensive dish in the menu. The dish is rice topped with corn surrounded with soft and succulent beef, all sprinkled with pepper, served in a sizzling plate. Keep in mind that this establishment is a DIY (do it yourself) place so meat of the beef is served raw and you'll have to cook the dish yourself. There are 2 sauces that you can opt to put in your food - the honey brown sauce (Amakuchi) or the garlic soy sauce (Karakuchi). I recommend the Amakuchi because it has a sweet and spicy kick to it. The Karakuchi on the other hand will make your dish more salty. Overall, a great dish to start with if you're just a Pepper Lunch newbie out to test the waters. And it makes for a fun time when you try and say the names of the sauce back-to-back (AmakuchiKarakuchi, AmakuchiKarakuchi...).
CONTINUE READING BELOW
Recommended Videos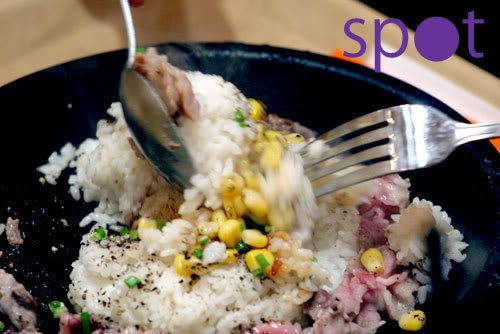 ADVERTISEMENT - CONTINUE READING BELOW
Cut Steak and Hamburger Combo (P280 ala carte, P350 with drinks) - Here's a dish that you can have on your second visit when you're feeling more adventurous. You can have the Hitokuchi Cut Steak (P340 with drinks) and the Hamburger Steak (P358 with drinks) in one sitting. For this dish, the rice is served separately which means you'll have the genuine experience of cooking your food. I recommend mixing one part Karakuchi and 2 parts Amakuchi for this dish. The hamburger steak is really tender and goes great with the special butter that it's served with. Just be sure to cook two sides equally so you won't get an undercooked center. As for the Cut Steak, I think that it has too much fat. If you're health conscious like my girlfriend (who I ate with) you'll find yourself separating the fat and the meat which isn't an enjoyable to do when you're eating out.

Kuromitsu Soft Serve Ice Cream (P30) - What I love about this particular ice cream is that instead of using that thick syrup that you're sure is made up of preservatives, Pepper Lunch uses caramelized brown sugar for it's syrup (or Arnibal, the sauce used in Taho). It's also sprinkled with cookie bits to add a crunchy texture to it. Light, sweet and creamy - just the way I like my ice cream.

The Scene: The way to describe the ambiance of this restaurant is that it's an upscale fast food joint. You'll need to order from the counter but you get to sit in a very comfortable couch with pillows. The waiters are also very helpful.

Insider's Tip: The restaurant uses pepper that's taken from pepper skin. They throw away the inside and just keep the skin because it's the most aromatic part. So don't worry about accidentally munching on a whole pepper. Feel free to bring your plastic as they've started accepting credit cards now.
ADVERTISEMENT - CONTINUE READING BELOW
Pepper Lunch is located at the Concourse level of Powerplant Mall, in front of Rustans Supermarket. Contact them at 895-3164 or 895-6185.
Images taken by Karl Bustamante
Share this story with your friends!
---
Help us make Spot.ph better!
Take the short survey
Load More Stories