Dezaato Pan
Rowena Lei (aka 'Animetric') heads to Tomas Morato's newly opened Japanese-style cafe for two of her favorite things: dessert and coffee.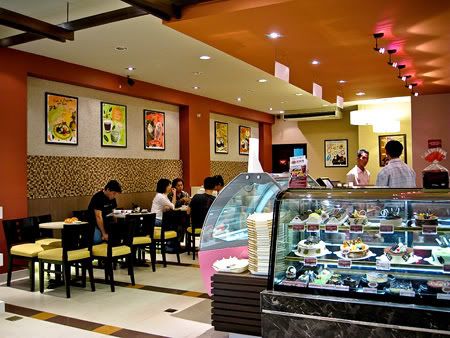 Dessert and coffee fiends should make a beeline for Dezaato Pan in QC.
One of the newest spots in town, the quaint yet modern Japanese-style café, Dezaato Pan (not to be confused with Dezato Cafe, the mochi mecca of Manila), recently opened its doors in Quezon City. Dezaato means "dessert" in Japanese, while Pan as many of us know, means "bread". Despite its name, Dezaato Pan offers both sweet and savory treats from breads, cakes, to ice cream, all for us to savor for breakfast, merienda, or dessert.
When to go: Dezaato Pan is open from 10am to 12 midnight. It's the perfect spot for a dessert date with its relaxed atmosphere and lovely selection of cakes, coffee concoctions, and gelato. Since the café can accommodate more or less only 20 or so people simultaneously, it's quite private and very conducive to coffee and conversation.
What to eat: Dezaato Pan boasts of preservative-free breads and pastries which are made using fresh and natural ingredients. Their hands-down bestselling snack item is the King Niku Pork Nori Sesame (P45), which is soft bread topped with pork floss, seaweed, and sesame seeds. It's so good you'd have to get up pretty early in the morning just to get a taste since a lot of regular customers buy it by the bulk. Chances are, you won't be seeing it if you visit in the evening.
Want a sweeter snack? The Butter Tsuki (P39) comes to mind. Butter Tsuki is milky bread encrusted with chopped peanuts and filled with smooth peanut butter, a combination which would go very well with hot brewed coffee or tea. For dessert, Triple Chocolate Mousse (P95) tops the list for cakes, while Ferrero Rocher (P70/100g) is the most in demand gelato flavor. Green Tea Cheesecake (P95) is also a must-try. Its creamy consistency, distinct green tea taste, and Oreo cookie crust makes it one of the more unique cheesecake variants in the metro. Intriguing cake flavors such as Apple Custard (P85), White Macadamia Nuts (P85), and Taro & Pudding (P85) are sure to whet your sweet tooth as well.
ADVERTISEMENT - CONTINUE READING BELOW
The Triple Chocolate Mousse with its visible layers and flamboyant top.
The Apple Custard cake, in all of its green and dome-like glory.
A trip to Dezaato Pan is not complete without sampling their signature Layered Coffee, which is an original Dezaato Pan creation. The Matcha Café Latte (P115/8oz) combines brewed coffee, milk, and green tea which makes for a one-of-a-kind drinking experience. It has just the right blend of bitter-sweetness so you can drink it straight up upon serving without reaching for the sugar. The most popular variant is the Roasted Nuts Latte (P115/8oz).
Not a coffee person? Non-coffee concoctions include luxurious gelato-based shakes like Strawberry Cheesecake and Mangoes & Cream (P130 for 12oz).
The Scene: The daytime crowd is usually comprised of casual diners out for a snack since the atmosphere is very informal. Take-out customers usually drop by from the late afternoon to evening, grabbing their favorite breads, so the more popular breads fly off the shelves rather quickly. Families, groups, and couples who have dined at the neighboring restaurants comprise the after-dinner to late night patrons.
Insider tips: Dezaato Pan's signature Layered Coffee can be served either hot or cold but the staff highly recommend ordering it hot. Their eye-catching and artfully designed cakes are available as either 6 or 8 inch rounds, with prices ranging from P300 to P600, so you don't have to blow a hole in your pocket to impress.
Dezaato Pan is located in Unit 6 Thompson Square, 165 Tomas Morato Street, Quezon City. For orders and reservations, please call 332-1845.
ADVERTISEMENT - CONTINUE READING BELOW
Load More Stories