The Newbie, Aresi
This newly opened wine bar in Il Terrazzo is already turning heads among corporate and media types working in the QC area.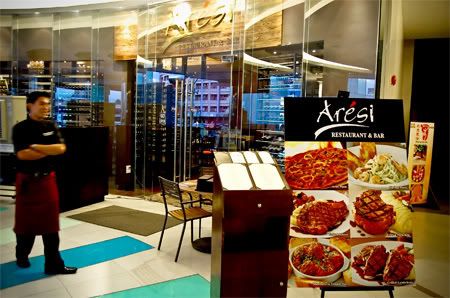 Aresi serves pizza, pasta and a variety of steaks.

ADVERTISEMENT - CONTINUE READING BELOW

Manila is evolving. After frozen yogurt, eco-friendly stores and a ton of specialty restaurants later, there's a new set of gung-ho entrepreneurs ready to explore the uncluttered arena of the wine bar scene.   A new spot on the Il Terrazzo map is Aresi. Formerly known as "Napa Wine Bar", this newbie restaurant hopes to attract the ever-growing population of wine enthusiasts with an Italian-American inspired menu and California wine from Napa Valley.

The Vibe

: Hard wood and earthy tones give the place a warm yet formal ambiance. Top it all off with wine racks surrounding the place and you'll find yourself just itching to order your favorite bottled libation. The floor space is wide and a glass wall lets in a generous amount of natural light. Don't expect a great view as the spot is just two floors up in a building along Tomas Morato. An old-style oven is also visible when you first come in. All things considered, Aresi is like a darker, more formal Madison.

The Crowd

: Corporate bigwigs and office workers looking for a more upscale restaurant to have a power lunch or quick meeting (with booze).   Sooner or later, media types and even couples who are looking for a romantic spot are expected to hightail to Aresi.

Best Seat

: A six-seater private space that's closed off by glass and a couple of full wine racks is probably your best bet if you want an intimate setting. It's shocking, but there's no charge for reserving this space.

Killer Apps

: People always come back for the oysters. Aresi cooked up their own version of the Rockafeller Oysters (P320), throwing in their secret white sauce with the usual mozzarella cheese. This aphrodisiac goes great with the fruity Rodney Strong Sonoma County Chardonnay (P1200/bottle, P240/glass). Poultry is also a big hit among regulars. The Baked Cheesy Chicken Dip (made with an assortment of melted cheeses, P280) is one of the most requested on the menu. A worthy pairing would be the full bodied Rodney Strong Alexander Valley Cabernet Sauvignon (P2000/bottle).

Signature Drinks

: Wine, of course. This is a wine bar after all, albeit a wine bar with "limited" selections. Aresi only serves Rodney Strong and Geyser Peak which are all counted as Napa wines. More advanced wine enthusiasts with an adventurous tongue would probably shun the restaurant as having inadequate merchandise. But for those who count themselves intermediate wine drinkers who are just happy to have a glass of wine and delicious food, then Aresi will not disappoint.

Insider Info

: Yes, there is an Aresi in Subic. We also mentioned that the bar had a shortlived name (Napa Wine Bar). The former name was and still is appropriate for the now Aresi. But management didn't want the wines to overshadow the cooking going on inside the kitchen.   Aresi literally means "I like" in Greek (where most historians think wine was first made). The restaurant is also circulating 20% discount coupons around Manila, but you can only get it if you're somehow connected to one of the owners or someone who works in Aresi Corporate. Better start checking your Facebook or Friendster accounts for more information, as you might be connected by just six (or less) degrees of separation. Aresi is located at the 2nd Level of Il Terrazzo, 35 Tomas Morato corner Scout Madrinan, Quezon City. For reservations and inquiries please contact 332-1941 or 332-1942.
Load More Stories