Bugsy's Bar and Bistro
Bugsy's has the feel of a neighborhood bar and the look of a classy joint.
When to Go: Lunch is a great time to dine and drink at Bugsy's because of the ample light and the relatively free tables and booths. But come at around 11 p.m. and this place will be packed with yuppies galore - even on a week night. If you can't handle smoke while you're eating your dinner or having a nightcap with a friend, then make sure to leave before 10 p.m. as that's when patrons can light-up indoors.
There's no use asking for the Beef Tenders recipe - it's a secret.
What to Eat: Bugsy's has the best Beef Tenders (Php 175) and Chicken Wings (Php 165) in the country - even better than Hooters. It's so good that people have come to Bugsy's on back-to-back (and back again) nights just to get their hands on these two dishes. You'll happily lick your fingers after eating every last piece of meat off of the chicken bones.
ADVERTISEMENT - CONTINUE READING BELOW
The Beef Tenders are soft, succulent and seasoned just right with pepper and other ingredients from Chef Paul's secret recipe; they're good as is but even better when dunked in the Blue Cheese dressing, served in a yegger (we're at a bar, after all). The Fish and Chips (Php 185) is good but could be better, especially after having tasted the other dishes at Bugsy's. If Chef Paul and his line cook are capable of making the best tenders and wings in town, then we're confident that he can perfect this timeless pub classic. The fish could be left in the frying pan a little while longer as the batter has yet to achieve that lovely, golden-brown color that one looks forward to biting into when ordering the dish.
CONTINUE READING BELOW
Recommended Videos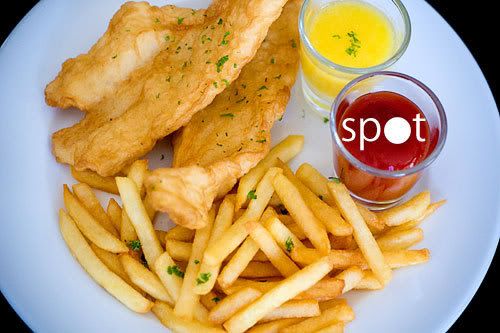 Fish and Chips, served with butter and ketchup on the side.
One of the coolest things about Bugsy's is that it's one of the few bistros in Manila that serves Dr. Pepper. (Php 40) And if you've had Dr. Pepper before, you know that it goes excellently with bar chow and is a great alternative to beer (Php 40/bottle) if you're not in the mood for alcohol.
ADVERTISEMENT - CONTINUE READING BELOW
The Scene: During the day, young professionals who work around the area can be found discussing work matters over lunch. At night, the scene changes drastically and pretty young things in their after-work casual clothing can be found with their friends, doing Patron shots by the bar (Php 220/shot), or chatting it up with one of the owners, brothers Miguel and Martin Warren, and Operations Manager, Perry Quimbo. If Perry looks mildly familiar, it's because he's usually the guy you want to impress when going into The Fort hot spot, Piedra.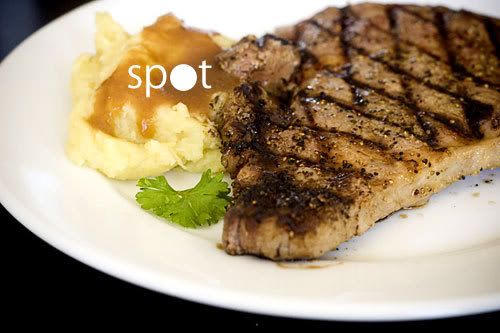 Bugsy Malones, served rare with creamy mashed potatoes.
Insider's Tip: The Bugsy Malones (Angus Rib-eye Steak, Php 380) is served medium rare unless told otherwise, so if you like your meat cooked well, then it's best to tell the waiters when making your order.
Bugsy's is located at Unit C-105 City Golf Plaza, Julia Vargas Avenue, Pasig City with telephone number 489-4985.
ADVERTISEMENT - CONTINUE READING BELOW
Images taken by Jay Lara.

Share this story with your friends!
---
Help us make Spot.ph better!
Take the short survey
Load More Stories