Amano Promises the Best of Southern Luzon Cuisine
Amano serves tasty Southern Luzon cuisine, where presentation is king and affordable eats promise an enjoyable dining experience.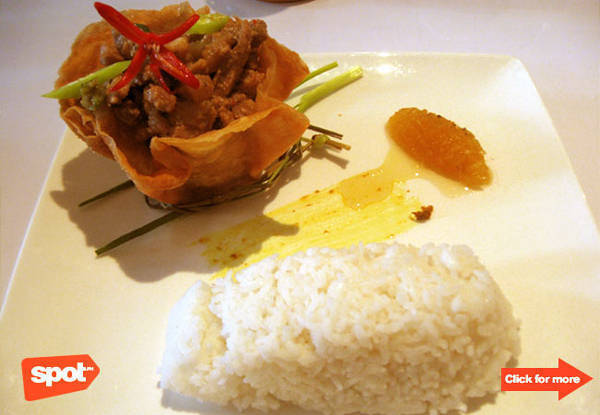 Bicol Express, one of Amano's bestsellers
Along Tomas Morato's resto strip lies a new, unassuming bistro. With stark white walls and furniture with pops of color, Amano, Spanish for "done by the hand," serves Southern Luzon cuisine encompassing the areas of Laguna, Cavite, Quezon, Palawan, Sorsogon and Bicol.
"We did field research in restaurants and homes in the south," says general manager Kelzo Del Rosario. "We wanted to discover the authentic ways of [cooking found] in the homes in the provinces. We adapted their recipes to the suit the taste preferences in Manila."
Amano is the first restaurant venture of the five owners who were classmates at the College of St. Benilde (three are chefs, one studied marketing, and the other, finance.) They initially wanted to feature Bicolano food but Del Rosario says it might limit their market so they broadened their menu to include all of Southern Luzon. "It was hard for us to combine everything so some of the dishes were fused together," says Del Rosario. Among their happy fusions: the Laing Pinangat combining the pinangat version of Quezon and the laing of Bicol, and the Kinunot na Pagi, combining Sorsogon's stingray specialty with the coconut milk and chili of the Bicol region.
From 11 a.m. to 3 p.m. and 6 p.m. to 10 p.m., Amano is a bistro. From 10 p.m. onwards, the menu changes to pulutan fare, affordable cocktails and cheap beer at P40 a bottle.
Sneak Peek
Once diners take their seats, a complimentary serving of Amano's Pandesal Trio Spread is placed on the table. The homemade pandesal comes with peanut butter, Spanish sardines and coco jam. In a resto strip known for being down-to-earth casual, the platter of pandesal never looked so sophisticated.
ADVERTISEMENT - CONTINUE READING BELOW
Amano spices up their Cavite Monggo Soup (P60) with vermicelli and olive oil. Three toppings are served on the side: tinapa, chicharon and shrimp, for extra texture. Their Torta de Patata (P75) served as an appetizer, is a new take on the tortang talong of Cavite. Del Rosario says the tortang talong of Cavite has potato, garlic and coriander mixed in. Instead of laying the torta on a plate, Amano's torta is shaped like a cup with the eggplant stem protruding like a spoon. Underneath are potato cubes garnished with garlic and coriander.
Their main courses include the Laing ala Pinangat (P80), Amano's fusion of Quezon Province's pinangat and Bicol's laing. Dried fish and ground pork are wrapped in taro leaves and simmered in coconut milk placed on top of the generous serving of rice.
CONTINUE READING BELOW
Recommended Videos
The Palawan Tilapia (P105) is steamed tilapia marinated in bagoong, calamansi, ginger and spring onion. Very soft and bursting with the salty bagoong flavor, it is cooked as a fillet and comes with rice, sliced tomatoes and onions.
One of the crown jewels of Amano is the Bicol Express (P120) which, although not completely faithful to the original recipe which should consist mostly of chili instead of pork, packs in quite a spicy kick. You may ask the servers to prepare it according to your spice preference. A dollop of sweetened pineapple is served with the dish, and nicely counters the spice of the Bicol Express. For the true blue Bicolanos, you can also top it off with Bonggan which is made of crushed dried dilis and chili.
ADVERTISEMENT - CONTINUE READING BELOW
For dessert, the Amano Halo-Halo (P90) has 12 toppings served in a bowl of frozen buko juice surrounded with milk. You can also try the Marzapan Split (P75), Amano's version of the banana split, with three scoops of ice cream nestled on top of two pieces of fried banana topped with yema, caramelized pili nuts, chocolate sauce and sprinkles.
Their signature cocktail drink, Amano Spring (P120), is a fruity mix of gin, orange juice, lemonade and grenadine, a dangerously easy drink to finish.
Amano aims to offer a new twist to favorite Pinoy dishes at an affordable price. Amano officially opens on August 15, but is now open for lunch and dinner.
Amano is located at 184 Unit B, Tomas Morato corner Scout Castor St., Barangay Sacred Heart, Quezon City with telephone numbers 232-7781 to 85.
Share this story with your friends!
---
Help us make Spot.ph better!
Take the short survey
Load More Stories