Does Nama Sakana hit the Spot?
Modern Japanese restaurant Nama Sakana claims to bring the Nobu-style experience to Manila with promising fusion dishes.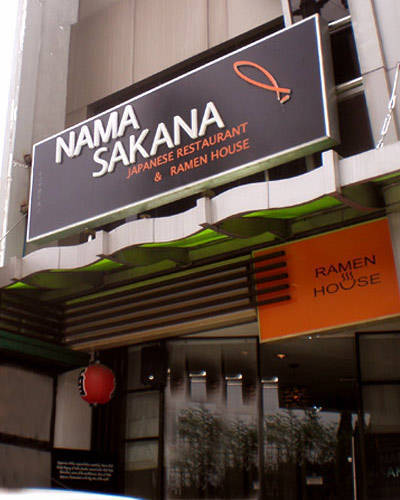 The message on the big, orange banner was enticing enough–in essence, a Filipino chef from the international sensation Nobu is in town, in the kitchen, and here to stay. That alone was tantalizing enough and it certainly piqued our interest in the place, one that we'd only been able to fling a hurried but keen glance at (mostly during cake runs at Conti's next door) but never had the chance to check out until now.
We finally had time for lunch at the Nama Sakana Japanese Restaurant and Ramen House in Greenhills, San Juan over the weekend and were excited to taste what chef Rolly Ongcoy has to offer and what a Nobu-style experience was all about. And although we normally shudder at the term "fusion cuisine"–we feel some chefs overdo the experimentation–this one felt promising.
The restaurant is small with clean, modern, and tastefully done interiors. The main dining area on the first floor houses the sushi bar (we'll make sure to sit there on our next visit for sushi and sake) while on the second floor is the Nama Bar, with function rooms for videoke buffs. The restaurant has a young-ish vibe that attracts a diverse clientele–from office workers by day, bar hounds by night to families with young children on weekends. A grill kiosk standing outside prepares yakitori for in-house diners as well as for take-out customers.
Nama Sakana literally means raw fish and sushi truly is one of the restaurant's specialties, but they have a lot more on their menu that begs to be explored. The usual Japanese restaurant staples and Filipino favorites are there of course–tempura, sukiyaki, donburi, California maki, miso soup and yakitori–but why stick to those? We decided to try something new.
ADVERTISEMENT - CONTINUE READING BELOW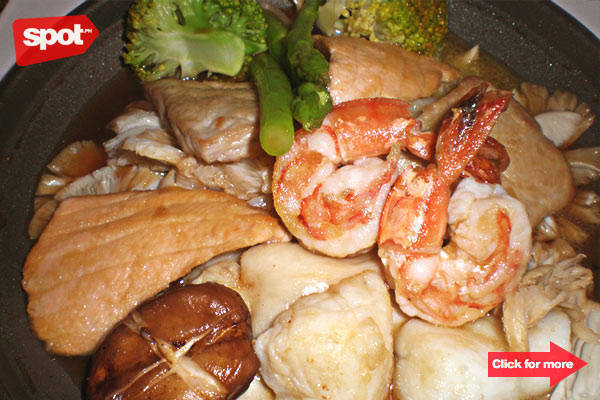 The Seafood Tobanyaki (P350) is touted as one of Nama Sakana's specialties.
CONTINUE READING BELOW
Recommended Videos
WHAT WE ORDERED:
We asked for the New Style Salmon Sashimi (P320) to start with while we figured out what else we wanted. Purists would probably be appalled at the thought of having salmon sashimi any other way but sliced raw, its fatty goodness enhanced by only a touch of soy sauce and wasabi. But this is worth trying if only for the experience. The new style has salmon slices fanned out on a plate like carpaccio, with a thin dressing of sauce and olive oil poured over them, garnished with chives and a deep-fried tomato wedge in tempura batter. The salmon was slightly cooked, just a touch beyond raw, which was quite acceptable to my dining partner as she has an aversion for eating   raw fish or meat. There was no need for a dipping sauce as it was quite tasty already. Even the tomato tempura was infused with the flavors of the sauce. A little oil sticks to the lips after each bite, a minor quibble that can be remedied by letting the dressing drip from each piece before eating it. Nothing still compares to the traditional fresh salmon sashimi but this is something that can be had as an occassional treat.
ADVERTISEMENT - CONTINUE READING BELOW
The Black Cod Gindara with Sweet Miso (P680) was a hefty quarter of a black cod steak covered in a sauce that was a tad too sweet for my palate. The fish was done well but my problem with any fish with some kind of sweet sauce is that the sauce almost always drowns out the taste of the fish. But maybe that's just me because I'm not a sweet-tooth. I had to take care not to dip the gindara in any more sauce before putting it my mouth. Perhaps scaling down the sweetness will balance the flavors out.
We ordered the Grilled US Rib-eye with Three Sauces (P720) medium-well. One order seems good for two or three people with moderate appetites and is served with a side salad of fresh greens. The ponzu dipping sauce enhanced the beef's inherent flavor well, the teriyaki sauce (sweet again!) is satisfactory, but our favorite was the   wasabi sauce that complemented the beef very well.
The tobanyaki is another specialty.   Toban yaki is a term that refers to cooking food on a ceramic plate, which retains heat even after they've been taken from stove to tabletop. We opted for the   Seafood Tobanyaki (P350) and found it unimpressive. It made us think that maybe we should have tried the much-touted Beef Tobanyaki (P800) instead but we were aiming for variety, hence the seafood choice. Pieces of   shrimp and fish fillets on a bed of oyster and shiitake mushrooms and broth sounded like an interesting dish but we were largely disappointed.
ADVERTISEMENT - CONTINUE READING BELOW
For dessert, our waitress recommended their Deep-dish Chocolate Chip cookie (P130), clearly something they were proud of but as we were already quite full, we opted to share a "lighter" Mango Crepe (P110) instead. The mango slices were actually ripe and sweet, a detail that a few other restaurants who make this dish forget to check (biting into a sour yellow mango just ruins the experience). And as with any crepe of this kind, the chocolate and caramel sauces, vanilla ice cream and whipped cream made for a satisfying combination of tastes.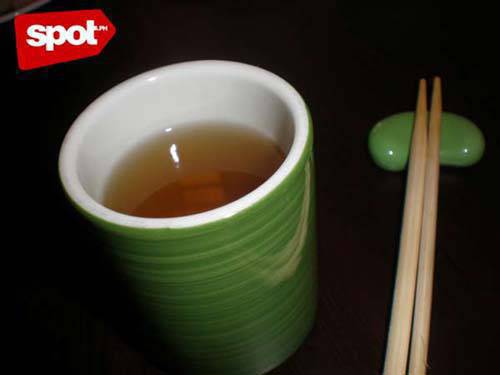 WHEN TO GO:
They're open from 11:30am to 11:00pm on weekdays and from 11:30am to 11:30pm on weekends. The Nama Bar is open until 1 a.m. Like many restaurants in the Metro, parking can be a pain so come early if you want to snag a spot in one of the few parking slots in front of the building and also so you'll get a good table inside.
ADVERTISEMENT - CONTINUE READING BELOW
WHAT WE THINK:
We felt truly welcome when the lady who waited on us greeted us warmly when we arrived, and remained cheerful (though apologetic) when she was serving us because my companion was miffed that some of our orders were taking too long even though we ordered ahead of   the other tables. Some of other staff were less inclined so–it was as if they had a long night at work and were still struggling to put their game faces on. The kitchen was short-staffed that day, as we overheard our waitress tell the diners in the next table.   Because we have yet to experience dining at any of the Nobu restaurants worldwide, it's hard to say if our meals at Nama Sakana lives up to the Nobu taste experience. What's sure is that for a casual dining restaurant, it does not give you run-of-the-mill dishes with substandard ingredients. Some dishes may be priced a little too high than what we're used to, but they're worth trying at least once.
Nama Sakana Japanese Restaurant and Ramen House is located at the G/F Fox Square Building, 53 Connecticut St.Greenhills, San Juan City, with telephone number 726-7266.
Images taken by Owen Santos.

Share this story with your friends!
---
Help us make Spot.ph better!
Take the short survey
Load More Stories