10 Reasons to Return to the Legazpi Sunday Market
If it's been ages since you headed the Legazpi way, SPOT.ph found ten enticing reasons that might just make you stage a comeback.
Legazpi Sunday Market
Corners of Rufino (formerly Herrera) and Legazpi Streets, Legazpi Village, Makati
Hours: 7:30 a.m. till 2 p.m.
Sunday's answer to Saturday when it comes to Makati markets has never looked so good. The four-year-old Legazpi Market now has over 100 vendors and is still growing. With Mara Pardo de Tavera's pioneering organic market occupying a major part of the space, the market has expanded to offer more than just food (there are also art pieces, handicrafts, toys, toiletries, books, clothing, plants-and a Sunday mass at 9 a.m.). Ten spots and sellers caught Spot.ph's renewed interest:
EDGY VEGGY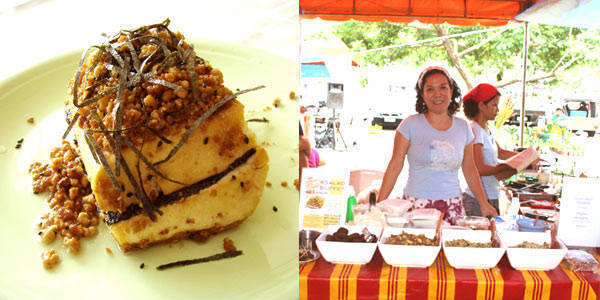 Denise Celdran and her Japanese Tofu Steak
Artist and yogi  Denise Celdran put up Edgy Veggy with a lofty ideal in mind: "We want to encourage non-vegetarians to eat healthy at least one or two meals a week to give their stomach and alimentary system a rest." She keeps her prices affordable to encourage people to "replace expensive animal protein in their diet with high quality plant protein options (from tofu, beans, and nuts)," she explains, as "most people who are trying out vegetarianism tend to eat too much carbohydrates and sweets."
ADVERTISEMENT - CONTINUE READING BELOW
Her bestseller is the Japanese tofu steak (P200), two grilled bricks of tofu (marinated in miso) with seaweed in between and topped with crumbles of tofu and sesame seeds and glazed with a ginger terriyaki sauce. The tofu steaks also come in Italian (vegan pesto and sundried tomato) and Chinese (black bean and garlic chili, chopped leeks) flavors. Her Salad Bar Sampler (P120 per serving of all four salads) is also a hit, with couscous, pasta, potato or falafel varieities.
Other must-trys: Vegetarian lasagna (P170) made from chopped carrots, eggplant and mushrooms layered with mock ground beef (marinated tofu crumbles), tofu cream and vegetarian marinara sauce (crushed tomato and pesto); the Vegan lasagna (P150), which uses a tofu cream with nutritional yeast in lieu of cheese, and the Tofu Adobo in brown rice (P150). After an Edgy Veggy meal, Denise promises your Sunday will be "light and energetic instead of heavy and sleepy."
CONTINUE READING BELOW
Recommended Videos
Contact: 0917-8202081, 0907-1705913
Email: deniseceldran@yahoo.com
KALINGA HILL EXOTIC RICE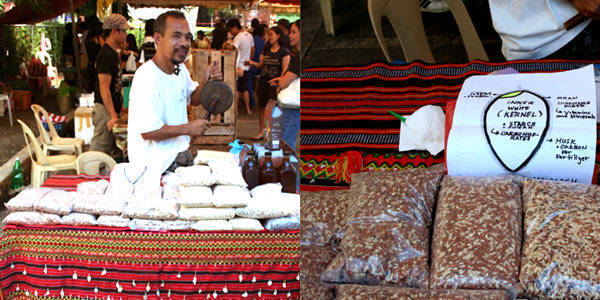 Manny Onalan and his exotic mountain rice  
ADVERTISEMENT - CONTINUE READING BELOW
Manny Onalan lives in the Kalinga region, in an area he pointed to us in an aerial photo of his village hanging on a tarpaulin poster beside his stall. He commutes by bus every weekend to Makati to sell organic mountain rice in Mara's Organic section of the market. "All the rice varieties we sell are only dehulled or dehusked," he says Manny. "This keeps the grain whole--most of the nutrients found in rice are in the rice bran and the germ, the part where the new plant sprouts contains the proteins of the rice, while the white inner portion stores the starch and sugar."
His most popular items are the exotic blend of 5 varieties of red, brown and black Unoy rice (P120/kg), red Inowoyan rice and brown Kamuros rice. He also sells malagkit, Kalinga roasted coffee (P90 to P150), dried legume seeds, wild honey and wild cherry or Bugnay wines, and even sturdy Kalinga soft brooms (P80 to P150) made of tiger grass.
Manny stresses that the rice grown in the remote tribal communities of the Cordilleras are pollutant-free, naturally grown on time and not forced into maturity when grown for profit. This way, he says, "the consumers of our products are closely linked with the source of their food, the source of their wellbeing. The cash we earn from the market is directly re-invested back to our tribal farmers."
MANVY FRESH VEGETABLE NOODLES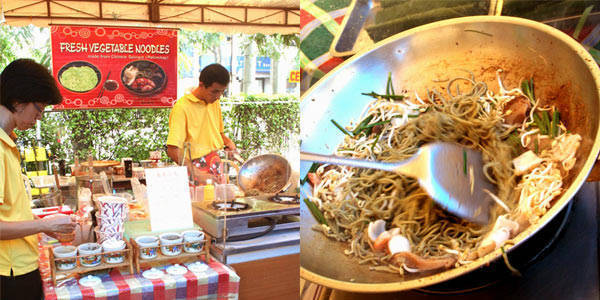 Manny and Juvy Chua and their made-on-the-spot veggie noodles
ADVERTISEMENT - CONTINUE READING BELOW
Manuel and Juvy Chua used to sell regular Chinese dishes in the Legazpi market until they hit a sales slump early last year. It seemed that buyers were looking for something new and unique, and their usual offerings had ceased to be viable. "It was depressing, because we had to take home all the food we brought to sell and eat the leftovers every day afterwards!" says Juvy.
Until her husband and "chef" Manuel started experimenting with making his own noodles--pummeling into the dough all his frustrations from their lack of sales. "During that time," says Juvy, "the idea of stir-fried noodles was still very new. So I told him, why don't we make our own healthy noodles using polunchay (Chinese spinach) and add the same basic sahog of bean sprouts and kuchay plus different toppings?"
So Manuel made his own preservative-free, water-based noodles on the spot. Customers ordered stir-fried or boiled noodles with a choice of toppings (Seafood, Vegetable and Mushroom, Dumplings, Meatballs or a Mix of two) and sauces (Peanut, Teriyaki, Oyster, Soy, Chili, or Satay) from P80 to P110, and their stall became a hit. These days, says Juvy, who mans their stall with Manny, as the orders keep coming in, "We're always taranta every Sunday, with no time to even step out of the stall for a moment!"
INDIGO BABY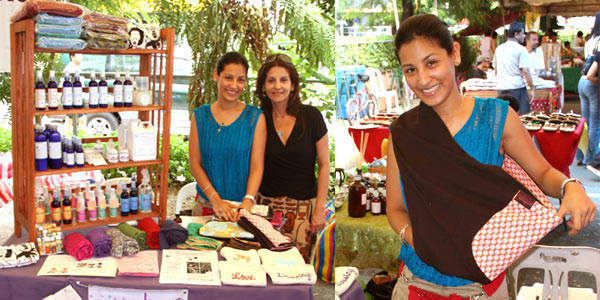 Denise Gonzalez and mom Meena Sehwani, Denise shows of her Indigobaby pouch
ADVERTISEMENT - CONTINUE READING BELOW
When good friends Denise Gonzalez and Monica Eleazar got pregnant around the same time two years ago, they decided to put up their own business to "escape from working in an office." The "Yummy Mummies" parlayed their passion for all things baby into a line of all-natural bath and body essentials free from parabens, perfumes, petrochemicals, lanolin and unnecessary synthetic ingredients. The duo found their niche. "The response has been amazing," says Denise.
Other Yummy Mummies love have been snatching up their Jar of Hope First Aid Gel(P325, 30ml.), Jar of Love Healing Gel (P325, 30ml.), Shoo Fly Don't Bother Me insect repellent (P160, 60ml) , Moonshine Baby Bottom Spray (P250, 100ml) and YummyMummy Stretchmark Oil (P600). "Don't forget our Bonchos, our revamped nursing ponchos(P565) that let you nurse wherever!" she adds.
Contact: 8827857, 0915-2943441, 0922-8499891, 0928-5040226, 0922-8499893
Website: indigomanila.multiply.com
WARUNG WARUNG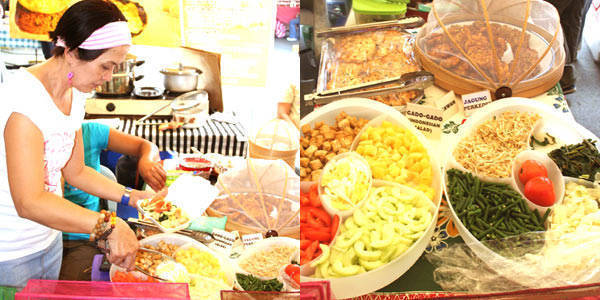 Long-time Indonesia resident Tess Doctora and her Gado-Gado
ADVERTISEMENT - CONTINUE READING BELOW
A warung-warung is a small food corner along the street, Indonesia's version of our turo-turo, says Tess Doctora, who lived in Indonesia for 13 years. She and her daughter Gladys, who loves to cook, love Indonesian food so much that they started their own warung-warung in Legazpi market. Her sister and family still live there, so they get a steady supply of all the Indonesian ingredients and spices. "This way, we can see to it that the taste is really authentic," Tess confidently says.
Her best-sellers are the Gado-Gado (P50) salad with the peanut dressing, Terong Belado (Eggplant, P30) and Telor Belado (Egg, P30) served with tomato, chili and spices, Bakwan ( vegetable fritters ) and Jagung Perkedel ( Corn Fritters) eaten with peanut sauce or vinegar (P12 per piece), Beef Rendang beef stew with coconut milk and Indonesian spices (P80 with rice), Ayam Goreng or chicken cooked in a combination of nince spices (P60), Kari Ayam or chicken curry (P70), Sate Ayam or chicken barbeque with peanut sauce (P25 per stick) the Tahu Telor or tofu omelette (P20) with peanut sauce and sweet soy sauce, and the Nasi Goreng or fried rice (P30). In short, says Tess, "everything sells!"
CASA GOÑI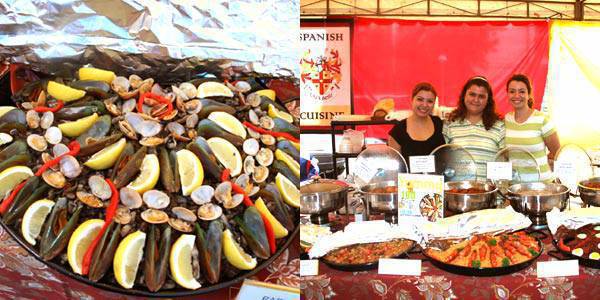 The Goñi sisters and their massive paellas
ADVERTISEMENT - CONTINUE READING BELOW
You can't miss the huge red-and-yellow Spanish flag at one end of the market framing the pretty young mestizas and their gigantic paellas and other mouth-watering masterpieces. Their flyer reads "Family recipes brought to perfection through the years." Says Goñi family descendant Macille, "They've been handed down from our great grandparents." Expect nothing but a traditional tried-and-tested taste, then, for their specialties that she recommends: The 3-Chorizo Paella (P1600 for 12-15 people), Paella Negra (P1,800 for 12-15 people), Prawns al Ajillo, Lengua (P800 for 6-8 people, P1,600 for 12-15), Spanish Mechado (P650 for 6-8 people, P1,200 for 12-15), Chicken Estofado (P700 for 6-8 people, P1,300 for 12-15 ) and Fillet Mignon steaks.
Z.E.N. Organic Personal Care Products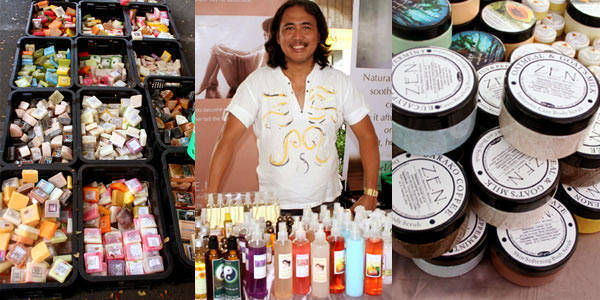 Gerry Villena and his organic soaps, lotions and potions
The acronym stands for Zestful, Energetic, Natural, "a livelihood project that employs poor Filipina women who are compensated very generously," says owner Gerry Ruiz Villena . They started their business selling VCO (VirginCoconut Oil), but with the help of microbiologist and botanical enzyme expert Dr. Luis Cervantes, they expanded to organic personal care products. With over 200 soap variants and a complete personal spa line, Z.E.N. provides market-goers an altenative to similar mall-branded personal care products "for less than half the cost," says Villena.
ADVERTISEMENT - CONTINUE READING BELOW
Regulars flock to Z.E.N. for their gugo hair-growing shampoo, whitening soaps "that sell faster than they're made," anti-crack heel cream, eye cream, lip plumper, sanitizing sprays, pillow mists, and their stay-alert coffee balm at affordable prices of P100 up.
Contact: 0917-7929536
Email: grvprods_services@yahoo.com
ART OF SPICE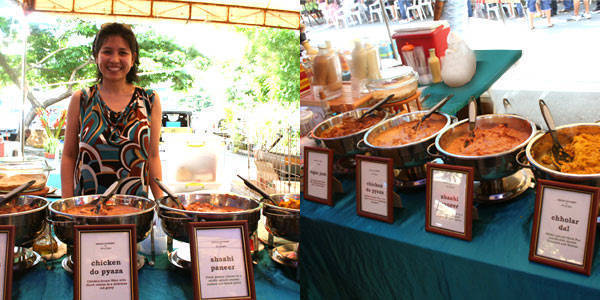 Ria Dam and her Indian gourmet spread
To sum it up, owners Ria and Abhra Dam sell "Indian dishes cooked in a gourmet fashion." The couple was invited by the organizers of the Legazpi Sunday Market in February 2008 to open a stall to showcase true Indian Cuisine. What started as a hobby has since blossomed into a lucrative business that now offers catering and private dining.
Authenticity is key, so the Dams make sure they import their own whole spices, which are roasted and ground just before cooking. "It makes the dishes come alive with aroma and flavor," says Ahbra. We use all-natural ingredients, and no preservatives, additives or coloring can be found in any of our products," he stresses.
ADVERTISEMENT - CONTINUE READING BELOW
Market regulars get their Indian food fix from their best-selling Shaahi Paneer, Lamb Rogan Josh, Vanilla Bean Chai Latte, Hummus with Pita Chips, Sandalwood and Rose Flavored Water (a sherbet). Prices range from P70 to P350 for food and P50 to P250 for all-natural drinks.
Email: artspice@gmail.com
HERB'S BEST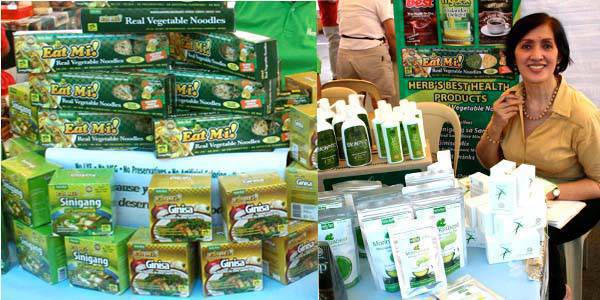 Fannie and her nutritious convenience foods
HERB'S BEST
Nutritional miracle of the moment Moringa Oleifera (malunggay to you and me) has taken the world by storm. Said to have super-antioxidant, anti-inflammatory, anti-aging and vast health-promoting benefits (cardiovascular, endocrine, including improved sleep, mental clarity, wound healing, digestion, etc.) Moringa leaves contain seven times more potassium than bananas, four times more Vitamin A than carrots, two times the protein present in milk and three times more iron than spinach. It is also purported to be a cholesterol buster.
And if you never thought convenience and health could go hand-in-hand, check out Herb's Best's Eat Mi! products fortified with Moringa, from their vegetable noodles (with none of the lye, wax, preservatives or artificial flavoring in commercially available varieties) to their Ginisa mix and Sampalok soup base mix, which contains added nutrition from spinach, sili leaves, saluyot and talbos ng kamote. Also try their My Best dalandan-lemon-grass-honey juice, Choco Best chocolate drink and Best Kup coffee mix, both with mangosteen and Gotu Kola, also touted to be nutritional wonders. Herb's Best already exports most of its Moringa line all over the world.
ADVERTISEMENT - CONTINUE READING BELOW
Contact: 584-6600, 09175311000
Email: info@herbsbest.net
GIGI LA CREPE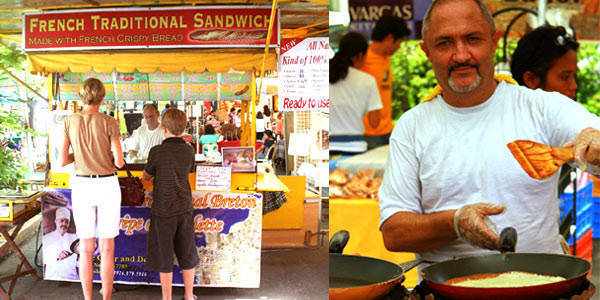 Brittany native Gilbert Rault and his French crepes and gallettes
Gilbert Rault wants us to taste the traditional delicacies of his country, France, especially of Brittany, the province where he comes from. Et voila, the tres jolie crepe cart where he churns out flavorful French favorites like crepes (P40 to P90), gallettes (P40 to P160) , baguette sandwiches (P130 to P160), and couscous (topped with vegetables, chicken, lamb, or lamb sausage, P250 to P450)   "respecting the traditional recipes."
"What you eat here will be the real French taste," he says proudly. When asked for the secret to a perfect crepe, he just smiles and says, " Test mine and compare it to the others and you'll be able to tell the difference."
Gigi La Crepe also caters and delivers for free for a minimum order of P1,000.
ADVERTISEMENT - CONTINUE READING BELOW
Contact: 0926-8795980, 7297783
Photographs by Myrza Sison
Share this story with your friends!
---
Help us make Spot.ph better!
Take the short survey
Load More Stories