Cristeta Comerford: Hail to the Chef
The first female, Asian-American and Filipino White House executive chef reveals the secrets to her success, her most embarrassing kitchen moment, and what the Obamas like to indulge in.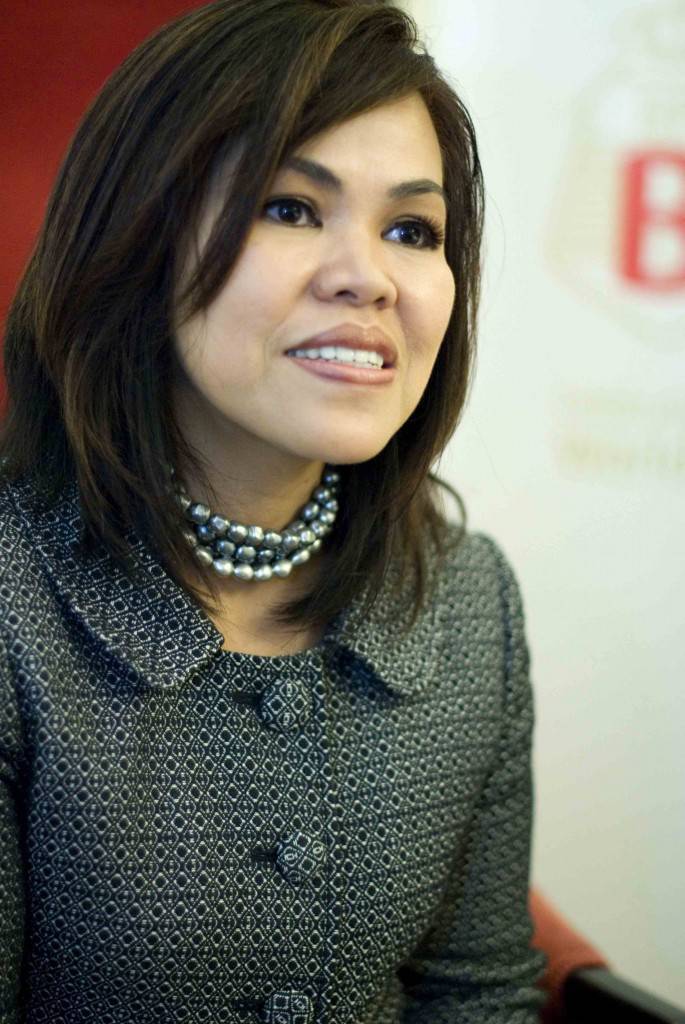 Not only the first woman but also the first Asian-American and first Filipino White House executive chef, Chef Cristeta Pasia-Comerford has the enviable task of cooking for the most powerful household in the world.
SPOT.ph had a one-on-one interview with her at the media lunch for the BPInoy Awards, an annual event of the Bank of the Philippine Islands honoring world-class Filipinos. Find out what she has in common with Finding Nemo, why she dreams of feeding dead presidents and rock stars and who is her worst food critic.
Let's go back to 2005. Your becoming the executive chef of the White House was momentous. Where did you find out and how did you feel at that moment?
At the moment, when I got the job, it wasn't even clear. They called me and they said, "You have to be here Friday." I said, "I won't be here Friday. I'm flying to Mexico." They were like, "You have to go there later on." It was one of those things… Did I get the job? But they wouldn't tell me. I wasn't at liberty to talk to anyone especially my mom because there was a moratorium. You cannot do anything until the press [office] has released it officially. It wasn't supposed to be released until that Monday. But then Sunday evening, out came my picture on CNN as the first woman White House chef. I froze because they told me it was not going to be released until Monday. I had to call mom. I was like, oh my gosh this can't be true. It was such a big surprise in a good way. Remember Finding Nemo? When the fish escape the tank? They crossed the street, down to the harbor, down to the water. What did they say when they got there? They said, "Now what?" That's how I felt.
ADVERTISEMENT - CONTINUE READING BELOW
The impression is that the choice of executive chef is as much political as it is culinary. What's involved in choosing the executive chef of the White House?
The first time I was chosen in 2005, I didn't even realize how much it took. There were actually 450 candidates who applied for the job. At the time, I was not even planning to put my name in. I just figured, like, I was a sous chef. If they like me, they're going to ask me. But no, you've got to put your application in and I did. Out of the 450, it was narrowed down to 10. Out of the 10, they narrowed it down to three. There were tryouts for the three. It was kind of like a long shot for me. I was looking at the resumés of the other [candidates] and I was like, "Oh my gosh, how can I compare with these people?"
CONTINUE READING BELOW
Recommended Videos
We did a cook-off. I had to run the show because the position [of executive chef] was voided so I was working and doing my menu at the same time. I was still running the show because we still had events going on. It was a very disheartening time for me. I would have loved to make the best tasting menu ever but it was so difficult to even prepare for it because I had to really focus on the other two [competing chefs] who were like guests coming in. I had to make sure they were taken care of. It was a big learning experience for me. Eventually, Mrs. Bush chose me. Does that make it political? I don't know.
ADVERTISEMENT - CONTINUE READING BELOW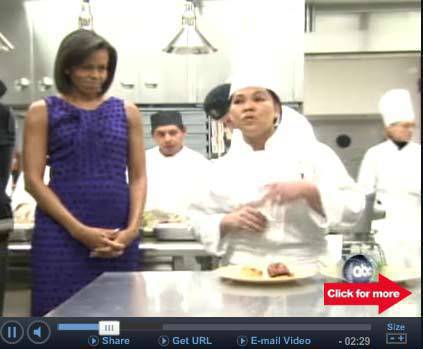 First Lady Michelle Obama and Chef Cristeta Comerford previews a dinner with US governors in this abc NEWS clip.
What is your philosophy concerning food and how you manage your kitchen?
I guess being a chef means you always come from different schools of thought. Trends come and go. A few years back, you had this all-molecular gastronomy. I think it's really just simplicity and freshness. It's so simple that whatever's seasonal, whatever's out there. Food should taste as good as the raw ingredient. You should be able to get spinach and not put anything on it because if it's a good product, you cannot mess it up unless you're really a bad chef. That's really the main thing: choosing the best and most seasonal ingredient you could use. Preparation is secondary. Once you get all of those two things in there, I think you're good to go.
ADVERTISEMENT - CONTINUE READING BELOW
Philosophy in the kitchen? I think it's empowerment. I have three other sous-chefs that are very, very talented. I hate to admit it. [But] sometimes I feel like they are more talented than me. As a leader, if you know how to mentor and you know how to impart and relinquish work, they're going to make the kitchen the easiest place to work with.
On your days off in the White House kitchen, who is cooking and what are they cooking at home?
Definitely not me. It's like being a hairdresser. Would you want to come home and do your hair? When I'm home -"OK, John [Chef Comerford's husband], the kitchen is yours." He loves to cook. He takes care of that part. It's really just spending time with the family. [We like] simple meals. We have a rule at home; anything that takes more than 10 minutes is work. It's a part of the Filipino in you that you just want a big bowl of rice with just a little something. I'm trying to avoid [rice] but it's such a comfort to have nice, hot rice with anything on it.
You've been an icon for women and American immigrants. To what do you attribute your success?
It's a combination of things. I think it's faith and family and just really being grounded. Once that's in line, I think everything else will come into place. You might be the most successful chef in the world but coming home to an empty house, that sucks.
ADVERTISEMENT - CONTINUE READING BELOW
Your sister mentioned that your first chef was your mom. Who, besides your mom, has influenced your cooking the most along the way? Even before the White House.
No one that I could think of. To be honest with you, I didn't even plan on being a chef. When I was applying for college, my dad who is a school principal was like, "You have to go to chef school." This was back in '75. I was like, okay dad, you're crazy. But he's a school principal so I really should've known that he knows better about what he's talking about. But I was like no, I want to go to UP and take Food Tech and yadidadida… It never dawned on me… I just took it from there.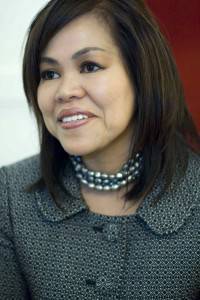 You've spoken very briefly–I understand why–about the Obama family's preferences. You mentioned simple and healthy meals. When the Obamas want to indulge, what do they indulge in at home?
ADVERTISEMENT - CONTINUE READING BELOW
There's nothing wrong with once-a-week fun food or something. Once in a while is okay as long as it's not the habit. Of course they do [indulge]. Of course there's a nice, juicy cheeseburger every now and then. But it's okay as long as it's not what you eat all the time and if you exercise and eat a balanced meal most of the time. Indulgence every now and then is a reward for being good.
I'm sure it's a thrill to cook for President Obama and his family. Are there any personalities that you would love to cook for?
My dream dinner [would be] for Thomas Jefferson because he's a presidential foodie. He traveled around. He's the one who brought in the first French chef. He knew food. I would probably have a motley of dinner guests. Bono? So between him and Bono in a dining room, there would be awesome conversation.
What have been your most recent memorable meals?
The most recent one was one Mother's Day. It was such a hard day for me; I took a nap. I was woken up by my [then] seven-year-old daughter with a Mother's Day menu put together with the help of my husband. She put together a full-course meal. Everything in there, she had handwritten. Just to have that mindset of putting things together and have a flow of menu. I've got apprentices who could never put together a menu like this but she was seven years old.
We went to this restaurant in Las Vegas, the Joel Robuchon. It was a 20-course meal. It was like being in a Las Vegas show. It was very, very nice. It was very hefty but it was a life experience.
ADVERTISEMENT - CONTINUE READING BELOW
As soon as you arrived here, what was the first Filipino dish you wanted to eat?
In America, you have everything there. There's always Filipino food. I don't feel too deprived. It's the fruits: atis, chicos [and] lanzones. All the fruits I wasn't able to get, they're in my room right now. They're still kinda hard as a rock. Hopefully before we leave, they'll ripen up.
What was your most embarrassing moment in the kitchen?
When my daughter told me she likes Dad's spaghetti better. I was like, I'm a White House chef and my daughter doesn't like my spaghetti? My daughter is very well-versed in food.
In your fantasy Iron Chef competition, which I know your predecessor did at one point, who would you like to compete against and what would your secret ingredient be?
Masaharu Morimoto. In terms of his mindset, that would be a good guy to compete against. If I could choose my secret ingredient, it would be scallops. I can do scallops a million ways. Not ice cream though, which they tend to do.
Photographs by Monica Barretto.
Share this story with your friends!
---
Help us make Spot.ph better!
Take the short survey
Load More Stories