Does Adarna hit the Spot?
Does eating in Adarna Food and Culture feel like coming home to lola's home-cooked comfort food?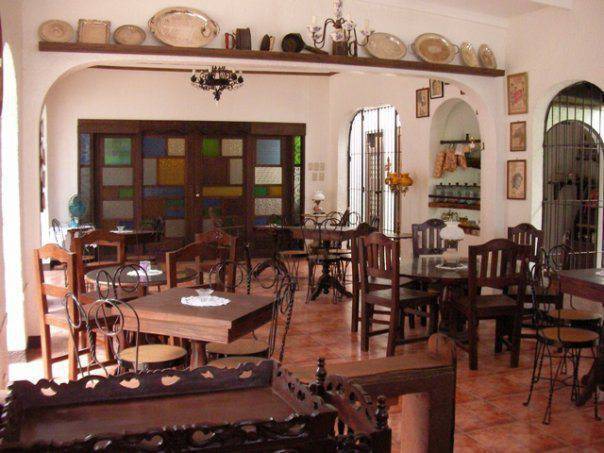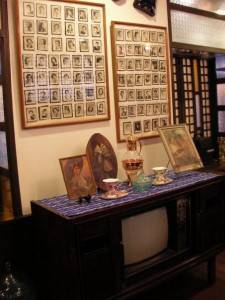 The words "heritage," "historical," "traditional" and "elegant" immediately come to mind as you enter the Adarna Food and Culture restaurant. It's almost like stepping into the past, or the home of one your great-grandmothers. But the atmosphere is warm and welcoming, and not stuffy or intimidating at all.
To get to the main dining room, you need to go through two outdoor seating areas, one covered and with a replica of a sari-saristore (complete with a bangko and a makeshift checkerboard with tansan checker pieces, a stash of plastic balloons, candy and a host of other familiar store items), and the other, an open-air courtyard with trees and a water fountain.
ADVERTISEMENT - CONTINUE READING BELOW
Indoors, the place is bedecked with more Filipino memorabilia–from old newspaper and magazine clippings, posters and photos, to rotary telephones, lamps and more. An upright piano stands on one side, ready to be played on nights when, say, the Mabuhay Singers come to entertain on special occasions. Crocheted table covers and doilies abound. The two function rooms are decorated with photos and clippings of the artistas and Carnival Queens of yore.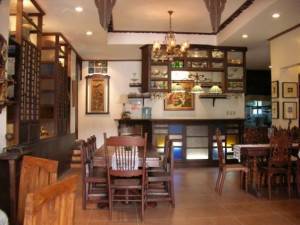 CONTINUE READING BELOW
Recommended Videos
It's a celebration of Filipino culinary heritage, its owners say–their menu based on regional, historical and heirloom recipes passed on through the generations from family elders or cooks. As you sit down, the waiter sets the table with exquisite china and crisp, freshly-pressed, monogrammed linen table napkins. But you'd want to get up again just to browse through the memorabilia–there's just so much to look at.
As you finally settle back to your seat and peruse the menu, you might discover a few Filipino dishes you've never tried or heard of before. Adarna offers vegan options, and they don't use MSG or anything artificial in their recipes. Ingredients are organic and locally-sourced when possible.
ADVERTISEMENT - CONTINUE READING BELOW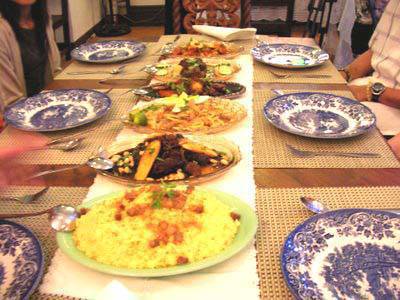 WHAT WE ORDERED: We went straight for Adarna's famed shakes (P85 each) as soon as we sat down. We picked the Santol Shake because we were curious. Not bad–the santol flavor was there but it could have used a little bit more of the santol's tartness. The Langka Shake was quite yummy–thick and creamy with just the right sweetness, you could actually have it for dessert. It's quite heavy, though, so if you're ordering it before a meal, remember to save room for everything else.
The Sigarillas Salad (P154) was a refreshing starter and, as it turned out, a good foil for the rich meal we were about to have. The sigarillas (or winged bean) were fresh and crisp, topped with red onion rings, diced tomatoes, bits of bagnet and dressed with a Pinoy-style vinaigrette. If we were to have the salad on its own, we would have wanted the bagnet bits to be a bit more chunky instead of flaky to give the salad more body.
ADVERTISEMENT - CONTINUE READING BELOW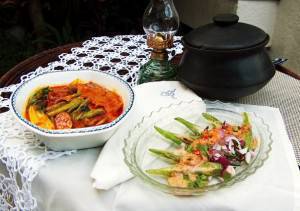 Dinakdakan (P134), sometimes known as the Ilocano version of the sisig, is a tasty concoction of pork that is boiled, grilled, and sliced into slivers coated in traditional dressing that carried the flavors well.
Piassok (P335) is a dish we don't usually see in menus of Filipino restaurants. A specialty from Sulu, it had chunks of beef cooked slowly in coconut milk then grilled, buttered and served with the sauce it was cooked in. It's as rich as it sounds but it was quite tasty, somewhat like beef rendang but without the spiciness. Had we not been driving that day, we would have ordered some beer or wine to go with it (and the rest of our orders). The beef was seared just right and was melt-in-your-mouth tender, and the velvety sauce was a great complement.
We had to have a seafood dish so we tried the Seafood Special (P485)–a platter of shrimps, chunks of white fish, scallops and squid rings in a generous serving of tomato sauce that reminded us of sarciado (this version was a bit more sweetish than sour), then topped with crunchy, fried onions. Satisfying, though we weren't exactly wowed. Too bad the scallops were tough as they would have added another distinct flavor and texture to the dish.
ADVERTISEMENT - CONTINUE READING BELOW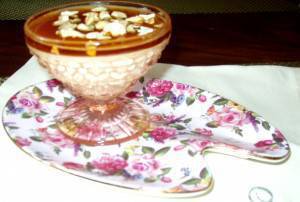 Ang Morena (P75)
We were curious about the Pasta Alegre (P285), an original creation of Adarna–spaghetti noodles with sitsaro (snow peas), cashew nuts in a teriyaki-like sweet sauce. You can order it with grilled squid, which we did. We love that the sitsaro was quite crisp and that the cashew provided good texture. We found the sauce too sweet, and the squid was a tad overcooked, which made it tough. This however, reminded us of the times when we'd have dried squid (cooked at home or bought from a street vendor), coated in a sweet sauce then grilled or fried until it became a chewy but fragrant snack or ulam. The dish brought up some interesting memories. If that was what Adarna was going for, then they succeeded.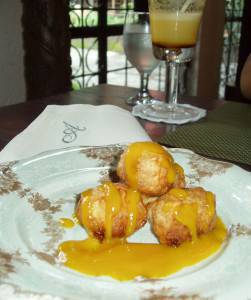 Kesong Puti with Langka
Ang Morena (P75) is a coffee-flavored flan served in a sweet coffee-caramel sauce, topped with chopped cashew. At first bite, we scooped up a bit more of the sauce than we probably should have–the sweetness was cloying. The flan itself had a subtle coffee-flavor which we liked; we finished this dessert without the sauce. The Kesong Puti with Langka (P95) is our new favorite dessert. Four balls of slightly salty, soft, white cheese wrapped in dumpling wrappers with bits of langka, fried, then topped with mango sauce. The saltiness of the cheese was a nice counterpoint to the tart-sweetness of the langka and the mango sauce complemented it well.
ADVERTISEMENT - CONTINUE READING BELOW
WHEN TO GO: Adarna is open daily from 11:30 a.m. to 10:30 p.m. Walk-in diners are welcome. But check their website or call ahead to make sure the place is not closed for a special function.
WHAT WE THINK: We noticed that some of the dishes on the menu can double up as both ulam and pulutan. In our desire to order dishes that we don't always see in other Filipino restaurants, we ended up with a meal that was too rich so we don't advise you to do the same if you want a meal with balanced flavors. Their menu also includes adobo (from a traditional family recipe from Batangas), kare-kare, a few pancit dishes, and fish grilled in banana leaves. Meat seems to be a strong suit, but we feel the seafood section could use a few more interesting items. Most servings are good for two or three and, like in any traditional Filipino meal, are meant to be shared. What we like about Adarna, though, is the whole package–décor and dishes from a time long gone or from regions of the country we've yet to visit. It's always fun to reminisce or discover. And for the chance to get a taste of that, we thank them.
Adarna Food and Culture is at 119 Kalayaan Avenue, Diliman, Quezon City. WiFi service available. Tel. 926-8712. website: adarnafoodandculture.multiply.com.
Photos by Giney Villar, Owen Santos and Nico Mallari.
Share this story with your friends!
---
Help us make Spot.ph better!
Take the short survey
Load More Stories