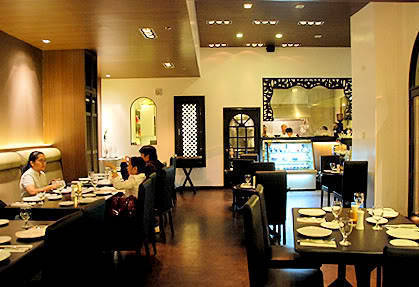 Buenisimo's interiors are mostly glass and black, with accents from the old Gonzalez establishments.
The offspring of Café Ysabel, run by the offspring of Café Ysabel's chef and owner--that's Buenisimo by Café Ysabel. Chefs Gino and Giannina Gonzalez opened the place in March at the Eastwood Mall in Quezon City. Clearly inspired by their father, chef Gene Gonzalez, their intention is to highlight the dishes they enjoyed while growing up, the ones they savored at home and at their father's famed restaurant. Café Ysabel favorites remain at the core of Buenisimo's menu, but the younger Gonzalezes opted to add more Mediterranean dishes, inspired by their travels to Italy, France and Spain. "Buenisimo," Spanish for very good or excellent also reflects the chefs confidence and passion in their food, which they are happy to share with diners.
ADVERTISEMENT - CONTINUE READING BELOW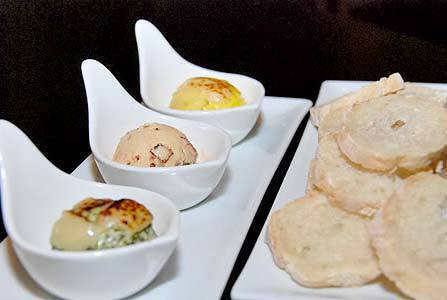 The Dip Sampler is composed of three dips - spinach, smoked fish and sobresada, served with toasted Ciabatta slices (P238).
WHAT WE ORDERED: The restaurant offers complimentary bread and dip soon after you order. The bread comes to the table warm and freshly-baked, but we decided to save our appetite for the Dip Sampler (P238), which is a trio of spreads served with slices of toasted ciabatta. The smoked fish spread was velvety and buttery, delicately-flavored tinapa flakes. It had a smooth blend with no rough-edged aftertaste. It had just the right taste of smoky-saltiness of the fish in a creamy base. The spinach spread had a velvety texture as well, and the subtle flavor of spinach, generously topped with grilled cheese. At first we felt the grilled cheese overpowered the spinach, but decided that the spinach base provided a good counterpoint for the saltiness of the cheese. The sobresada spread was our favorite– a chunky, flavorful burst of the Spanish spiced sausage, with pimenton flavors coming out from the canvas of a soft, creamy, cheese base.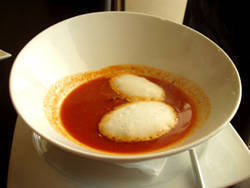 Roasted Tomato Soup with Bacon Wafer (P138)
The Roasted Tomato Soup with Bacon Wafer (P138) had a lovely presentation–white foam on a sea of bright red. Roasted tomatoes provided a robust flavor. However, the bitter aftertaste which seemed to come from burnt bacon just didn't fit in. Sadly, it took away a quality that could have made it a very enjoyable soup.
ADVERTISEMENT - CONTINUE READING BELOW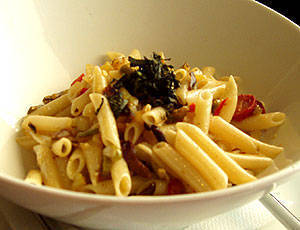 Puttanesca alla Buenisimo (P258)
The Puttanesca alla Buenisimo (P258) is a world away from the traditional pasta puttanesca–this one was doused with very good olive oil instead of the traditional spicy tomato-based sauce. It also had tinapa flakes, olives, slivers of green mango, basil, bell peppers and garlic. You can choose to have it with any of three kinds of pasta–we chose penne. It was a very pleasant dish to savor, reminiscent of one of those dishes we sometimes raid in the ref at home during midnight carbo cravings. We wonder, though: Could this work better (and thus be reclassified) as a pasta salad?
ADVERTISEMENT - CONTINUE READING BELOW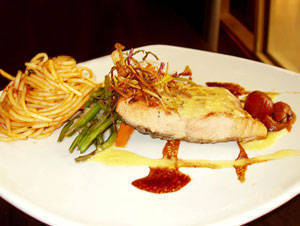 Salmon Steak (P428)
For the main course, we had Salmon Steak (P428), served with pearl onions, a Merlot glaze and hazelnut butter cream, and the Galician-style US Tender Riblets with Wild Mushroom Ragout (P458). We thought the salmon's Merlot reduction was excellent as it added just the right sophisticated flavor to the fish. The deep, complex, sweet-acidic taste of the sauce cut through the richness of the grilled salmon and butter cream. It was a well-thought-outdish, and original. The crisp baby green beans or haricots verts added the right texture, but we felt that the spaghetti with tomato sauce on the side was too heavy for the subtle flavor of the fish. Perhaps couscous or orzo could have done more to accommodate the flavors?
ADVERTISEMENT - CONTINUE READING BELOW
The riblets (which you can order with a side of foie gras) were nicely set against a mound of mashed potatoes. The meat really is quite tasty and juicy, so much so that the gravy is an afterthought. But some may find the meat a bit over-seared and chewy because it was not falling-off-the-bone tender as many are used to having in other restaurants. The mashed potatoes, we felt, could have been better because, to us, it tasted a bit like those instant potatoes you buy at the supermarket.
Dessert was another story. The Buenisimo Molten Chocolate Cake (P198/serving) comes to the table decorated with spun red sugar and generous streaks of caramel and chocolate sauce and three small scoops of vanilla ice cream. It's a dark chocolate cake with a chocolate truffle center–dense, deep chocolate flavor that's rich and complex. A combination of liquer and chili (just a hint) gives it an interesting twist. The caramel and chocolate sauces, along with the ice cream provide the perfect complement to the bittersweet cake. The Vanilla Balsamic ice cream (one of three of the restaurant's artisanal ice cream flavors), on the other hand, was a fitting counterpoint to the richness of the cake. It was more like a sherbet that could work as a palate cleanser between courses with its mildly creamy base and slightly acidic yet sweet flavor.
ADVERTISEMENT - CONTINUE READING BELOW
WHEN TO GO: They're open daily, from 11 a.m. to 11 p.m. on weekdays, and from 11 a.m. to 12 midnight on weekends. The place fills up fast, especially on weekends, so come early if you want to get a table inside. Otherwise, you stay at the veranda, which is also not bad on a cool day.
WHAT WE THINK: We're happy to know that chefs Gino and Giannina Gonzalez are continuing their father Gene's tradition of good food. Café Ysabel regulars will recognize some of the flavors, and even some dishes (such as Chef Gene's Argentine Special steak, Prawns Thermidore and Callos, among others), in the menu, but will also discover new offerings.
They offer comfort dishes the way their dad does, but in a more modern bistro setting this time. The kids are certainly ready to go on their own, which makes us wonder if it's necessary to continue branding the restaurant as Café Ysabel. On the one hand, it is good because if you're loathe to travel to San Juan to get your Café Ysabel fix, you at least have this to go to (though we do believe that good food is worth travelling the distance for, no matter where the location is). And mall-goers who have never experienced dining in Café Ysabel before have their chance now. On the other, we want to know what else chefs Gino and Giannina can do, away from the shadow of their celebrated father.
ADVERTISEMENT - CONTINUE READING BELOW
All in all, we're happy with our Buenisimo experience. The decor could be a little lighter, though–the interiors are a bit dark for us. And an important point: They, and the rest of the restaurants on the Eastwood Veranda, must do something about the pesky mosquitoes and the occassional fly that come to bother the diners indoors, especially at lunch time.
Buenisimo is located at Level 2, Eastwood Mall Veranda, Eastwood City, E. Rodriguez Jr. Avenue, Bagumbayan, Quezon City with telephone number 709-2136. Check out their website at www.ilovebuenisimo.com.
Photos by Lynette Mendoza and JC Ruiz.

Share this story with your friends!
---
Help us make Spot.ph better!
Take the short survey
More Videos You Can Watch
Load More Stories