Does Trilogy Hit the Spot?
Squeeze in a quick shopping trip after grabbing a bite at the oh-so-trendy Trilogy.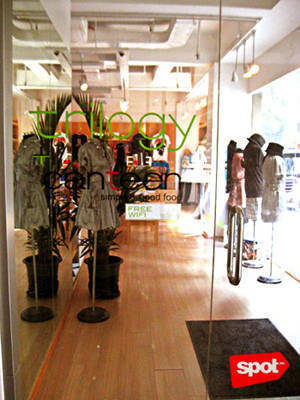 Tucked in between office buildings and residential condos in Makati's Legaspi Village, Trilogy Boutique and Canteen is a café and a retail haven owned by Steve Aoki-DJ, record exec and fashion designer behind the Dim Mak t-shirt line with siblings Rosario, Jon and Vicky Herrera.
Trilogy opened in May, and carries clothing and accessories from WeSC, Generic Surplus, Dim Mak, Incase, Supra, Matiko, C.Luce, Gourmet, Alternative Apparel and more. You can also find interesting reads here, from books like Juxtapoz Tattoo to a copy of Obsessed with Star Wars, a book worthy of getting prime placement on any coffee table.
Trilogy's funky displays, racks of cool apparel, and bleached white furniture give it a quirky, yet clean and classy feel. One wall is painted in a bright green shade while the huge windows and white ceiling brighten up the place.
The actual ' canteen' � is right inside the store, with only six tables for dining customers. Completely self-service, you order at the counter from the menu posted on the four big blackboards above it.
ADVERTISEMENT - CONTINUE READING BELOW
What We Ordered:
Trilogy offers a variety of salads, sandwiches, pasta, fish and meat dishes, prepared by chef Fernando Aracama, also of Embassy Cuisine fame. The Beer-battered Fish and Hand-cut Fries (P195) is hands-down our favorite. The light beer taste complemented the crunchy batter that hugged the soft, tasty fish. The tartar sauce was a little more sour than your usual dip, but gave the fish and fries a little more taste and kick.
The Seafood Spaghettini (P245) has generous toppings of tender calamari, fish, and shrimps. While it satisfied a craving for carbs and seafood, the flavor was a little short on the expected tangy tomato taste.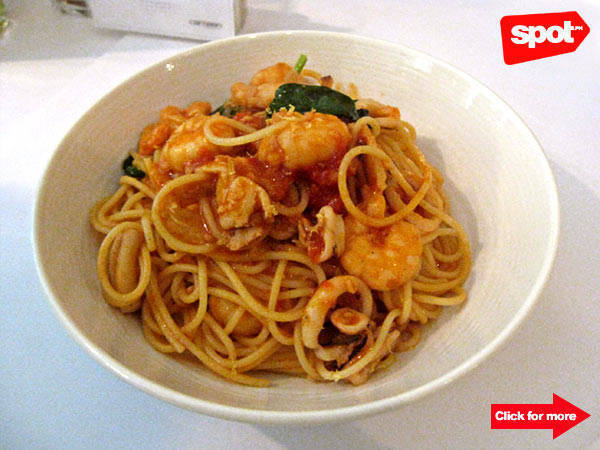 One of Trilogy's new dishes is the Beef Tenderloin in Yakiniku Sauce (P270) with a serving of kimchi on the side. The beef tenderloins were a little tough and the sauce too sweet for our taste, so it probably won't be something we'd go back for.
ADVERTISEMENT - CONTINUE READING BELOW
When To Go:
Yuppies and some students came and went during our lunchtime visit, but no one had to wait for a table. The servers were accommodating but a bit slow considering there were only a few customers to serve at any given time. Diners spent time browsing through the shirts, books and other apparel while waiting for their orders to arrive.
What We Think:
Considering the ambience, free Wi-Fi, and eye candy for the consummate shopaholic, Trilogy offers an alternative for quick meals in the Legaspi Village neighborhood. Though the food is satisfying, don't expect it to be an outstanding gastronomic experience.
SPOT.ph Tip: Get a taste of Chef Fernando's Famous Choc Not Ice Cream for free if you blog about them. Sign up for their updates so you know when new merchandise has been delivered or when the kitchen has new dishes. For more details, click here.
Trilogy Boutique and Canteen is located at 110 Alvion Center, Rada Street, Legaspi Village, Makati City. Tel. No. 328-1071.
Images by Warren Espejo.

Load More Stories