The White Hat Italian Frozen Yogurt
The plain White Hat yogurt is 98% fat free!
What's with the white hats in The White Hat Italian Frozen Yogurt? At this new Mall of Asia shop, frozen yogurt is churned out into the shape of a cone into the container, which makes it look like a white hat! To add to that, all their staff wears white caps, just for that added oomph.
Frozen yogurt with granola and cranberries makes for a sophisticated choice.
For those who are living under a rock and don't have a clue about what frozen yogurt is, it is a frozen dessert containing yogurt or other dairy substitutes. It is served as a low fat or fat-free alternative to ice cream, therefore also making it a healthier alternative. Yogurt has a multitude of proven health benefits, such as better digestion, reduces the risk of high blood pressure, boosts the immune system, is a great source of calcium, and is a great weight loss aid.
When to Go: Considering its prime location in SM Mall of Asia, it's likely that there will be more people on the weekends. As I visited on a weekday, there was a very minimal queue and so I was served pretty quickly. Though being essentially a frozen-treat shop, minimal preparation of ingredients is needed and the turn-over of customers is fast. Their products are available to take out or eat on the go, or for those who prefer to linger a bit longer, there is also some seating available.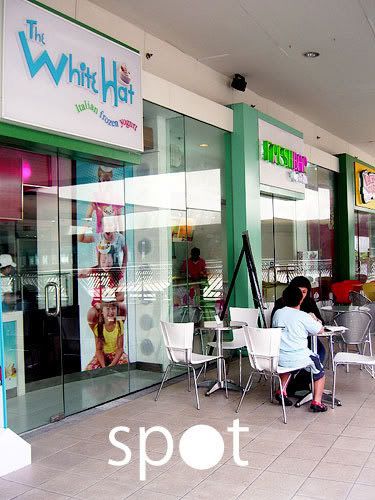 White Hat's prime location allows customers to enjoy their yogurt by the bay.
ADVERTISEMENT - CONTINUE READING BELOW
What to Eat: Their basic frozen yogurt only comes in one natural flavor; however, I admit it was difficult to choose what to have from their menu, as they offer over 21 different toppings. It is available in just two sizes: regular and large. After much deliberation I settled on the very kiddie-friendly marshmallows and sprinkles and the more 'sophisticated' and bestselling granola, with dried cranberries.
First I tried the yogurt alone. The texture was smooth, creamy, and just like plain yogurt eaten out of a tub. It had a sour aftertaste, which I liked, as it was refreshing from the sugar-laden and artificial tasting frozen treats sold nowadays. Coupled with the sweetness of the marshmallows and sprinkles, I found this dessert light but satisfying enough for a mid-afternoon snack. Though for some people, the taste of their yogurt may be too sour and not enough to please a sweet craving. One customer commented that it was indeed too sour for their liking, but it appealed to them because she was diabetic. As for their homemade granola, flavor-wise was pretty much the same as your regular store-bought variety, and perhaps lacked a bit of crunch to it. As for the cranberries, they accompanied the granola well, and reminded me of a yogurt-granola breakfast parfait.
Their other toppings range from those looking for something heavy, light, sweet, or subtle and definitely cater all taste buds. For those watching their diet, White Hat has a wide variety of fresh fruit toppings like fresh mangoes, mandarin oranges, pineapples and kiwi. For the kids, they've got the classic cereals, chocolate chips, chocolate balls, and even Oreos.
ADVERTISEMENT - CONTINUE READING BELOW
Can't decide between two, or even three different toppings? Choose one topping for P20.00, two for P35.00 and up to three toppings for P45.00! White Hat yogurt also comes in regular sized (P85.00) and large sized (P115.00) cups to suit both light and heavy appetites.
There are over 21 toppings to choose from at The White Hat!
As for beverage choices, their offerings are limited and White Hat offers various flavours of Sola iced teas and bottled water. Remember, the main attraction here is the yogurt.
The Scene: What made the White Hat experience enjoyable were its inviting interiors. The shop itself consists of a small counter but the limited space is made all the roomier with the use of a white and blue colour scheme. The cleanliness of the store is also commendable. The counters are impeccable, and the handling of the materials is done with utmost care. One thing that caught my eye in particular was their wall- mounted photo of kids eating the White Hat yogurt. It made eating something healthy, seem like so much fun! The seating is located outside the shop in covered open air, where there are several tables with white chairs which makes it a great place to enjoy the fresh sea breeze of Manila Bay. Its close proximity to the bay view area makes this a refreshing spot to hang out on a hot day, or even a cloudy afternoon.
Insider's Tips:
1. White Hat also makes other homemade toppings for the serious sweet tooth like their homemade cheesecake and chocolate brownie.
2. The yogurt itself is manufactured in Italy and is frozen fresh - daily!
3. Their yogurt is 98% fat free. Yipee!
4. Check out their online promo at thewhitehat.com.ph - print out a coupon and get one topping free!
5. Their staff are extremely accommodating and well-informed about their products, wishing you to 'Have a Healthy Day!' after every purchase.
ADVERTISEMENT - CONTINUE READING BELOW
White Hat is located at Level 2, Entertainment Mall, SM Mall of Asia. Visit thewhitehat.com.ph for more information.

Images taken by the writer.
Do you have a White Hat topping combo that we should know about?
Load More Stories